Welcome to my Tile Time Review!
Tile Time is another match-3 puzzle game that supposedly rewards players for matching identical elements. It's very similar to Lucky Tile and Neon Tile!
In one of their adverts, the guy claims you don't need to reach $100 to cash out. You can withdraw the money immediately and unlimited times.
Here is a screenshot I took from the ad: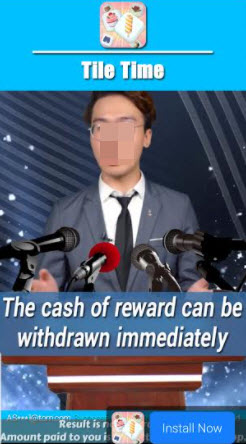 Tile Time is owned by Masterkelees, which also operates a few other games such as Merge Fruit and Merge Emoji.
I know you are here because you think Tile Master is too good to be true. You don't want to spend hours watching their videos in false hope of making money. So, will Tile Master pay you every penny you deserve? Is it a legit or fake application?
Keep reading to find out!
My Top Recommendation: This step-by-step program helped me build my own online business and generate $1,600+ per month. Join now and benefit from the first 10 lessons for free!
Tile Time App Review 
Name: Tile Time – Eliminate Tile (Early Access)
Company: Masterkelees
Eligibility: Worldwide
Payout Threshold: $1000
Price: Free
Overall Rating: 1/5
How Does Tile Time Work?
After you install the Tile Time app and launch the game, you will see the following page: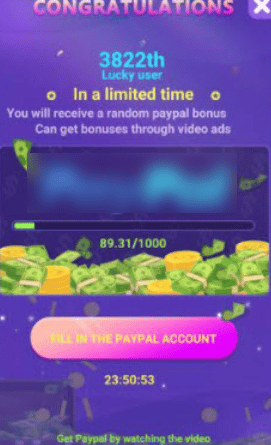 Right off the bat, you discover that their advertising is misleading because you cannot withdraw the money immediately. In fact, you need to collect $1000 to redeem the money via PayPal.
How to Play Tile Time? 
In the first 3 rounds, you will get lots of squares with the PayPal logo.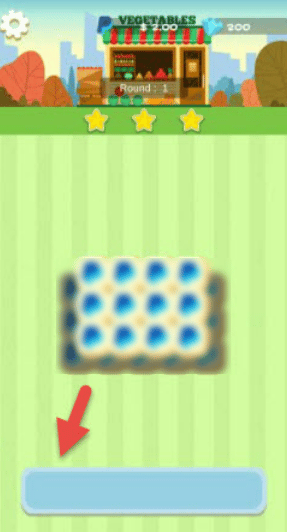 Tap on every tile to drag them to the display bar. Whenever you place 3 identical tiles together, you will eliminate them and receive a specific amount of virtual dollars.
By matching 3 PayPal logos (P) or completing the level, you will collect a significant amount of cash (super rewards) in the first few rounds. But first, you must tap the "Claim" button and watch the video until the end.
If you don't want to watch the annoying ad, just tap "No thanks". In that case, you won't collect the prize.
After the fourth round, you will start seeing a mix of "P" and supermarket items like vegetables, meat, etc.
The game becomes more challenging at higher levels, especially when it starts to hide important tiles. You can only drag the upper tiles first. Therefore, you may have to use a few tools to help you finish the round.

Does Tile Time Pay? Is it Legit? 
No. I don't think it does!
Tile Time is advertised as an opportunity to win easy money paid immediately to PayPal. That's false because you cannot cash out before reaching $1000!
I didn't spend too much time on this game, but I am pretty sure they will make it very hard for you to reach the target. In the beginning, they will give you lots of super rewards worth $100+, making your cash balance grow pretty fast.
However, the more you play, the less earn. So, there is a risk of watching lots of videos and getting stuck under $1000. But even if you get there and request your payment, Tile Time will probably never pay you a dime. 
I just want to highlight that Tile Time does not allow users to leave reviews on Google Play since the app is still "Early Access". Therefore, many people will play the game with no idea what lies ahead.
Another reg flag is the fact that their TOS (Terms of Service) is unavailable. It says "Sorry, this website has been removed due to a legal issue related to its content". No "money-making" app should be taken seriously without a clear user agreement.
Pros and Cons 
Pros
The game is challenging and great for killing time.
There are lots of levels
You can skip the ads.
Cons
It doesn't pay.
Frequent reward interruptions.
Early Access means There are no user reviews on Google Play.
Misleading – you cannot cash out immediately as the commercial suggests.
Is There an Alternative to Tile Time?
If you want to get paid through PayPal or gift cards just for playing games on your device, I suggest you join a website called Prizerebel. This platform gives you points for installing the apps and completing specific tasks or milestones.
Some users make over $150 per month as they also complete other simple online tasks such as online surveys and trial offers. The downside is that you will be trading a lot of time for very little money!
Now, if you dream of working from your laptop and making a full-time income online, I suggest you build your own online business. This step-by-step program helped me create affiliate site from scratch and turn it into a lucrative digital asset.

Today, it allows me to work independently for my own digital company and enjoy a job-free life! Click here to learn how you can do the same!
Conclusion
I really enjoy playing Tile Time, but the frequent ad interruptions are very annoying!
Don't play this game with high the false hope of making actual money. It's an enormous challenge to collect $1000, which is the minimum cashout amount. Those who persevere will end up watching an insane number of videos, but won't receive any money.
The only guarantee is that the developer is making profits from your views. It's not a win-win situation!

This reward platform is going viral! Cash out via PayPal, Visa, Gift Cards, and in-game currencies - Click here to find out how to generate an extra $10+ per day! 
Final Words
Thanks for reading my Tile Time app review. I hope it was helpful!
So, did you reach $1000? How was your experience with this game? Let us now in the comment box below!

Peace!