Welcome to my Merge Fruit app review!
I am writing this post to warn everyone who is trying to earn cash from a mobile game called Merge Fruit.
In the advert, there is a claim that this application makes $3,000 a week! Not only that, but players don't even need to watch advertisements.
At the end, they show a PayPal balance with multiple $100 payments made by Merge Fruit and the total balance of $6888.68.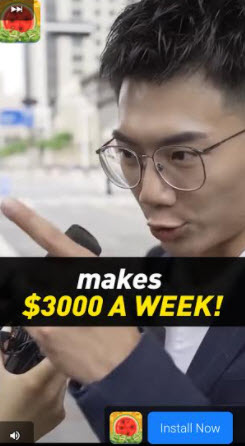 Clearly, they want you to believe that money grows on trees or whatever. So, is Merge Fruit a fake or a legit app? Will they pay you or not?
If you don't want to be cheated out of time, and you need actual cash, I urge you to read my review until the end!
RECOMMENDED: Check out the step-by-step program that helped me build an online business and generate $1,600+ per month. No special skills required! 
Merge Fruit App Review
Name: Merge Fruit – Win Cash
Developer: Masterkelleen
Company: Spinning Blades
Eligibility: Worldwide
Payout threshold: $10
Overall rating: 1/5
What is Merge Fruit?
Merge Fruit is another merging game where you can supposedly redeem real cash rewards via PayPal. It is very similar to Cocktail Smash and many other 2048 games like Balls Merge.
Instead of merging balls with the same numbers, you will combine identical fruits to generate bigger ones!
It's the type of game that will keep you entertained for hours because of the addictive gameplay and the expectation to win money.
How Does Merge Fruit Work?
After installing the Merge Fruit app on the Play Store, you can start the game right away.
Swipe your finger left or right and drop the fruit from the top of the screen. Just try to combine the same fruits together to form larger fruits. The game is over when the screen is full you can no longer merge.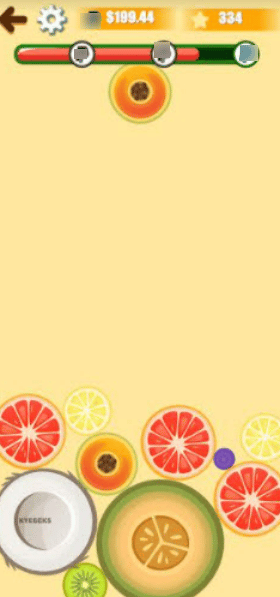 Note there is a blue loading bar that will move right as you merge the fruits. Whenever you complete this bar and hit the PayPal logo, you will earn virtual dollars. But only if you tap "get" and watch the video.
In the beginning, Merge Fruit will give you a substantial amount of cash such as $90, and even $100!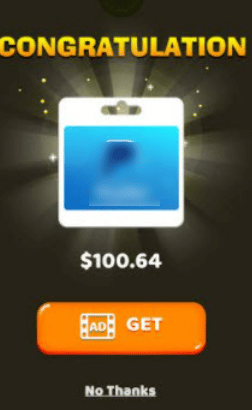 Unfortunately, the more you play, the less you will earn, because that's how these "money" games are designed. Besides, $1 in the game is actually worth $0.01 in real life.
The main idea behind these apps is to make you watch as many ads as possible so the developer maximizes profits. After playing Merge Fruit for a long time, your earnings will drop to just a few cents at a time and it may feel like you will never have enough to cash out.

How Do You Get Paid?
When you open your cash balance, it shows you the total amount of money you have and asks you to bind your PayPal account. However, it doesn't tell you how much you need in order to request the payment.
In the fast cash out section, the app gives you a few options and claim you will get paid on the same day. There, you find that $1000 (in game currency) will be converted to $10 and transferred to your PayPal account.
Become VIP
Merge Fruit has a golden membership that allows you to remove the annoying ads. You will have a free trial period for the first 3 days, after which you will have to pay $6 per week.
If the cash reward was real, it would certainly be worth removing the videos to earn faster! But in the next section, I will explain why you may not want to spend your hard-earned money on this application.
Does Merge Fruit Pay? Is it Legit?
You should not expect to make any money from Merge Fruit. They provide no evidence of payments and have no obligation to pay anyone.
To make matters worse, Marge Fruit was launched as "Early Access", which is a status on Google Play that prevents users from posting reviews. It appears they don't want players to share their results and honest opinions about the game.
The developer is advertising the game as an opportunity to make $3,000 per week, which is absurd!
It's a shame that people will watch the advertisement and believe they can make thousands of dollars just by merging fruits. In reality, $1 in virtual currency is actually worth 0.01 USD!
Unfortunately, you may never reach $1000 to redeem $10, and even if you do, it's very unlikely that you will get the payment.

Is There an Alternative to Merge Fruit?
There are many apps like Merge Fruit that make people believe in easy money, but none of them is proven to pay.
If you wish to earn rewards by playing games, avoid Early Access apps that supposedly transfer large amounts of money via PayPal. You will only waste time, internet data, and mobile battery!
Instead, I recommend using a well-established GPT platform like Prizerebel, which awards you points for trying sponsored games. Once you get 5,000 points, you can cash out $5 to PayPal or gift cards.
Conclusion

This reward platform is going viral! Cash out via PayPal, Visa, Gift Cards, and in-game currencies - Click here to find out how to generate an extra $10+ per day! 
You may enjoy playing Merge Fruit when you feel bored, and you need to pass the time. Just do not expect to earn a single penny from Spinning Blades.
I think the company should be held accountable for their unrealistic claims of earning $3,000 per week. If they are organizing genuine sweepstakes, then they should be more transparent about it.

Earn a Full-Time Income Online
If you wish you could make thousands of dollars from the internet, you cannot depend on third-party apps and sites. Instead, you must provide excellent service as a freelancer or build your own online business as I did.
In short, I create helpful content and publish on the website you are reading. Then, I generate revenue by placing banner ads or affiliate links on my posts. The amount of money that you will earn depends on how many visitors you can attract to your site.
For example, a 2.000 visits per day can give you over $1,500 per month! The good news is that you can always scale your business by creating more content! There is no limit, and your income is not tied to how many hours you work.
If you want to create a website and attract lots of visitors, this step-by-step training will show you the way!
Final Words
Thank you for reading my Merge Fruit app review. Did you play it? Did you cash out? Use the comment box below to publish your honest review.
Peace!