Welcome to my Cocktail Smasher app review!
After playing and reviewing Emoji Riddler, I decided to explore another game created by Benni Harel. That was when I discovered an addictive merging game called Cocktail Smasher.
Not surprisingly, this one also has a cash balance that will grow as you merge balls representing fruits.
As a result, lots of people are playing Cocktail Smasher with the expectation to withdraw real money.
So, is Cocktail Smasher a scam? Does it pay or not? Keep reading to find out!
Searching for a proper way to make money online? This step-by-step program helped me build my own online business and generate $1,600+ per month. It's free to join!
Cocktail Smasher App Review
Name: Cocktail Smasher
Developer: Benni Harel
Eligibility: Worldwide
Price: Free (no in-app purchases)
Overall Rating:

2.8/5
How Does Cocktail Smasher Work? 
Installation 
Cocktail Smasher is available on Google Play and App Store. For some reason, the iOS version is in the name of Guy Nudelman, but it's the same game.
To launch the game, you don't need to create an account or allow any permissions. Just tap play, and you are good to go.
How to Play
Cocktail Smash is very similar to many other 2048 games such as Hyper 2028 and Lucky 2048. The main difference is that the balls represent fruits instead of numbers.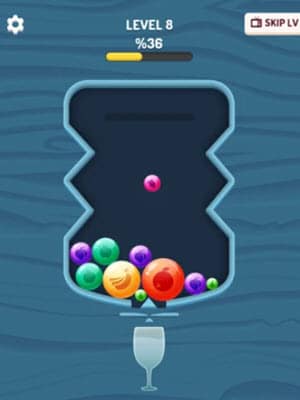 Simply drop the balls inside the container and try to combine identical ones (same color and fruit)
Two identical balls will merge to form a bigger one representing another fruit.
When that occurs, you will earn a specific amount of virtual cash and grow your percentage score.
Then, once you reach 100%, all the fruits in the container will be smashed to form a cocktail, and you will pass the level.
The game is over if there is no more space to fit the balls inside the container. But you can always revive by watching a sponsored video.
Speaking of videos, Cocktail Smash will show them after you pass 2 or 3 levels.
As you reach higher levels, the game becomes more challenging as it takes longer and longer to reach 100%.
Keep in mind there are just 7 ball types in the game. The bigger one is multicolor, which takes up too much place in the container. The good news is that whenever two multicolor balls collide, all the other balls inside gets smashed.
Cocktail Smasher Legit? Does it Pay?
Cocktail Smasher is just a game whose cash balance does not reflect real currency value. Therefore, you should not expect to earn any money from this game.
There is no withdraw button after tapping on the cash icon, which proves you are just earning worthless points.
But even if there was an option to redeem points, it doesn't mean you would get paid.

There are hundreds of games that claim you can cash out once you collect enough virtual dollars, but they never let you.
Note that even if the app developers wanted to pay users, they coudn't afford it. That's because the advertising revenue is is not high enough to pay everyone.
So, does that mean Cocktail Smasher is a scam? Not really, because even though they are showing cash images, they are not saying you will make actual money.
Now, if they are advertising the game as a money-making app, that's false advertising!
Let me know in the comment section below how they are promoting Cocktail Smasher.
Conclusion 
Cocktail Smasher is a cool game, but players should not expect to redeem their cash balance for real money.
While you are playing, you will be exposed to a significant amount of advertising about other so-called "money-making" games.
Don't trust them!
I receive daily comments from readers who don't receive any money after reaching the cash out requirement.
Final Words
Thanks for taking the time to read my Cocktail Smash review. I hope it was helpful. If you have questions, feel free to ask in the comment box below.
Peace!

Similar Posts