Balls Shooter is a ball merging game developed by a Hong Kong-based company called Happy Scratch Studio Limited. It's identical to the 2048 Balls Merge, Lucky 2048 and many others.
You are probably reading this review because you saw a video ad, implying that you could withdraw real money via PayPal. They make it seem like an easy way to make money, which is why thousands of people are playing this game non-stop.
Unfortunately, over 99% of these games will pay you fewer and fewer cash rewards, making it almost impossible to reach the minimum payout threshold. As a result, people get stuck and cannot cash out!
So, can you really make money with the Balls Shooter app? Is it a scam or a legit app? Read this review to know what will likely happen if you play it for long enough.
With millions of people losing their jobs at a staggering rate, having an income-generating website can give you peace of mind. This step-by-step training helped me build an online audience and reach $1,600/mo working from my laptop. 
Balls Shooter App Review
Name: Balls Shooter
Company: Happy Scratch Studio
Availability: Worldwide
Minimum payout: $100
Price: Free to join (no in-app purchases)
Similar apps: 2048 Balls Merge, Lucky 2048
Overall Rating:

1.5/5
How Does Balls Shooter Work?
First of all, it's important to understand that Balls Shooter is funded by advertising, which means that you will watch lots of ads during the gameplay.
After launching Balls Shooter, the game will start immediately without any registration or permissions. However, you can check the User and privacy agreements before the game fully loads.
How to Play
Swipe the finger to aim and shoot the ball. The goal is to collide balls of the same number and colour so that they merge and form another ball with double the number.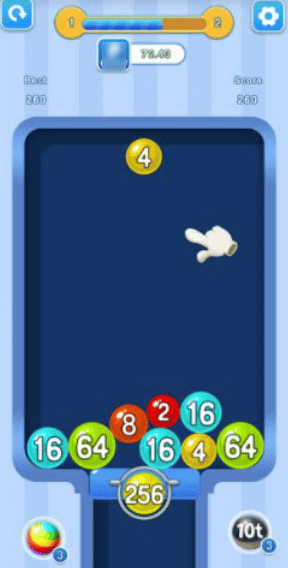 You will receive some virtual cash occasionally when merging the balls, but you can only claim the reward if you watch a video ad first. That's an ingenious strategy to get people to watch a ton of ads!
My first cash reward was $66, but I didn't get overexcited because I knew what was coming. And I was right! The next cash incentive dropped to just $1.20. Then it went down to less than $1!
Well, we all know what's going on here, right?
Balls Shooter claims that you can only cash out via PayPal once you reach $100, but because of diminishing rewards, you may never reach this amount.
Is Balls Shooter Legit? Does it Pay? 
After receiving my fifth cash reward of less than $1, I stopped playing and decided to check the reviews on Google Play. Lots of people are saying that the closer you get to $100, the less money you will earn.
Your earnings will drop to 1 cent per ad after you reach around $90, and the frequency of advertising will increase. It's not a surprise to me as I have reviewed over 50 games with the same pattern, including this 2048 Balls Merge.
One person played Balls Shooter for 24 hours even though he was making just $0.01 per ad. At 7 am, he finally reached $100 and requested the payment. However, he didn't update his review to tell if he got paid or not. I doubt it!
Another reviewer said that once you get to $100, they will ask you to play 20 more days and collect 30 red envelopes. Still, she warns that you won't be able to cash out even if you meet these additional requirements.
I cannot claim that Balls Shooter is a scam without solid proof, but based on hundreds of reviews, you are unlikely to get paid.

Conclusion 
Thousand of people are playing Balls Shotter and wasting their precious time while filling up the developers' pockets. They will make it very hard to reach $100, and even if you persist and reach the target, they may never pay you. 
I scrolled down through hundreds of reviews and didn't see any success story, so the prospect of making $100 with this game is bleak. The game itself is cool, but I wouldn't have the patience to watch so many ads.
Wanna know which games actually pay? Check out this extensive list of game apps, but be aware that the earning potential is ridiculously low.
Instead of using apps that are just making the developers richer, why not pursue something that can actually change your life? Read the next section to discover how you can make a decent amount of money online.
Earn $1,000+ /Mo
If you dream of making thousands of dollars working from home, I suggest you build your own online business. In my opinion, affiliate marketing is the best strategy for most people who want to achieve time and location freedom.
Thanks to this excellent program, I created an income-generating site with no marketing or web designing skills. Today, it allows me to work from my laptop and make money on my own terms.
Final Words
Thanks for taking the time to read my Balls Shooter app review. I hope it was helpful. So, did reach $100 and cashed out? Did they pay you? Let us know in the comment box below.
Take care!