Welcome to my Immunotec review!
You are probably thinking about becoming an Immunotec consultant and growing your own home-based business.
This MLM company operates in the health and wellness industry, selling an extensive line of products such as supplements and protein shakes.
It's important to do extensive research about the company and business opportunity before investing time and money. The reason is that many MLMs operate illegal pyramid schemes that don't work in your best interest.
My mission here is to provide crucial information that will empower you to make a better decision. Is Immunotec a scam or a legit company? Is it worth joining?
This step-by-step program helped me build my own online business, work from home, and generate $1,600+ per month. No direct selling, and no previous experiece required! 
Immunotec Review Summary
Company: Immunotec Inc.
Website: www.immunotec.com
Founder: Chuck Roberts
Business: MLM in the health and wellness niche
Overall rating:

3/5
What is Immunotec?
Immunotec is a Multi-level marketing company that sells nutritional supplements and skincare products.
Their flagship product is the Immunocal, a high-quality bioactive protein that helps sustain optimal levels of glutathione.
According to the website, Immunocal has undergone extensive research and is clinically proven to maintain a strong immune system. It also helps build lean muscle and increase workout performance.
The benefits of this specific protein isolate were discovered by Dr. Gustavo Bounous and Dr. Patricia Kongshavn in the '80s.
In 1996, the scientists teamed up with network marketing veterans Chuck Roberts, John Molson, and Dieter Beer and founded Immunotec.
Today, the company has extended operations to other countries, including Guatemala, Mexico, Colombia, Puru, and Spain.
Immunotec Products
Immunotec's product line goes way beyond Immunocal to include various supplements, shakes, personal care, and even accessories.
Customers can buy products individually through the website or place a monthly Autoship order to save 25%.
Immunocal has been used by people with very week immune systems such as cancer and HIV patients. I was happy to see lots of positive reviews on Amazon and other sites about the benefits of the protein isolate.
However, some specialists claim that regular whey protein isolates also raise glutathione levels in the body, offering similar benefits. The main difference? They can cost up to 5 times less! 
Check Amazon for similar products and you will find high-quality raw organic whey for a fraction of the cost.
Customer Complaints

I checked the BBB (Better Business Bureau) website and found just one complaint from a customer who wanted to cancel his order and get a refund.
He was upset because Immuotec ended up shipping the product and deducting a fee. The company is not obligated to pay shipping fees, but they made an exception and reimbursed the customer.
Immunotec Business Opportunity
Immunotec's operates a multi-level marketing strategy whereby consultants earn commissions for selling products and recruiting.
Becoming an independent consultant is very simple!
First, visit the official website, click on "opportunity" followed by "Join as a consultant". Then, you will have to complete your application and purchase the consultant welcome kit.
This kit costs $45 and contains everything you need to build your business such as a personal website, an online business center, product catalogs, booklets, training, and more!
Unlike many other MLM companies, you don't need to place orders to earn commissions. However, by purchasing products for resale, you can grow your Personal Sale Volume (PSV), and thus, qualify for more commissions and bonuses.
During your application, you can save a lot of money by purchasing starter packs. For example, you can save over $816 with the Silver Jump Start Pack (5000 PV).
As a consultant, you will get up to a 30% discount on all commissionable products.
>> Check out my #1 recommended online business opportunity. 
Compensation Plan

There are seven ways you can earn money with the Immunotec compensation plan:
1. Customer Retail Profit
Earn retail profit when you buy at wholesale and sell directly to customers at retail price. You can also earn retail profits when your customer buys from your personal site or Immunotec's official site.
For example, you can buy Immunocal for $87 and sell it for the retail price of $108.75.
A $21.75 profit is not bad!
However, if someone does a quick online search, they will find the same product for $89.65 and even $80 on Amazon.

This reward platform is going viral! Cash out via PayPal, Visa, Gift Cards, and in-game currencies - Click here to find out how to generate an extra $10+ per day! 
2. Customer Autoship Profits
When customers place a monthly Autoship order, you will earn the difference between the discounted autoship price and the consultant's price.

3. Customer Volume Bonus
Earn a bonus based on the total volume purchased by your customer. For example, you will get 5% CV (commissionable volume) when the customer sales volume (CVS) reaches 1,000 – 1,999.
4. Business Builder Volume 
Earn a bonus for helping personally enrolled consultants make sales. Every time a consultant sells a product during the first month, you will get 1 BBB credit. For example, if your referral makes 1 sale worth $500 CV, you will get 1 x 5% x $500 = $25
5. Team Commissions 
You will also earn commissions made by independent Consultants that you refer to Immunotec. As you enroll more people in your team and help them make sales, you will move up the rank in the organization.
As a result, you will be able to grow your downline and earn higher commissions.
Keep in mind there are monthly qualification requirements to maintain a specific rank. For example, the platinum consultant can earn 47% in team commissions, but he must generate 1,500,000 TOV (Total Organization Volume).

6. Moving Up and Accelerated Bonus
When you jump to a higher rank and maintain the position for two consecutive months, you will earn a Moving Up bonus. Also, if you advance the rank within a specific period, you will earn an accelerated bonus.
For example, you will get $200 when you move up and maintain the silver rank.
7. Sponsor Moving Up and Accelerated Bonuses 
Immunotec incentivizes consultants who inspire and help others move up the ranks. Therefore, you will earn great bonuses whenever a consultant from your downline reaches Gold rank and above.
If you need more details, check out the compensation plan booklet. The compensation plan is complicated, especially for someone who has never been involved with MLM before.
However, you will get more detail that comes along with your welcome kit, and you can always get support from your sponsor.
Is Immunotec Legit or a Pyramid Scheme? 
It can be difficult to differentiate between a Legit MLM and a pyramid scheme as there can be many similarities.
In my opinion, Immunotec is operating a legitimate business because the focus doesn't seem to be on recruitment. Besides, consultants are not encouraged to purchase products to keep their ranks in the organization.
You just have to buy the welcome kit. Whenever you find a potential customer, you should ask them to visit your link and place the order from there.
Is it Worth Becoming an Immunotec Consultant? 
Despite the generous compensation plan, it's important to set realistic expectations and think carefully before investing your time, energy, and money.
Immunotec's products are of excellent quality, but they are quite expensive. Therefore, they can be hard to sell, especially if you are not around wealthy individuals.

Another reason most people struggle with direct selling is that they are limited to promoting Immunocal to their relatives and friends.
If you are not an influencer with thousands of followers on social media, it can be a very frustrating experience.
Don't get me wrong. With training and experience, you can improve your marketing skills, and make a lot of money with Immunotec.
There are consultants in any organization who started from scratch and are now pretty well off. So, we all have to start somewhere.
Becoming an Immunotec consultant is worth it if you believe the products you are promoting and you have the drive to succeed.
Pros and Cons
Pros
Generous compensation plan.
Quality and clinically tested products.
Lots of people report health benefits after using Immunocal.
Cons
There are cheaper alternatives in the market.
There are people selling Immunocal with a very low profit margin on Amazon.
Complex compensation plan.
You don't need to buy products to qualify for commissions.
Conclusion 
Immunotec is a legit MLM as the focus of the business is to sell their quality products in the market.
Different than a fraudulent pyramid scheme, consultants are not forced to purchase any products to operate. This is reassuring!
The main downside of Immunotec is that their flagship product, Immunocal, is very expensive compare to similar alternatives.
MLM is almost always expensive by nature due to the generous compensation plan, which provides multi-tier commissions.
Me, personally, I would feel bad promoting an expensive product knowing that people could get it for much cheaper.
How I Prefer to Make Money Online
MLM can be very profitable if you know how to attract a significant number of visitors to your website.
As I said, many consultants fail because they only target individuals in their social circles. That's a very ineffective approach because you have to reach a much bigger audience.
Also, trying to pitch products to friends and family is not nice!
In my opinion, the best way to make sales in this day and age is by creating value and building an online audience. 
Once you get free traffic (visitors) to your site, you can use any business model and promote anything you want. I prefer affiliate marketing!
I 2015, I discovered an excellent step-by-step training that helped me create a website from scratch and generate a job-replacing income online. 
The best part? I can now work remotely from any country and set my own schedule!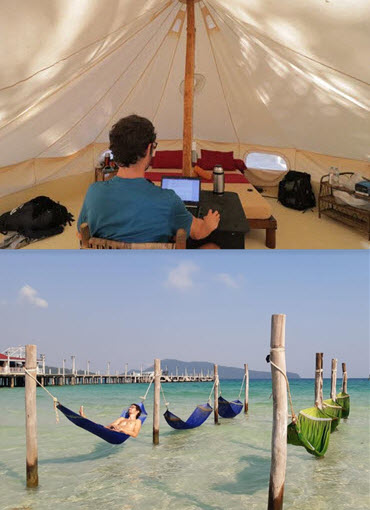 All I need is a computer and an internet connection. 

Final Words
Thanks for taking the time to read my Immunotec review. I hope this article helps you make an informed decision regarding this MLM opportunity.
If you still have any questions or want to leave your review about this company, leave us a message below.
Peace!
Other MLMs
Is Zurvita a Pyramid Scheme? Is it a Viable Business? REVIEW