Welcome to my Le-vel review!
As the unemployment rate soars across the globe, more and more people are searching for ways to supplement their income.
One popular option is to join a multi-level marketing company and earn generous commissions through direct selling and recruiting.
In this review, we will take a close look at an MLM company in the Health & Wellness niche called Le-vel.
The company offers the THRIVE Experience, which consists of nutrient-dense capsules, shakes, and other products that can supposedly improve your life in many aspects.
You probably know many organizations are operating illegal pyramid schemes you don't want to be involved with. Therefore, doing proper research before joining any MLM paramount!
I am here to give you the answers you need to make an informed decision. So, is Le-vel a scam or a legit company? Is it worth promoting the Thrive Experience and recruit others to do the same?
This step-by-step program helped me build my own online business and generate $1,600+ per month. It's free to join!
Le-Vel Review Summary
Company: Le-vel Brands LLC
Website: https://le-vel.com/
Co-Founders: Jason Camper and Paul Gravette
Type: MLM in the Health & Wellness Industry
Price: Free to join
LEGITIMATE
Overall rating: 2.3/5
What is Le-Level?

This reward platform is going viral! Cash out via PayPal, Visa, Gift Cards, and in-game currencies - Click here to find out how to generate an extra $10+ per day! 
Le-vel is a multi-level marketing company that sells nutritional supplements and vitamins focused on enhancing people's lives.
Founded in 2012 by Jason Camper and Paul Gravette, Le-vel has over 5 million customers and brand promoters in the United States, the UK, Australia, New Zealand, and Canada.
Their flagship product line is called Thrive, which consists of premium capsules, health shakes and plasters with derma fusion technology (DFT).
These products are part of the 8-week lifestyle and weight management program known as the THRIVE Experience. 
Advocated of the Thrive Experience claims that it provides the following benefits:
More energy.

More mental clarity

Weightloss

Health joint function

Better immune system
If you check their promotional video on the official Le-vel website, you will find lots of people saying they felt amazing after following the 3-steps program.
The overhype is typical to any MLM, which always claims their products are life-changing even though that's not always the case.
Le-vel Product Line
Le-vel products can be divided into three categories:

Thrive Experience (1-2-3 System)
As part of the 8-week Thrive experience, customers will consume these three core products every morning:
Premium Lifestyle Capsules

 – These capsules contain Minerals, Vitamins, Anti-oxidants, Plant Extracts, Enzymes, Amino Acids, and pro-biotics.

Ultra microsized shake mix

 – The shake is a blend of the same types of ingredients found in the capsules.

Lifestyle DFT –

This is a plaster that customers apply to their skin. The plaster works with Derma Fusion Technology (DFT), which releases ingredients to the skin, so it gets absorbed into the bloodstream.
The Thrive Experience pack has enough capsules, shake mixes, and DFT patches for 2 and 4 weeks and costs $100 and $150, respectively. Customers can also purchase the 4-week couple pack for $300. 
>> Check out my #1 recommended online business opportunity. 
Thrive Plus 
Le-vel claims that when you add any of the Thrive Plus products to the 3-step Thrive Experience, you can achieve even better results.
The list of products is extensive and consists of supplements, snacks, anti-oxidant beverages, protein bars, DFTs, and more!
Thrive Skin
The Thrive Skin line has many skincare products, such as reparative creams, body scrubs, charcoal-activated masks, and peptide gels.
What do People Say About Le-vel Products? 
You can find many positive testimonials on the Le-vel's official website, but it's important to know what people say outside their promotional pages. 
I was searching for some threads on Reddit and found something very concerning about Thrive. 
A customer reported that he failed his drug test for amphetamines as part of his foot and back treatment. The doctor asked him to write down all he had consumed during the week and retake the test. 

The detailed lab result showed that the person tested positive for phentermine, a weight-loss drug approved by the FDA. 
In his own words:

I looked at each product's ingredients and couldn't find phentermine. Maybe they removed the ingredient, but I recommend contacting the company just in case. 
Another person said he tried "Thrive" for six months and felt absolutely nothing! He did not experience any weight loss or energy gains. 
It's important to note there is no scientific evidence that these supplements, shakes, and patches work. Therefore, there are no guarantees of specific results. 
There is a lot of skepticism about these weight-loss products because they usually contain many ingredients. I am no expert, but I feel like they cause more harm than good. 
How to Become a Le-vel Promoter? 
The official website has a link to enroll as a Le-vel promoter, but it will only direct you to the login page. So, registration is not straightforward!
First, you must find a sponsor to walk you through the registration process. If you don't personally know any promoter, you can search for one in the official Le-vel Facebook group. 

Unlike OPTAVIA and many other MLM companies, Le-vel will not charge you any fees to join. Besides, there is no need to buy the inventory to stay in good standing with the company. 
However, if you want to take advantage of the full compensation plan, you will need to become a qualified & active promoter. 
You get permanently qualified once you sell or purchase 100 PV (Point Value) worth of products. Your active status is maintained for as long as you reach 100 PV per month. 
Le-vel Compensation Plan
MLM compensation plans are complicated by nature, and that is no different with Le-vel.
As a brand promoter, you can earn 20% commissions on your customer purchases. Then, once you reach qualified and active status, you can earn a percentage of your recruits' sales down three levels.
This is one example of a sponsorship tree: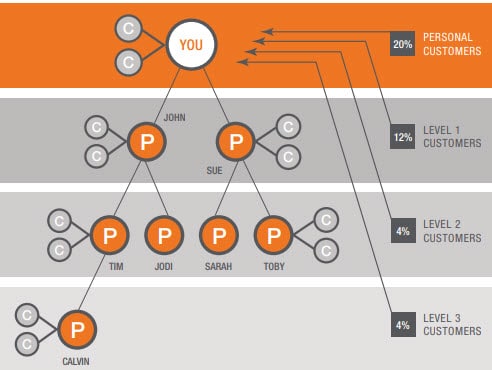 In addition to this compensation, there are ten other types of rewards:
Vanishing Autoship – 2 for free

Infinity fast start

Infinity fast start match

Fast start match accelerator

Go VIP bonus

iPad Mini Bonus

Uni-Level team commissions

Team commissions matching bonus

VIP Auto bonus

Lifestyle Getaways
You can learn more about each reward by reading the official Le-vel compensation plan in pdf. If you are new to MLM, you may struggle to understand the commission structure and bonuses.
Therefore, I suggest you contact the company or your sponsor for a better explanation. 
Is Le-vel Legit or a Pyramid Scheme? 
Multi-level marketing is a controversial business model!
During the past few years, many companies have been shut down by the FTC as they were operating illegal pyramid schemes.
A company is likely fraudulent if distributors sell most of their inventory to distributors rather than customers. Therefore, a pyramid scheme focuses on recruiting rather than selling the products in the open market.
Such schemes only benefit a tiny percentage of individuals at the top of the pyramid. They make most of the money from selling to those at the bottom.
Although Le-vel does not force promoters to buy any products, those who don't make enough sales may be tempted to do so.
Unfortunately, our information is insufficient to judge whether the focus is on selling products or recruiting. Therefore, only the FTC can answer whether Le-vel is a pyramid scheme or a legit MLM after scrutiny.
What is important to mention is that Le-vel does not advertise the business as an opportunity to earn lots of money and live a lavish lifestyle.
The downside is that they don't provide an income disclosure statement. Therefore, people cannot check the success rate and how much money promoters make. However, it's safe to assume a low success rate as most people only market Thrive to friends and family.
Pros and Cons
Pros
You don't need to pay any fee or buy any product to earn commissions by promoting Le-vel.
You don't need to buy products to maintain qualified & active status.
Generous compensation plan.
There is a 30-day return policy.

Cons
There is no scientific evidence that the thrive experience works.
Intricate compensation plan.
There is no income disclosure statement on the website.
Conclusion
Le-vel seems like a legit MLM company, and yes, you can thrive as a brand promoter!
My main concern is their products, which may not provide the alleged benefits. Not to mention that customers may be consuming phentermine, a drug that can cause several side effects, such as dizziness and difficulty sleeping.
I would never promote a healthy product unless it was scientifically proven to work and had no side effects.
How I Prefer to Make Money
Most people who join MLMs fail miserably because they don't know how to target a big audience. As a result, they end up wasting a lot of time and money. 
If you want to earn commissions by promoting products, I recommend building a website.
Imagine getting thousands of visitors on your site every single day!!
 You can do that by providing helpful content that will rank on the first page of Google. 
As a webmaster, you can promote products as either an MLM associate or an affiliate marker. Heck, you can even sell your own products and earn advertising revenue! 
If you want to build a successful online business, check out this excellent step-by-step training. 
This platform helped me get enough traffic and generate a full-time income online. The best part? It allows me to work remotely from anywhere and set my own schedule!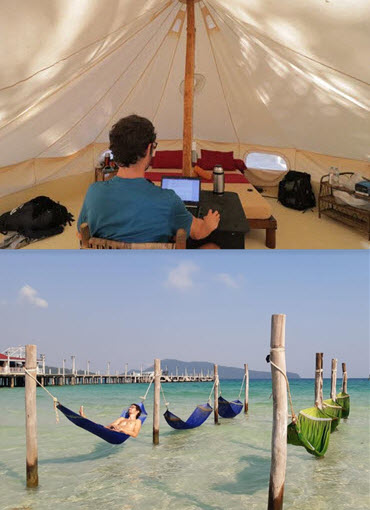 All you need is a computer and an internet connection. 
Final Words
Thanks for taking the time to read my Le-vel review. If you have any questions about the business opportunity, leave us your comment below, and I will go the extra mile to help you out.
Peace!