Welcome to my OPTAVIA review!
The current health crisis is destroying many people's livelihoods, and as a result, individuals have been searching for side hustles to keep afloat.
If you live in the United States, Hong Kong, or Singapore, you may have stumbled across an MLM company called OPTAVIA and the opportunity to become a coach.
As an independent OPTAVIA coach, you can guide others to achieve optimal health & wellbeing whilst earning generous compensations for promoting products and programs.
You can also recruit other OPTAVIA coaches (build your own organization) and benefit from multi-level marketing commissions. Meaning you will earn a percentage of every product they sell as wells as every product their downline sells.
It seems like a decent opportunity, but when it comes to multi-level marketing, it's crucial to research the program thoroughly to avoid wasting time and money. That's is because many MLMs have been shut down by the FTC for operating illegal pyramid schemes.
In today's review, my mission is to explain all the details about the Optavia business opportunity so you can make an informed decision. Is Optavia a scam or a legit company?
Before you leave, don't forget to check out my #1 online business recommendation.
OPTAVIA Review
Name: OPTAVIA
Website: www.optavia.com
Founder:William Vitale
CEO: Daniel R. Chard
Type: MLM in the Health and Wellbeing niche
Price: $99
Overall rating:

3.7/5
What is OPTAVIA?
OPTAVIA is a Multi-level marketing company that sells weight-loss products and programs.
The parent company Medifast was created in 1980 by a physician called William Vitale, whose nutritional-dense meals have been recommended by over 20,000 doctors. Doctors used to buy these meals and prescribe them to clients in the USA.
Although the parent company is still selling balanced meals via Midefast's website, the focus has shifted to direct selling through independent OPTAVIA coaches. Health professionals can also join the OPTAVIA business program and recommend the Health™ journey to their patients.
OPTAVIA's Products
OPTAVIA's product line is extensive and designed for people who need a convenient way to follow a healthy diet plan. It's possible to sell individual products or kits from one of the Optimal Weight programs.
For example, the Essential Optimal Kit (5&1) costs $364.65 and consists mostly of crip bars and shakes.
The company provides over 60 nutritional fuelings such as lean & green meals, soups, snacks, brownies, and more!
>> Check out my #1 recommended online business opportunity. 
OPTAVIA Weight Loss Results
Before becoming a Coach and start reselling these products, it's important to know if they actually help customers lose weight. The company claims that its plans and products are clinically proven and have impacted 1.5 million lives.

You can find a couple of success stories on the official website and lots of positive testimonials on Reddit.
People are saying they are very happy to follow the OPTAVIA weight plan as they were able to lose weight and transition to a more healthy lifestyle.
Coaches will encourage customers to buy OPTAVIA's packaged food because that's how they are making commissions. However, those who follow the plan will learn how to cook their own meals and thus, can continue the program even if they stop buying the products.
How to Become an OPTAVIA Coach
OPTAVIA coaches provide guidance and support for those following the Optimal Weight plan.
To become a successful coach and sell OPTAVIA products, you should convince people they work. Therefore, I recommend you be a source of inspiration by showing proof that you benefited from the program. 
To become an OPTAVIA Coach, you should follow these three simple steps:
Talk to your coach

and see if there there is any opportunity available. If you don't have a coach, visit the official website and click "Find a Coach." 

Purchase the Optavia business kit

 ($199), which includes everything you need to start your coaching business. You will get, among other things, a free personalized website for 12 months, business accessories, product cards, brochures, and coaching guides.

Engage in the OPTAVIA Community

 of like-minded coaches.
Unlike other MLM companies, OPTAVIA doesn't require that you purchase any inventory and keep it as an active coach, However, the cost to renew the business is $99 per year (subject to change).
OPTAVIA Compensation Plan
As an OCTAVIA coach, you will earn compensation for selling products to your clients as well as recruiting other people to join your team. 
You will earn a 15% commission on orders placed by your frontline client (level 1). If you continue your education and become a certified coach, you will get an extra 3% commission plus client support bonuses. Besides, there are consistency and acquisition bonuses as well. 
According to the compensation plan, coaches who want to maximize their earnings must build a team and mentor other coaches. 
The chart below shows the earning percentage depending on your rank in the organization. For example, the Manager will earn 6% on Coach and 2% on Senior Coach teams.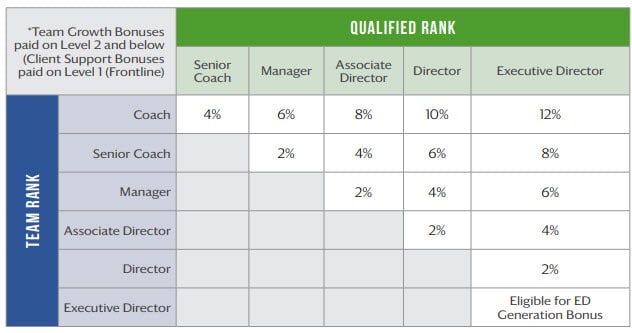 For full details read the OPTAVIA compensation plan here.
How Much Money Can You Make Selling OPTAVIA?
It depends on your marketing skills, hard work, leadership, and diligence. It's important to note that no MLM company can guarantee that you will achieve financial success. 
OPTAVIA provides an income disclosure statement showing the percentage of coaches who achieved a specific income range in 2019.

This reward platform is going viral! Cash out via PayPal, Visa, Gift Cards, and in-game currencies - Click here to find out how to generate an extra $10+ per day! 
There, you will find that 9.8% of coaches have made over $10,000 per year. That's not bad considering that less than 1% of MLM participants make profits. 
In my opinion, you should never give up on building your business based solely on the overall success rate. You should also consider your level of experience, influence, motivation, and how much time you are willing to invest in it. 

Most people fail in MLM because it's naturally hard to sell by word of mouth. If you don't have a large number of followers on social media, you will be limited to promoting OPTAVIA to your closest friends. It's not an effective approach! 
Is OPTAVIA a Pyramid Scheme? 
Many people fear joining "MLM" companies as they can operate illegal pyramid schemes. These fraudulent activities benefit only those at the top of the pyramid.
Those at the bottom end up losing a lot of money as they cannot cover the fees and inventory expenses. 
In a pyramid scheme, successful individuals make the most of their money by selling products and/or business packages to their downline, not by selling products to customers outside the organization. 
I don't think that is the case with OPTAVIA. The focus seems to be on selling the Optimal weight program and products rather than recruiting other coaches.
So, no. I don't think OPTAVIA is a pyramid scheme. 
Pros and Cons
Pros 
There are lots of success stories and positive testimonials on the internet.
Products and diet plans are recommended by thousands of health professionals.
Generous compensation plan.
Cons
Complicated compensation plan.
There is a renewal fee of $99 per year.
Conclusion
OPTAVIA is a legitimate and reputable MLM company in the health niche. The weight loss program is solid and recommended by many health practitioners. Besides, the internet is full of successful testimonials from non-business associates.
In my opinion, it offers a viable business opportunity, especially for people who achieved some level of success with the weight loss program. Still, it can be challenging to earn a consistent income if you don't know how to grow an online audience.
The downside is that the compensation plan is overcomplicated, and you have to pay an annual fee of $99.
Verdict: LEGITIMATE
How I Make Money Online
One of the most valuable skills you can get to succeed at Multi-Level Marketing is to attract an online audience to your site. So, instead of limiting yourself to your social circle or town, you must learn how to effectively a huge number of visitors to your site. 
With traffic, you don't need to rely 100% on any company to make money. You can promote anything, including high-ticket programs offering $1,000s per sale. 
I 2015, I discovered excellent step-by-step training that helped me not only create a great site but, most importantly, generate a job-replacing income online. 
The best part? I work remotely from any place in the world and set my own schedule!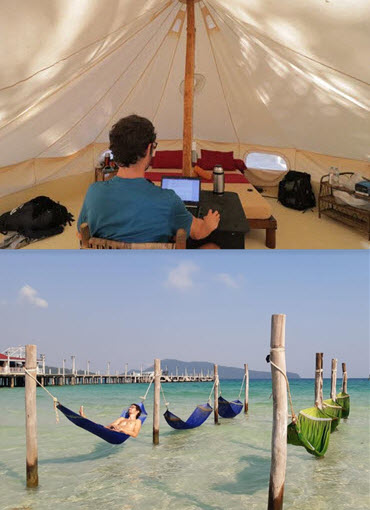 All I need is a computer and an internet connection. 

Final Words
Thanks for taking the time to read my OPTAVIA review. If you have any questions about the business opportunity, leave us your comment below, and I will go the extra mile to help you.