Welcome to my Emoji Riddler app review!
You probably discovered Emoji Riddler after watching an advert claiming you could win money. Or, better yet, a ton of it!
The advertising showed a woman with a pile of cash by her side. Have you seen this one?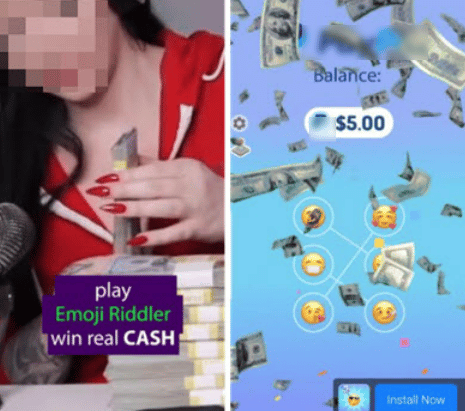 In this review, I am going to explain how Emoji Riddler works and give you my honest opinion.
Is it a scam or a legit app? Does it pay or not? Keep reading to find out!
Are you searching for a serious opportunity to make money online? This step-by-step program helped me build my own online business and generate $1,600+ per month. It's free to join!
Emoji Riddler App Review
Name: Emoji Riddler
Developer: Benni Harel
Eligibility: Worldwide
Minimum Payout: $250
Price: Free (no in-app purchases)
Overall Rating: 2/5
What is Emoji Riddler? 
Emoji Riddler is a very simple, yet addictive game about connecting Emojis and other elements by association.
By completing levels, you will have the chance to collect virtual cash rewards, which will accumulate in your account.
Then, once you collect $250, it claims you can cash out through PayPal or Amazon gift cards.
It's important to mention that Emoji Riddler is a shameless copy of the popular Emoji Puzzle.
The only difference is that it's using the cash incentive as a marketing ploy to attract more users and make them play for longer.
How Does Emoji Riddler Work?
Installation
Emoji Riddler is available on Google Play for Android devices. After installing the game, you can start playing immediately with no registration needed.
How to Play Emoji Riddler
The game consists of levels. Each level has a series of emojis and other elements that must be connected by association.
There are other types of puzzles where you have to combine related emojis.
During the first levels, it reminds me of those easy exercises we had to complete in preschool. Life was good, huh?!
However, it gets harder once you achieve higher levels, especially the ones above 50.
Check out the difference between the baby and the smart level: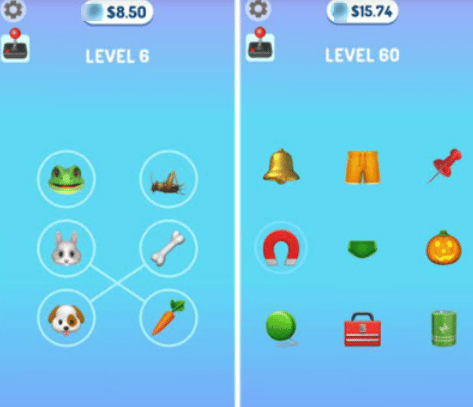 It's embarrassing to say this, but I couldn't go beyond level 60!

After you pass 3 levels, they will allow you to click on the Paypal icon, watch a video, and earn virtual cash.
They will also show you clips occasionally after passing a few levels.
Be careful and don't believe anyone who says you can make a killing just by playing games.
You can also tap on the joystick icon and play the claw machine to collect 2 tickets.
How do You Get Paid? 
If you click on your cash balance at the top, it says you can cash out via Paypal or Amazon gift card when your total reward balance reaches 250 USD.
Is Emoji Riddler Legit? Does it Pay? 
Emoji Riddler is still in "early access", which prevents users from leaving a review on Google Play.
Unfortunately, many app developers benefit from the "Early Access" status to avoid criticism and maintain a neutral reputation.
Without reviews, people don't know what to expect from the app regarding payments.
It turns out Emoji Riddler is no different than hundreds of other games offering virtual cash rewards.
They give you lots of "cash" in the beginning just to make you think you can withdraw $250 on the same day.
However, that's an illusion because the closer you get to $250, the less you will earn.
It's very likely that you will play for weeks and get stuck before reaching the minimum payout.

You may eventually reach $250 and request the payment, but don't think you will get paid.
Keep in mind there is no legal agreement between you and the company. Therefore, the company is not obligated to pay even though they advertise the app as an opportunity to make money.
It's very misleading, but I am not in a position to call it a scam without solid proof.
Conclusion 
Emoji Riddler is a nice time-killer that should only be played for recreation, not for cash rewards.

This reward platform is going viral! Cash out via PayPal, Visa, Gift Cards, and in-game currencies - Click here to find out how to generate an extra $10+ per day! 
Thousands of people are led to believe they can reach $250 and transfer the money to PayPal. However, they will probably end up watching a ton of videos with nothing to show for it!
Here is another Emoji game that seems to adhere to the same strategy!

It can be very frustrating, especially if you are just playing Emoji Riddler with the expectation of making money.
Final Words
Thank you for taking the time to read my Emoji Riddler app review. I hope it was helpful.
So, did you play this game? If so, did you manage to reach $250 and cash out? Kindly share with us your results in the comment box below.
Peace!
Related posts