Merge Emoji is another merging game that says you can transfer all the money to your PayPal account.
The company advertises its app as if users could earn hundreds of dollars just by combining similar emojis.
If it's true, then why governments all over the world are not incentivizing its citizens to play mobile games?
After all, they could solve everyone's financial problems in a blink of an eye!
In this review, I am going to explain how Merge Emoji works and answer all the questions you might have. Is it legit or fake? Does it pay or not?
Reading this post until the end will save you a lot of time and help you make real money online!
Why not skip to my #1 recommendation, the step-by-step program that helped me build an online presence and generate $1,600+ per month. No special skills required! 
Merge Emoji App Review
Name: Merge Emoji
Developer: Funnytaskst (Prize Games)
Availability: Worldwide (+16)
Minimum payout: $200
Overall Rating:

 1/5
What is Merge Emoji?
Merge Emoji is a mobile app developed by Prize Games, a Czech company that also operates Block Legend and Block Go.
The gameplay is very similar to Swipe to Blast and many other 2048 games. It differs mainly in the design, rewards, and cash out requirement.
Merge Emoji has been installed over 100,000 times, but I know it has the potential to reach 1 Million soon.
It's important to mention that the developer has launched this app in Early Access. Therefore, users cannot leave a review and share their experience with other people.
It's a great opportunity for companies who want to avoid criticism, isn't it?
TIP: By joining this GPT site, you have access to hundreds of tasks to bring in an extra $100 per month. It's 100% legit!
How Does Merge Emoji Work?
Installation
Merge Emoji is available for Android and iOS users from all countries. They do not ask you to register or allow device permissions to play the game.
Daily Check-in
When you launch Merge Moji, you will immediately receive your first check in bonus of $10. If you check in everyday, you will get more virtual cash. For example, on the 7th day, you will get $100!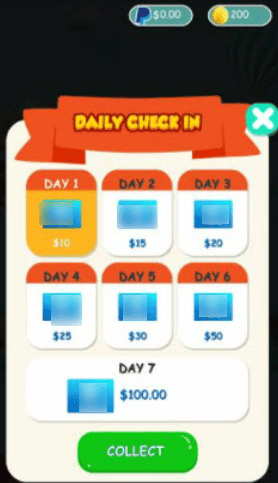 How to Play Merge Emoji?
Simply drag the blocks and match at least 3 Emojis of the same level.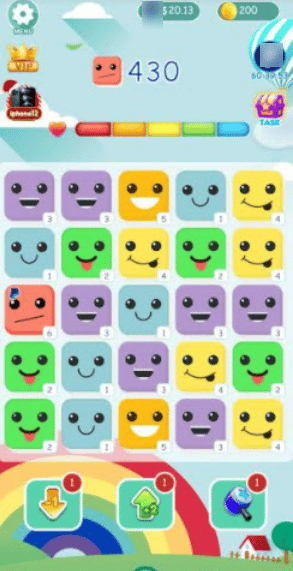 When they merge, it gives you a few cents or even higher amounts when you perform combos. Here is a $20 reward. WOW!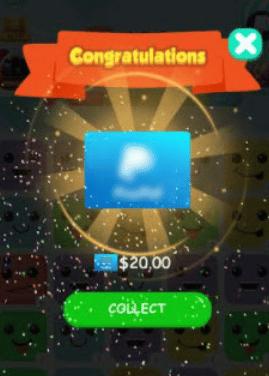 Some Emojis have a small PayPal icon at the top. By merging them, you will also earn virtual dollars. Sometimes, you must watch a video before you can collect the cash reward.
Merge Emoji also awards coins, which may be traded in for cash via PayPal and Amazon gift cards.
It's quite easy in the beginning, but after a while, you feel stuck because you cannot match blocks with just one move. Therefore, you must perform 2 movements in order to merge, which consumes one life. You can also use 3 different tools:
Orange arrow: Decrease the level of an Emoji by 1.
Green arrow: Increase the level by 2.
Hammer: Destroy any Emoji.
The game is over when you run out of lives.
Quests and Tasks
Complete quests to earn extra cash and coins. Once you reach specific milestones, you must watch a video before collecting your reward. For example, when you destroy 1000 blocks, you will get $5.
You can collect more coins by completing sponsored offers from two third-party networks called Tapjoy and IronSource.
Most tasks require you to download and use other applications on your phone. Here are the best platforms you can use for this purpose. 
Win an iPhone 12
The developer also claims you can win an iPhone by playing the lucky spin and watching videos. You must collect 100 puzzles fragments to claim the prize.
VIP Membership  
Believe it or not, Merge Emoji has a VIP subscription where player can remove ads and supposedly increase their revenue by 20%.

It costs $5.99 (£4.38) per week, and after the 3 day trial. How generous!
How Do You Get Paid? 
Before you play Merge Emoji, it says all the money you get in the next 3 days will be transferred to your PayPal account. So, unlike most other games, you don't need to meet a specific requirement.
To request your payment, tap on your cash balance and enter your PayPal account details.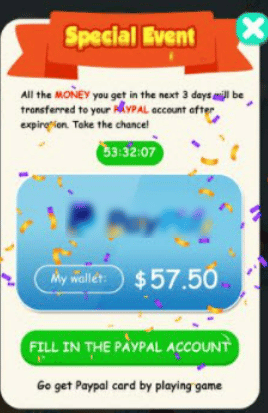 You can also convert 105,000 coins to $5 and withdraw via Amazon and PayPal. Simply tap on your coin balance, select your country, and follow the instructions.

This reward platform is going viral! Cash out via PayPal, Visa, Gift Cards, and in-game currencies - Click here to find out how to generate an extra $10+ per day! 
Is Merge Emoji Legit? Does it Pay?
I don't think it pays! The possibility of making an unlimited amount of money within 3 days is just too good to be true. 

I believe the company doesn't earn enough revenue to pay hundreds of dollars to everyone. Therefore, there is only an expectation to win money, which may never materialize.
It's important to understand that there is no legal agreement that would force the developers to honor payments.
They have the right to decide if they will pay you or not. It doesn't seem fair, but that's how it works!
Now, that doesn't mean they are not breaking any regulations regarding advertising or other issues. However, only the competent authorities can answer you this question.
Earn a Full-Time Income Online
With so many businesses collapsing around the world, it's never been so important to secure an online income.
One of the best strategies is to create a website and publish helpful content based on solid SEO strategies.
It looks complicated, but it's not. I started my journey to online entrepreneurship back in 2015 after following this excellent step-by-step program.
Today, my site attracts thousands of visitors per day allows me to work remotely just by sharing helpful articles and review.
If you want to try, you need to learn the proper strategies to rank high on Google and build your audience. It takes time and commitment, but if you do it right, it can change your life!
Final Words
I hope this review answers all your questions about the Merge Emoji app. So, did you receive the money? How was your experience? Let us know in the comment section below.
Thank you for reading!