Welcome to my Merging Blocks Legend app review!
You may have seen an advert suggesting you could earn cash and even an iPhone by playing Merging Blocks Legend.
They claim there is no risk to win real money, and show a screenshot of a PayPal balance with $4998.72.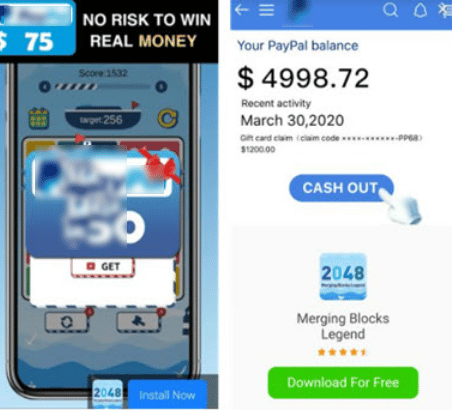 Maybe you already started playing this game and you are wondering if you will get paid or not. Although the game is free, you don't want to waste your time!
In this post, I am going to explain how this app works, and give you my honest opinion. Is it legit or fake?
Before you leave, click here and discover the step-by-step program that helped me build an internet business and generate $1,600+ per month. No special skills required! 
Merging Blocks Legend Review
Name: Merging Blocks Legend
Developer: New Solitaire Studio
Availability: Worldwide
Minimum payout: $200
Overall Rating: 1/5
What is Merging Blocks Legend? 
Merging Blocks Legend is another 2048 merge game that gives you virtual dollars and coins for combining numbers. It's very similar to another app I reviewed recently called Get 10.
You can also earn more coins by executing simple tasks from TapJoy and IronSource. These are third-party networks that provide paid offers.
For example, you may have to install another game and reach specific goals.
However, you cannot cash out until you have reached $200 or 1220 coins. Once you meet the condition, you are eligible to request your payment via PayPal.
Over 10,000 users have installed Merging Blocks Legend so far, but I believe its popularity will grow fast.
TIP: This GPT site is the best place where you can make $100 on the side by completing easy tasks. It's 100% legit!
How Does Merging Blocks Legend Work? 
Installation
Download and install the app for free on the Playstore. When you launch it, you will see this message:
"We might collect the data necessary for you to cash out. Please input your PayPal account after you achieve $200."
Note they don't provide the Privacy Police on the game. So, in order to see which data they are talking about, you must enter the link provided on Google Play.
How to Play?
Simply tap on a group of at least two blocks with the same number and color. When you do that, they will merge to form another block with a duplicated number.
Note some blocks have a small PayPal logo or a "c" symbol. Whenever you merge them, you will see a pop-up window with a specific amount of virtual dollars or coins.
You will also get rewards after reaching the target score.

Tap "Get" and watch the short video until the end to collect your reward.
Keep in mind you will get lots of cash in the beginning, but as you get closer to $200 they will start paying just a few cents at a time.
Most of the times, it says there are no videos and you are forced to click on "No, thanks" to continue.
However, as soon as you close the window, they activate the clip so you end up wasting your time and not getting the reward you deserve.
That's very annoying!
Extra 
In the homepage, you can find four ways to get more rewards:
Free Cash: Watch 5 videos and earn a cash reward.
Free Coins: Watch videos and collect coins.
Offers: Complete offers from IronSource or TapJoy and earn extra coins. It claims you will get a $10 bonus from each task. But that's not realistic!
Spin: Play the Lucky Spin for a chance to win coins and PayPal money.
How Do You Get Paid? 
When you open your cash balance, it says you need to have $200 to withdraw the money to your PayPal account.
Besides, you can redeem $5 via PayPal once you collect 120,000 coins.
According to the app instructions, you will receive your reward within 7 business days.
Keep in mind the app developer refuses to pay even 1 cent to those who behave dishonestly.
How do we know what are dishonest hebaviour considering the company doesn't provide a Terms of Service?
So what about the iPhone? Well, this prize is not mentioned anywhere inside the app, meaning it doesn't exist.

Does Merging Blocks Legend Pay? 
I don't think so! There is no evidence of payment, and no Terms and Conditions.
To make matters worse, they launched the game in "early access", which means users cannot share their results on the Playstore.
I have reviewed hundreds of games that claim to transfer real money, but players usually get stuck before reaching the target amount.
Therefore, they can never cash out because they cannot fullfil the requirement. Sometimes, they simply ignore payment requests.

This reward platform is going viral! Cash out via PayPal, Visa, Gift Cards, and in-game currencies - Click here to find out how to generate an extra $10+ per day! 
Is Merging Blocks Legend Fake? 
I don't have solid proof that this app is not processing payments, so I cannot accuse the company of fraud.
However, based on the business model and all the typical marketing strategy, I believe the cash incentive is just an illusion to make you play for longer.

Conclusion 
Merging Blocks Legend is a nice game to pass the time, but if you need money, you'd better look somewhere else.
I played it for a while and didn't get any virtual cash. That's because whenever I clicked "Get", they woudn't let me watch a video.
It's very frustrating because they keep showing lots of sponsored clips while I am playing.
Verdict: Not Recommended
Earn a Full-Time Income Online
In 2015, I found the opportunity to earn a living by publishing helpful content on my own website.
You don't need to be an expert in any subject to earn hundreds and even thousands of dollars per month using this business model.
However, there are many things you need to learn to rank your site high enough and start making excellent commissions.
Thanks to this excellent program, I created a competitive and lucrative site that allowed me to quit my job and work remotely.
If you work hard to achieve your goals, you can also achieve remarkable results!
Join for free, follow the simple steps, and take massive action
Final Words
I hope this post answers all your questions about the Merging Blocks Legend app. So, did you reach $100? If so, have you received the payment or not?
Kindly share your results in the comment box below.
Thank you for reading!