Welcome to my Get 10 app review!
Get 10 is another addictive game that gives you the expectation to earn lots of money just by merging numbers. Oh, how I wish it was true!
In one of their advertisements, they show a simulation in which blocks with the same value in dollars combine and give cash.
They use the PayPal logo throughout the video to make it even more appealing!
In the end, it says, "Wow, you have won $100. Use cash or coin to redeem instant reward."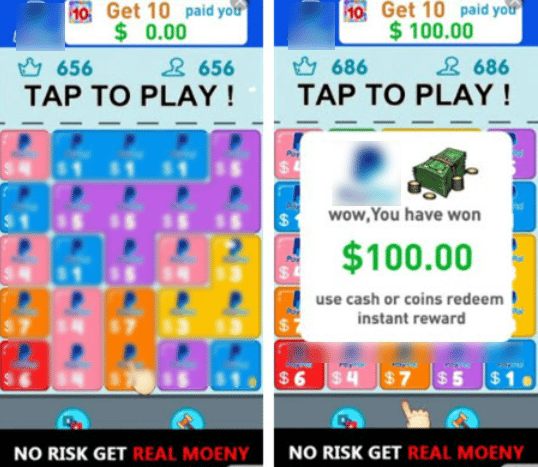 I lost count of how many apps developers are using this over-hyped marketing strategy to entice new users.
Maybe you don't want to waste your time playing Get 10 for months in return for nothing. So, is it a legit application? Does it pay or not?
Keep reading to find out!
My Top recommendation: This step-by-step program helped me build my own online business and generate $1,600+ per month. It's 100% free to test the waters.
Get 10 App Review
Name: Get 10
Developer: Liaquat
Eligibility: Worldwide (+18)
Minimum Payout: $200
Price: Free (no in-app purchases)
Overall Rating: 

1/5
How Does Get 10 Work? 
Installation
Get 10 is available for free on Google Play, and it can be played on Android smartphones and tablets.
Once you launch the game, you will receive a bonus of $5 and 50 coins.
Next, click "play" to get started!
How to Play Get 10?
Your job is to combine matching numbers that are separated by different colors on the grid.
By tapping on a cluster of identical numbers, they merge to form one block with a higher number. Keep merging until you get to number 10 or more!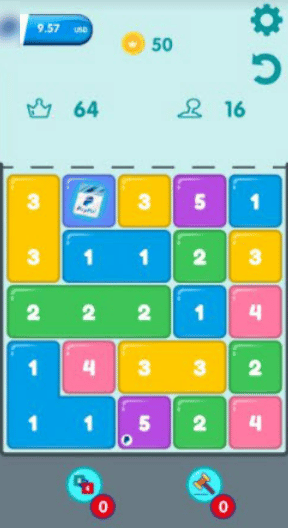 Whenever you connect the numbers, you will see a pop-up window with the saying "Congratulations" and a cash reward.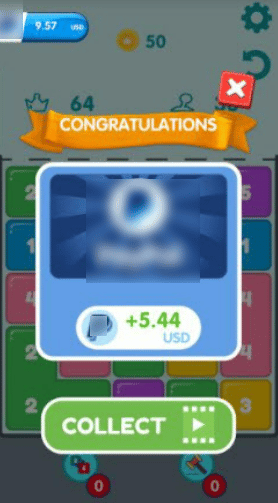 However, you can only collect the money after watching a 30-second video.

Note that the reward process differs completely from the one they show in their marketing materials. As you can see in the screenshot above, numbers don't represent dollars.
Keep in mind that even if you close the window and reject the reward, the game will display a video against your will.
That's the price you pay for being able to play Get 10 for free. The constant interruptions at every move are very annoying!
I noticed that Get 10 usually promotes other "money" games that are also making profits using the same strategy.
Don't fall for them!
How Do You Get Paid? 
If you open your cash balance, it says you need to have 200 USD to cash out via either PayPal or Amazon gift card.
According to the app instructions, your reward will be sent to you within 3 – 15 business days, not including weekends.
Is Get 10 Legit? Does it Pay?
I don't think you will receive any money in your PayPal account. I can say this based on my extensive experience reviewing hundreds of Android apps!
Besides, the company probably doesn't earn enough revenue to pay so much money and still make profits.
So, does it mean Get 10 is a scam? Well, I cannot give you a definitive answer because they are not making any promises.
Get 10 is advertised as an opportunity to earn money, but that doesn't mean it has any intention of paying you.
In the past few years, I have reviewed countless games that use similar tactics to avoid payments.

First, they will give you a decent amount of virtual cash. The glorious feeling of making easy money will increase your dopamine levels and hook you to the game for many hours!
Sadly, your earnings will decrease gradually until you get stuck before you get the chance to cash out.
I believe that's what happens to most people who play Get 10 for long enough.
However, even if they let you accumulate $200 and cash out, you may never get paid.
You should know there is no binding agreement between you and the company that operates this app.
So, even though they claim you can win actual money, they are not obligated to pay anyone.

This reward platform is going viral! Cash out via PayPal, Visa, Gift Cards, and in-game currencies - Click here to find out how to generate an extra $10+ per day! 
Early Access – No Reviews! 
To make matters worse, Get 10 has been launched in "Early Access", meaning it's an incomplete version.
As a result, users cannot leave an honest review on Google Play and share their experience with the app.

I think this is very unfair because Get 10 seems to be working perfectly and generating lots of revenue for the developer.
Conclusion 
Get 10 is a fun and challenging game, but their videos and pop-ups interrupt you almost every time you merge the numbers. It's very annoying!
I don't have irrefutable proof that it a scam. However, you should not expect to get paid even if you reach $200.
Chances are they won't even let you press the "Cash out" button!
Virtual cash does not reflect real-world currency, and so the company can simply ignore your payment.
Similar games:
If you are installing different apps in hopes to earn actual money, maybe it's time to change direction and mindset!
In this next section, I'm going to explain briefly how I make a living online. Then, you can make your own mind whether you would like to follow the same path or not.
Earn a Full-Time Income Online
 If you are serious about working from home, I suggest that you grow your own online business.
The business model that I use is very simple! Basically, I just provide quality content that ranks on Google and attracts people searching for information.
Then, I monetize my website using affiliate marketing and banners. I don't even need to handle sales or customer service!
Thanks to this excellent program, I created a lucrative site that covers all my living costs and allows me to work anywhere, anytime I want.
If you are the type of person who works hard to achieve your goals, you have good chances to succeed.
Join for free, follow the training, and take massive action as I did back in 2015!
Final Words
Thanks for reading my Get 10 app review. I hope it was informative enough. If you would like to share your thoughts about this game, use the comment section below.
Peace!