Welcome to my Bigbang Popstar – Pongs Puzzle review!
The developers of the BigBang Popstar app are enticing players with the expectation to redeem $200.
They promote it as if you could reach the target within just 1 or 2 minutes and cash out via PayPal.
It feels like a dream being able to make so much money just by playing a Candy Crush – style game. That would solve everyone's financial problems!
I know you are reading this review because you suspect this app may be fake and a complete waste of time.
So, is Bigbang Popstar legit? Does it pay or not? Keep reading to find out!
Tired of apps that don't pay? This step-by-step program helped me build my own online business and generate $1,600+ per month. Join for free and start now!
Bigbang Popstar App Review
Name: Bigband Popstar – Pong Puzzle
Developer: BigBang Team LLC.
Eligibility: Worldwide
Minimum Payout: $200
Price: Free (no in-app purchases)
Overall Rating: 1/5
What is Bigbang Popstar?
 Bigbang Popstar – Pongs is another casual match-three game like Fish Blast and Lucky Diamond.
The app is operated by a Bigbang Team and has been installed over 100,000 times!
With better games out there, including the popular Candy Crush, you may wonder why is this one attracting so many users?
Basically, that's because the company claims people can redeem $200!
How Does Bigbang Popstar – Pong Work?
Bigbang Popstar is available for free on the Google Play store. After launching the game, collect your daily bonus by tapping on the button and watching a short video. The first one is $5.
Next, tap "Play" and you are good to go!
Tap on clusters of at least 2 cubes of the same color to destroy them. The goal is to blast them all and reach the target points to clear the stage.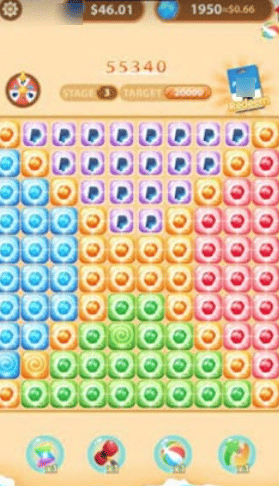 It's very easy in the beginning, but it gets harder in higher stages.
Whenever you eliminate a cluster, you will receive not only virtual dollars but also diamonds.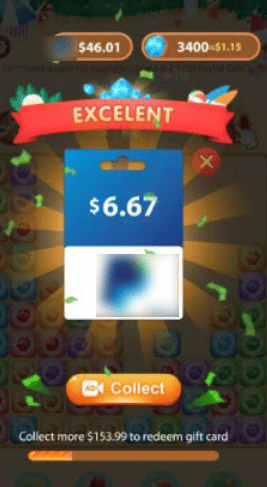 In addition, they will give you more rewards once you complete the level.

Use the hammer, reset, color, and lighting tools to break blocks more easily.
According to the app, you can withdraw the money to your PayPal once your cash balance reaches $200.
Besides, 295500 gems will get you a $100 gift card from major retailers such as Amazon, Google Play, Steam, Playstation, XBOX, and iTunes.
Recommended read: 65 Game Apps That Supposedly Pay You Real Money
Is Bigbang Popstar Legit? Does it Pay?
 I don't believe Bigbang Popstar is processing payment for users who accumulate $200.
Nevertheless, I have no concrete proof to call it a scam.
I like reading the review section on Google Play to see whether people are receiving the money.
However, the developers have launched an "Early Access" version of the game, which prevents players from writing an honest review.
The weird thing is that it can remain as "Early Access" forever even though the developer is earning revenue.
I believe this a tactic used to suppress the opinions and testimonials of users who are not making any money.
If you play Bigbang Popstar for long enough, you may experience a gradual decrease in your cash reward over time.
Once you get closer to $200, you will earn pennies until you are completely stuck.

Maybe they let you reach the minimum payout threshold and tap the cash out button.
But don't set high expectations because the money will probably never hit your PayPal account.
Also, it's important to know there is no binding agreement between you and Bigbang Team LLC.
Therefore, the company is not obligated to pay just because you reached the target.
Pros and Cons

This reward platform is going viral! Cash out via PayPal, Visa, Gift Cards, and in-game currencies - Click here to find out how to generate an extra $10+ per day! 
Pros
It's a nice game to kill time.
Excellent graphics.
 Cons
There is no evidence that it pays.
You may get stuck somewhere between $180 – $199.
A pop-up window with a cash reward opens up almost every time you destroy the blocks. It's very annoying!
Conclusion

Bigbang Popstar is a great time-killer, but I doubt you will receive the cash or gift card.
I am sure many people are disappointed with this game after spending an incredible about of time in return for nothing.
Don't bother installing Bigbang Popstar if you are trying to make real money online.
At the end of the day, you are just helping the developers generate big profits!
If you are willing to play Bigbang Popstar for fun, close the pop-ups and ignore the cash reward because it has no currency value.
Bigbang Popstar Alternative
As far as I know, Crypto Pop and Bitcoin Blast are only two match-three games that pay. However, the earning potential is so small that I wouldn't even bother!
It's only worth it if you already play these games regularly.
If you need money, you are much better off joining a GPT site like Prizerebel and completing simple tasks.
Some of them involve installing gaming apps and playing until you reach a specific level. You can actually get paid while having fun!
Some members make over $150 per month with this platform. However, this is not my favorite strategy.
Earn a Full-Time Income Online
If you wish to work from home and earn more than a few hundred dollars, I suggest that you build your own internet business.
I've built a lucrative affiliate site thanks to this excellent step-by-step program. 
The method consists of creating helpful content and earn commissions by promoting other people's products.
If you are the type of person who works hard to achieve your goals, you can also achieve time and location freedom.
Join for free, follow the training, and take massive action!
Final Words
Thanks for reading my Bigbang Popstar app review. I hope it was helpful!
Kindly share your thoughts and opinions in the comment box below to help others and engage in the discussion!
Peace!