Welcome to my Rolling Dice app review!
Over 1 million users have installed Rolling Dice in hopes to convert digital currency to real money.
This number doesn't surprise me considering the terrible economic situation most countries are going through.
The urgent need for cash encourages many people to try any opportunity they find on the internet. That's when they fall trap to all sorts of scams and useless activities.
You don't want to play a dull board game and watch 100s of videos in return for nothing. Time is money!
So, is Rolling Dice real or fake? Does it pay or not? Keep reading my review where I uncover all the information you need!
Top recommendation: This step-by-step program helped me build my own online business and generate $1,600+ per month. Join now for free and start your first 10 lessons!
Rolling Dice App Review
Developer: Serious Fun Studio Limited
Eligibility: Worldwide
Minimum Payout: $100
Price: Free (no in-app purchases)
Overall Rating: 1/5
What is Rolling Dice?
Rolling Dice is another board game available for Android devices.
I already reviewed a couple of similar apps such as Lucky Dice and Happy Dice.
All you have to do is press the "roll" button to move the pin across the board and collect rewards.
When you land on specific spaces, you will get tokens, virtual dollars (coins), scratch cards, slots, lucky cards, and more!
Then, you can supposedly request payment via PayPal once your cash balance reaches $100.
How Does Rolling Dice Work?
Rolling Dice is available for free on Google Playtore and doesn't require registration.
When you enter the game, you will receive 40 dices. A new one will be automatically added to your account every half an hour.
However, you can speed up the process and get 30 extra dices per day by watching a 30-second video.
Simply press the red button to move the pin forward and collect cash and tokens. You can multiply your earnings after watching another clip.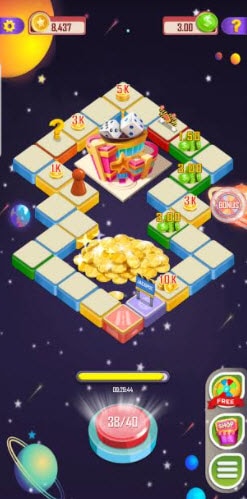 When you land on coins or tokens, watch a video to multiply your winnings by 1.2, 1.5, 2, and 2.5.
If you land on a Lucky Card, you can flip 3 out of 6 cards available to win tokens, coins, or dices. You must always watch a video before flipping the two last cards.
The odds of winning each prize are as follows: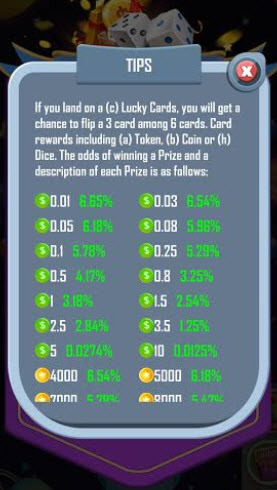 The Lucky Slots give you have the chance to collect more prizes by matching 3 symbols.
If you hit a Roadblock, you can only remove it by watching another video or spending 6000 tokens.
In addition to the board game, Rolling Dice allows you to play the Lucky Wheel and win more virtual rewards.
Don't expect it will land on $10!
The downside of games like Rolling Dice is that their algorithm controls the frequency of winning. It gets harder to win something, especially when you are very close to cash out.
Can You Make Real Money?
Sorry to disappoint you, but Rolling Dice works similarly to the other games I already reviewed on my blog.
None of them provide any evidence of payments, and no user seems to get paid.
I had a look at lots of testimonials on the Playstore and noticed the same behavior found in countless mobile games!
Rolling Dice will give you a decent amount of cash in the beginning, but after a while, your reward will begin to dwindle.
Your pin hardly ever hits the winning places, and the reward amount gets ridiculously low over time.
In one review, a user complained that he had not won a single penny for 3 months after he reached $99.98.
Another person said she has been stuck at $98 for 4 days, as she is only making fractions of a cent.


The number of similar reviews from disappointed players is staggering, so you should not expect to get paid.
Is Rolling Dice a Scam?
I have seen no one who received the payment.
However, I cannot call it a scam because there is no way of knowing with 100% certainty that they are not paying.
Another reason is that the developers did not make any promises regarding cash rewards.

This reward platform is going viral! Cash out via PayPal, Visa, Gift Cards, and in-game currencies - Click here to find out how to generate an extra $10+ per day! 
Here is are two relevance sentences from the "Terms and Conditions" page:
"Any Coins or Tokens balance shown in your account does not constitute a real-world balance or reflect any stored value."

"We will, in our sole discretion, determine and communicate the availability and exchange rate for any coins or tokens, which may be modified at any time."
With these two statements, it's clear that the company has no obligation to process payments.

Even if you reach $100, it doesn't mean they will be willing to transfer the money to your account.
Conclusion
Rolling Dice is another game using cash incentives as bait to attract lots of users.
Those who were brave enough to play it for months reported getting stuck before reaching the goal.
That's how most of these "money-making" games work!
They entice people with the opportunity to win cash, even though they don't have to pay anyone.
So, don't waste your time with Rolling Dice!
Verdict: Not Recommended
Rolling Dice Alternative
Unfortunately, there is no similar app giving away cash prizes.
Don't even bother searching for another game because the legit ones pay very little money. I am talking about fractions of a cent!
If you are searching for an easy way to bring in some extra money online, the best option is to join a GPT site like Prizerebel.
Members who take the time to complete offers and surveys are making over $150 per month.
I've personally cashed out hundreds of times during the last few years with no issues so far!
Earn a Full-Time Income Online
If you wish to work remotely and make money on your own terms, I suggest that you grow your own internet business.
The strategy consists of writing helpful content that ranks on Google.
By attracting people searching for information, you can generate commissions and advertising revenue.
The more visitors you get to your site, the more money you will make. There are no limits and the potential is huge!
I built my online business after following this excellent step-by-step program. I highly recommend it for people who want to work hard to achieve time and location freedom!
Join for free now and take massive action!
Final Words
Thanks for reading my Rolling Dice app review. I hope it was informative enough!
Kindly share your thoughts and opinions about this app in the comment box below.
Peace!