Welcome to my Merge Numbers Plus app review!
I was testing another app when I saw an advert about Merge Numbers Plus showing earnings of hundreds and even thousands of dollars.
It makes you think you can become rich just by playing an addictive game on your phone.
Here is a screenshot from one of these ads.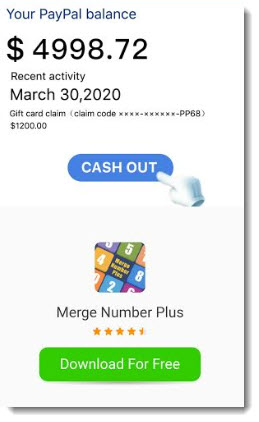 If you play "money-making" games on your phone, you are probably familiar with these type of ads.
Merge Numbers Plus gives you coins and virtual dollars that can supposedly cash out once you earn at least $200.
It's strange the fact that reviews on Google Play have been disabled even though the app has been installed over 1 million times.
In this review, I will show exactly you how Merge Numbers Plus works and give you my honest opinion about it.  Does it pay? How much money can you really earn?
Also, don't forget to check out this step-by-step program that helped me build my own internet business, earn $1,600 per month, and quit my job in 2019.
Merge Numbers Plus App Review
Name: Merge numbers Plus
Company: BT Gamefun
Membership Eligibility: Worldwide
Minimum Payout: $200 (PayPal)
Price: Free
Overall Rating: 2/5
What is Merge Numbers Plus?
Merge Numbers Plus is a mobile game where you need to merge at least 3 same numbers to collect coins and virtual dollars.
As the game is entirely funded by advertisers, they will show you frequent video ads while you are playing. That explains how the app developer would be able to reward players.
Merge Numbers Plus is a simple yet fun, addictive, and especially useful game to kill time.
What makes it even more addictive is the expectation of cashing out through PayPal once your cash balance reaches $200
Can you imagine making $200 just by merging numbers on your phone and watching a few ads?
Is Merge Numbers Legit?
I don't think anyone is able to cash out unless the company is picking a few lucky winners randomly.
The reason is that the amount of virtual money they give you is probably way above the revenue generated through advertising.
For example, after playing for less than 10 minutes, I made $3, which is more than I would get by filling up online surveys. It's very unrealistic! 
To make matters worse, the review section on Google Play is disabled, preventing us from hearing other users have to say.

Merge Numbers Plus is still in development (early access) despite being installed more than 1 million times already. Something tells me that the developers are not open for critics.
So, I checked their other very similar game called Merge Number and discovered that lots of people get stuck and cannot cash out. I haven't seen any report of successful payout.
As the game and business model are the same, I can only assume people may have the same experience and struggle to reach $200.
I cannot make any claims whether Merge Numbers Plus is a scam or a legit app without solid proof. What I can tell you that your chances of making $200 playing this game are close to zero.
Important update: Since I wrote this review, I received two comments from users who managed to reach $200. Keep reading to discover what happened after they tried to cash out.
How Does Merge Numbers Plus Work?
Installation
Merge Numbers Plus can be installed on your Android device for free on Google Play. Once you open the app, they will ask permission to access photos, and files on your device.
I don't know why a game would need access to files on your device because, unlike secret shopping apps, you don't need to upload anything. For me, this seems very suspicious and unsafe.
For example, if you choose "Allow", they can read and even delete content that is stored in your USB. Be aware that the company disclaims all responsibility.
Luckily, the company give you the option to deny access and still play the game.
Playing Merge Numbers Plus
 The game seems a bit confusing in the beginning, but it's actually very simple!
The goal is to tap on a number that is surrounded by at least 2 other numbers that are 1 unit higher.

For example, if you have number 5 surrounded by two numbers 6, they will all merge together to form number 7. You can combine more numbers at once to form combos and earn bonuses!
Here is another example: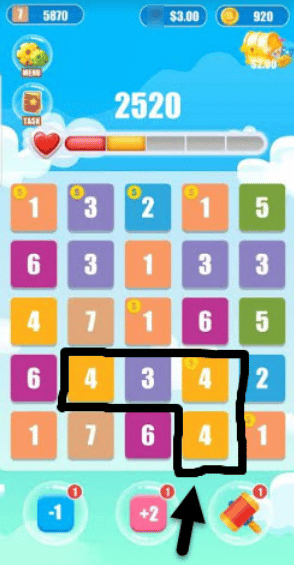 You can earn coins by merging specific numbers that have a coin sign. Occasionally, you will also collect a specific amount of virtual cash. It shows you a PayPal logo, but unless they transfer it to PayPal account, this is not real money.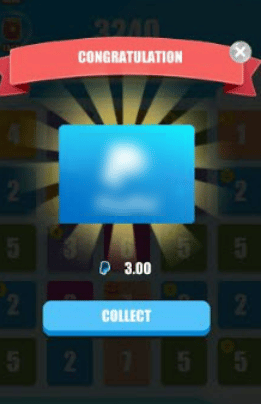 Usually, they will allow you can watch an ad to multiply your earnings. Ads will also pop up occasionally while you are playing, and you cannot skip them unless you close the game and start over.

This reward platform is going viral! Cash out via PayPal, Visa, Gift Cards, and in-game currencies - Click here to find out how to generate an extra $10+ per day! 
If you run out of opportunities to combine numbers, you must strategize and tap on numbers to increase their value.
Every time you do that, you will consume one heart. You can use a maximum of 5 hearts, after which the game is over.

If you tap on revival and watch a video ad, you can get another 5 hearts and continue from where you started.
It's quite easy in the beginning, but the more you play, the harder it gets!
There are other ways to collect coins such as checking-in daily, and spinning the lucky wheel.
Diminishing Rewards
After playing Merge Numbers Plus for a while, users will start collecting fewer and fewer rewards.
This happens with almost all games that offer a high cash incentive such as Wordy Word, and Dog Condo.
They give you the impression that you will cash out quickly by giving lots of coins or virtual cash in the early stages of the game.
However, once you get closer to $200, you will realize that reaching the minimum threshold will take ages!
How Do You Cash Out?
As I mentioned, you will collect virtual dollars and coins while playing.
When you click on the cash balance at the top and click on "Cash out",  it says you must have at least $200 to cash out! Enjoy it!
As for coins, Merge Numbers Plus give you the following minimum payout options:
£5 Amazon gift card: 285,000 coins
£5 PayPal: 285,000 coins
£10 Google Play: 510,000 coins
£10 iTunes: 510,000 coins
£10 Steam Wallet: 510,000 coins
£5 Playstation Network: 294,000 coins
£10 XBOX Live: 510,000 coins
If you don't live in the UK, select your nation to see the cashout requirements in your country.
Hidden Cash Out Requirements
If you check the user reviews below, two people said that after they reached $200, the app came up with these additional requirements:
Be active for 150 days.
Reach 800 levels.
Earn at least 16,000 reward bonus.
I mean, seriously?
It must be very frustrating to reach the $200 goal and realize there are more requirements that are not mentioned anywhere.
I can't even imagine how long it will take to reach these goals, but guess what? There is still no payment guarantee!
Does Merge Numbers Plus Pay Real Money? 
Below the "Cash Out"  button, there is a statement saying "Redeem means you agree with TOS".
I checked the Terms of Service and couldn't find any information about coins and cash withdrawals. From what I understand, this means the company is free to deny your payment. 
For example, lots of similar apps state that tokens and virtual currency have no monetary value and that you will only exchange for cash at the company's sole discretion.
In my opinion, you will never make real money by playing this game.

Final Thoughts
I think Merge Numbers Plus is a great puzzle game to exercise your brain and pass the time. But it's not for making money!
There is no evidence that players are able to cash out.
I don't support the way they are advertising this app because it gives people unrealistic expectations. You won't make thousands of dollars with this game as the ad suggests!
It takes a very long time to reach $200 or 285,000 coins, and I don't think the company will be willing to pay once you get there.
If you want to play it for fun, I am sure you will enjoy Merge Numbers Plus. Just don't expect to earn money or you can get frustrated and regret wasting precious your time.
Earn a Full-Time Income Online
If you want to work from your laptop and make money on your own terms, I highly recommend the same business model that I use called affiliate marketing.
It consists of providing helpful content through your own website and promoting other people's products.
Most people think it's too difficult and even impossible without technical skills or some expertise. The good news is you can start from scratch and achieve the level of income you desire regardless of your background.
This is me, working from a teepee in Cambodia and enjoying the beach a few hours later!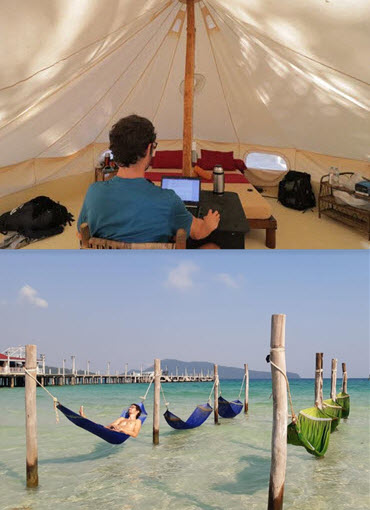 Growing this profitable website does not happen overnight. It takes time and perseverance, but anyone can do it with proper training and the right mindset.
This excellent step-by-step program helped me set up an affiliate site, get enough traffic, and make a full-time income working anytime, anywhere I want. You can sign up for free and start your online business today with no strings attached!
Final Words
Thanks for your time reading my Merge Numbers Plus app review. I hope it gives you a better understanding of this game.
If you want to ask anything or share your thoughts about it, feel free to use the comment box below.
Stay safe and peace out!