Welcome to my LuckyCash app review!
I was browsing Google Play when I came across another money-making application called LuckyCash.
This free app claims you can earn credits for completing simple actions such as taking surveys, downloading apps, and watching videos.
After accumulating enough credits, you can supposedly convert them to cash rewards via PayPal or Amazon vouchers.
Apps LuckyCash have grown in popularity during the last 2 years thanks to overhyped commercials bombarded through games and other apps.
Unfortunately, most of them deny payments and cause a lot of frustration!
In this review, you will find reliable information and my unbiased opinion about the LuckyCash app.  Is it legit or fake? Will you get paid?
Let's find out!
Also, don't forget to check out this step-by-step program that helped me build my own internet business, earn $1,600 per month, and quit my job in 2019.
LuckyCash App Review
Name: LuckyCash
Company: E-Conit
Membership Eligibility: Worldwide
Minimum Payout: $5 (PayPal); $10 (Amazon)
Price: FREE
Similar apps: appkarma, CashApp, PocketFlip
Overall Rating: 2.3/5

This reward platform is going viral! Cash out via PayPal, Visa, Gift Cards, and in-game currencies - Click here to find out how to generate an extra $10+ per day! 
What is LuckyCash?
LuckyCash is a reward app developed by a Belgian company called E-Conit. The app allows you to earn credits by taking surveys, testing apps, watching videos, and completing forms.
You can play the game for a chance to win the jackpot or the Wheel of Fortune to multiply your credits. Another way to earn credits is by inviting friends.
Once you have amassed a specific amount of credits, you can trade them for real money. You can transfer your balance by PayPal or request an Amazon gift card by email.
Is LuckyCash Legit? Will They Pay You?
LuckyCash is a legit app, otherwise, it would have been banned by Google and Apple by now.
That doesn't mean the company is processing payments for every user and giving credits for every task.
Although the app has been rated 4.7 on Google Play, there are some complaints about missing points and payments.
According to the Terms of Use, LuckyCash just hosts marketing offers from advertisers, who decides whether you should get rewards or not.

It also says you have no right to file an action against E-Conit regarding a reward failure.
In other words, there is no payment guarantee and there is no legislation to force the company to pay you.
Nevertheless, LuckyCash is constantly publishing recent payments. You can find the list of users who cashed out in the "Settings" tab.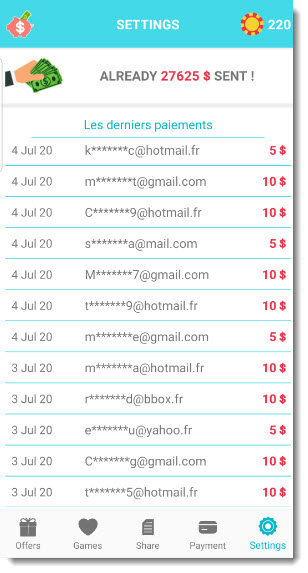 Pros and Cons
Pros
There are lots of opportunities to earn credits.
Earn cash rewards through PayPal and Amazon gift cards.
It's available worldwide.
Generous 30% referral commissions.
Cons
Many users reported missing credits and payments.
Low earning potential.
How Does LuckyCash Work?
Installation
LuckyCash is available worldwide and works on both Android and iOS operating systems.
After installing the app on Google Play or App Store, open LuckyCash and click continue if you agree with the "Terms of Service" and "Confidentiality policy".
You can also insert a sponsorship code if someone has invited you to join LuckCash. You will earn 500 credits if you do.
Credits vs Rewards
Before completing any task, you should know that 1000 credits are worth $1.
Therefore, you can always calculate the real value of one task dividing the number of credits by 1000.

You can request a payment via PayPal once you have amassed 5000 credits, which will be converted to $5.
As for Amazon gift cards, the minimum payout threshold is $10 (10,000 credits).
Earn Credits
There are many ways you can win credits with LuckyCash.
When you open the app, you will receive 50 credits as a gift. You can earn an extra 150 credits just by completing a quick profile with your PayPal email and age.
Mega Offers
In the Mega Offers section, you will find a list of offers from different advertisers including service providers, game developers, and marketing research companies.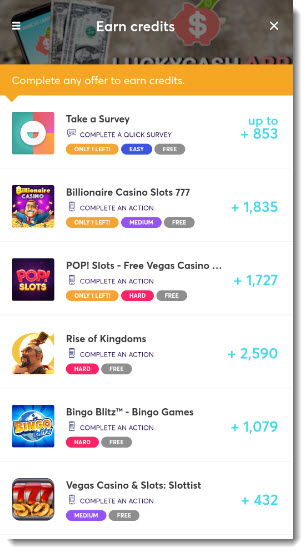 You will get credits if you meet certain requirements for each offer. For example, you may be asked to install a game and play until you achieve a specific milestone.
Here are some offers that I found while reviewing LuckyCash:
Pop! Slots (+1727 credits): Install the app and collect your free CHIPS. Spin & win to reach level 33.
AFK Arena (+1943 credits): Play AFK Arena and get your first Legendary hero.
Take Surveys (+583): Answer some easy questions about yourself, then choose from a choice of surveys from TheoremReach.

Survey For Money
In this section, you can complete surveys from marketing research partners.
As of writing this review, there were only 2 companies available: TheoremReach and Tap Research.
The downside of completing surveys is that you can waste a significant amount of time trying to qualify. It can be hard depending on your demographics.
Most surveys take 10 – 20 minutes to complete and will pay you less than $1 worth of credits.
Video
LuckyCash will give you 1 credit for every video advertisement you watch. Most videos last for 30 seconds.
Earn More Cash
Every Sunday, LuckyCash selects a random winner of the jackpot, which is usually 10000 credits ($10).
The downside is that each ticket costs 2000 credits, which is too expensive.
Me, personally, I would never spend $2 on a ticket for a slim chance to win $10.
Wheel of Fortune
With the Wheel of Fortune, you can spin the wheel to multiply your credits up to 10 times. You can bet any amount you want, but the minimum is 800 credits.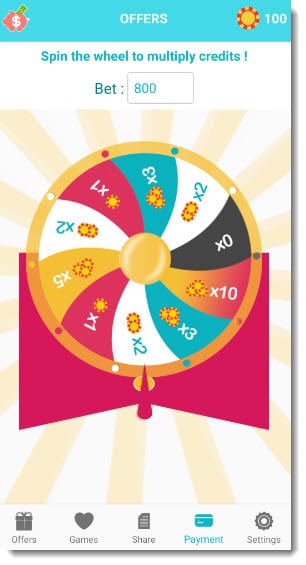 Invite Your Friends
In the "Share" section, you can invite your friends to install LuckyCash to earn referral commissions.
You will get a generous 30% of all the credits your friend earns. All you have to do is tap on the "Sponsor" button and select anyone on your social media accounts.
In my opinion, referring people LuckyCash is the best way to make money with this app.
For example, if you refer 10 people and they all make $100 in one month, you will make $30 without completing any task.
However, if you want to earn referral commissions promoting reward platforms, I recommend this top-rate GPT platform. I have made over £2,000, and my payments were never delayed!
Premium Account – Is it Worth it?
LuckyCash has a premium membership that gives you 20% more credits when completing offers, surveys, and other tasks.
They also say you will get 1000 credits directly in your pot whatever that means.
The premium status is a monthly subscription that costs 10,000 credits. I think it's too expensive and not worth it!
How Do You Get Paid?
You can request your payment via PayPal or Amazon gift card once you have earned 5,000 and 10,000, respectively.

To redeem your credits via PayPal, you must have set your PayPal email in your profile.
Then, enter the payment section and choose the cashout amount.
Conclusion
LuckyCash is a legit app, but it's still unclear how reliable they are regarding payments.
I have seen some complaints on Google Play that suggests not everyone having a positive experience.
On the other hand, the company is publishing the email (anonymously) of users who are cashing out every day.
So, as with anything in life, there is always a level of risk involved. That's why I don't recommend spending your hard-earned money on offers that require a deposit.
Give preference to free offers and surveys because if you don't get paid, at least you won't lose money.
The advantage of LuckyCash over other similar apps is that it provides a lot of opportunities to earn credits, and you can cash out via PayPal and Amazon gift cards.
The downside is the low rate of pay and the risk of not getting paid.
Verdict: Legit
Earn a Full-Time Income Online
Have you ever dreamt of working from home, without having to deal with traffic jams, grumpy co-workers, and disrespectful customers?
Well, I never thought about this possibility until I discovered a business model called affiliate marking.
It consists of providing helpful content to the internet and promoting other people's products via affiliate links.
Most people think this is out of their reach, but I started my online business with zero knowledge, and here I am, working from my laptop far away from home.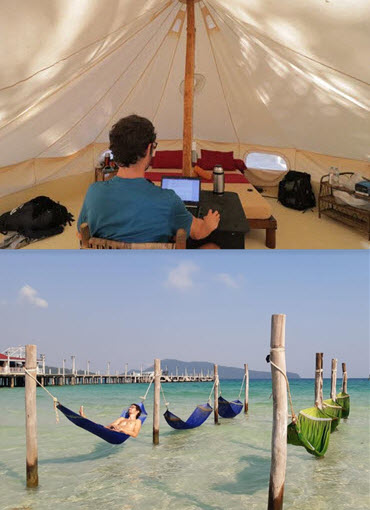 Not only that, but I don't have to meet any customer deadlines. I set my own schedule and earn commissions that cover all my living expenses.
Setting up a profitable online business did not happen overnight. It took time and dedication, but it was worth it in the end!
This excellent step-by-step program helped me build an affiliate site, get traffic (visitors), and generate affiliate sales. You can sign up for free to test the waters with no strings attached!

Final Words
Thanks for your time reading my LuckyCash app review. I hope it was helpful!
If you have any questions or want to share your thoughts about this app, feel free to use the comment box below.
Stay safe and peace out!