Welcome to my Golden Farmery app review!
The creators of Golden Farmery are enticing you to install their app and get rewards for every minute you play games.
All you have to do is choose a sponsored game from the list, install it, and start playing. It can't get any easier than that!
However, if you are familiar with such reward apps, you know that most companies are not willing to share the advertiser's fees with players.
They prefer to grow their pockets and ignore the insane number of complaints on Google Play. After all, the business model is very profitable as it is!
So, is Golden Farmery a legit or scam app? Does it pay after you collect enough coins?
Read this review before you spend your time and internet data!
Also, don't forget to check out this step-by-step program that helped me build my own internet business, earn $1,600 per month, and quit my job in 2019.
Golden Farmery App Review
Name: Golden Farmery
Company: JustDice GmbH
Membership Eligibility: Worldwide
Minimum Payout: $0.50
Similar apps: Fitplay, Lucky Miner, Coin Pop
Overall Rating:

2.3

/5
What is Golden Farmery?
Golden Farmery is a mobile application where users can get rewards for discovering and playing new games.
This is just one among many identical apps operated by a German company called JustDice. I have most of them including Cash Alarm, Coin Pop, and Lucky Miner.
As you play a sponsored game, you will earn coins that you can trade for cash via PayPal or gift cards.
Golden Farmery is 100% free, with no in-app purchases required. It's available worldwide and works only on Android devices.
Is Golden Farmery legit? Does it Pay?
Golden Farmery is operating legally, but it's not a reliable app to make money!
In the app description, the company promises fast and guaranteed payouts as you can see below: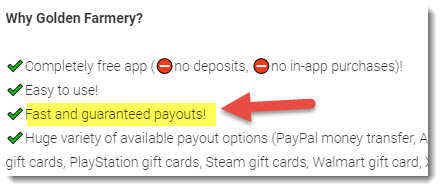 However, the Terms of Service tells us a different story. It states that winnings are not guaranteed and that users have no right to any reward.
As expected, many users are struggling to reach the minimum cashout amount and are giving up!
The reason why it's so difficult to cash out is that the more you play a game, the fewer coins you will earn. Besides, there are lots of complaints about points not being credited properly.


Other users accumulate enough coins to cash out, but the app does not allow them to withdraw.
Different issues may occur when you try to get your money. For example, the cash out button may not work, or they may suspend your account for suspicious behavior.
It can be very frustrating, to say the least!
That being said, I also found other players who were able to cash out, so there still a glimmer of hope.
Pros and Cons
Pros
You don't need to complete any task to claim your coins. All you have to do is play the game!
Easy to use.
Earn 4444 Coins for signing up.
There are no ads.
Cons
There are not many games depending on your country.
Many users complain they are not collecting points after playing.
Your games may disappear from the list after an update.
How Does Golden Farmery Work?
Installation and registration
Search for Golden Farmery on Google Play, install the app, and agree with the Terms of Use.
Next, you must allow access usage data so they can detect your playtime and give you rewards.
To do that, simply select Golden Farmery from the list of apps, and activate "Allow usage tracking".
Finally, register with your email address, Facebook, or Google account. If you select the email signup option, they will ask about your age and gender.
When you open the app, you will get 4444 coins just for signing up. Speaking of coins, let's have a look at the exchange rate.

How Much is One Coin Worth?
The conversion rate depends on your country. For example, U.S. residents can trade 4999 coins for $0.50 paid via PayPal. Therefore, 1 Coin is worth $0.0001.
Tired of making beer money from your phone? Why not build your own internet business that pays all your bills?
How to Earn Coins
Once you log in, you will see a list of suggested games along with the number of coins per minute of gameplay.
Click on "play & collect" to install the game on your device and start collecting coins.

This reward platform is going viral! Cash out via PayPal, Visa, Gift Cards, and in-game currencies - Click here to find out how to generate an extra $10+ per day!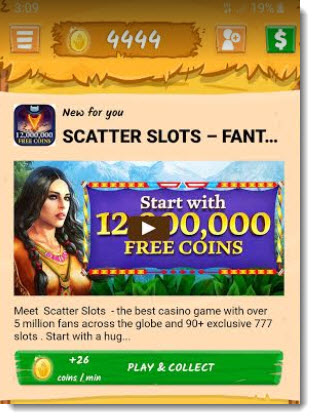 You can access all your installed games in the "My App" section inside the Golden Farmery menu.

Always open games through the Golden Farmery app so they can track your gameplay properly.
It can happen that after an update, all your games will disappear from the list.
The number of coins you will earn depends on the game and your country. For example, in the US, most games will get you over 200 Coins/min whereas, in the Philippines, they are paying less than 30 Coins/min.
The More You Play, The Less You Earn!
It's important to understand that the number of coins you can earn per game is limited and that the Coin/minute ratio will decrease over time.
In other words, the more you play a specific game, the less you get out of it. The same thing happens with most apps that supposedly pay you to play games.
Many users install the game and expect to earn the exact number of coins regardless of how long they play the game.
As a result, they feel cheated when they return to Golden Farmery and notice a smaller reward.
For example, if it says 100 coins per minute, that doesn't mean you will collect 3,000 coins after playing for 30 minutes.
The truth is that the number of coins per minute will decrease until it eventually becomes negligible. At this point, your only option is to try another game!
Unfortunately, you will get stuck if there no other game available, and you will have to wait.
Invite Friends
You will get 250 Coins for every friend that you invite plus 25% of all the Coins they earn. Your friend will also get 25% of your earnings if he joins through your invitation.
To invite friends, tap on the orange button beside the green dollar button, and tap on "Invite Friend". Then, select anyone on Whatsapp, Facebook, Instagram, etc.
How Do You Get Paid?
Once you get enough Coins, you can cash out via PayPal, and gift cards from Amazon, Google Play, and more. You can redeem a minimum of 4999 Coins for $0.50.
When you select "PayPal", you will be asked to submit the email address for your account.
Keep in mind that Golden Farmery pays out the corresponded amount in EUR regardless of your country. That is because the company is based in Germany.
If you don't live in the Eurozone, you can quickly exchange the money through PayPal.
Depending on the number of applications, your Gift card can take up to 7 business days to be processed. Always check your spam folder to see if your gift card is there.
Final Thoughts
Golden Farmery gives you the chance to earn money for playing games, but unlike they said on Google Play, there are no guarantees.
It doesn't take too long to reach your first 4999 Coins because you will start with a great bonus of 4444 Coins.
However, you may have to play for weeks if not months to reach your next $0.50!

The main problem with apps like Golden Farmery is that they can fail to record your gameplay, making you waste a lot of time.
Don't set high expectations of making money or you can easily get frustrated.
That's why I only recommend Golden Farmery to people who are more focused on the joy of playing the games rather than making a little amount of money.
Verdict: Legit
Earn a Full-Time Income Online
Have you ever thought about working from your laptop and making money on your own terms?
Most people don't even think this is possible, but here I am, working from a tropical country far away from home!
Not only that, but I don't have a boss to tell me what to do! I set my own schedule and generate commissions that cover all my living and travel expenses.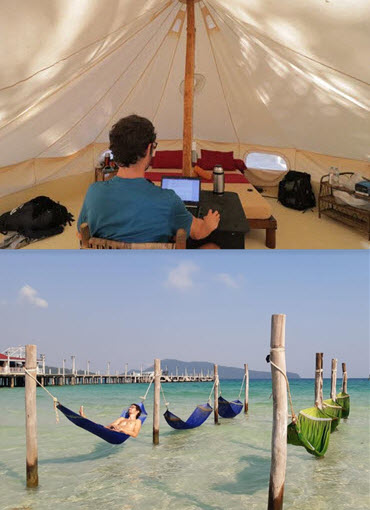 Growing this profitable internet business did not happen overnight. It took time and persistence, but I can tell you it was all worth it.
This excellent step-by-step program helped me set up an affiliate site, get enough traffic (visitors), and generate lots of sales. You can sign up for free and get started today with no strings attached!
Final Words
Thanks for your time visiting my blog and reading my Golden Farmery app review. I hope it was helpful!
If you want to ask anything about this app or share your thoughts, feel free to use the comment box below.
Stay safe and peace out!