Welcome to my Money Flame app review!
I discovered Money Flame while I was reviewing another game from the same company called Lucky Dice.
The app developer claims you can make easy money just by playing their addictive game, which consists of protecting the flame with your finger and collecting gems.
The more gems you collect, the more money you can supposedly withdraw to your PayPal account.
I have been reviewing reward apps for years now, so I know how hard it is to find a company that pays.
So, can you trust Money Flame? Is it a scam or a legit app? Will they pay you?
If you are thinking of installing and playing the Money Flame app, I urge you to stop and read this post carefully.
Also, don't forget to check out the step-by-step program that helped me reach $1,600 per month from my laptop and quit my job in 2019.
Money Flame App Review 
Name: Money Flame
Website: https://www.tortechstudios.net/money-flame
Company: Sidtech Studios
Membership Eligibility: Worldwide (+18)
Minimum Payout: $1
Similar app: Lucky Cube, Bounty Fishing
Overall Rating:

2.1/5
What is Money Flame? 
Money Flame is another app that supposedly rewards users for playing a game and watching clips.
Your goal is to dodge the flame with your finger and escape the spiky obstacles along the way.
As you are moving up, you must collect Gems that you can redeem for cash via PayPal or Paytm.
If you want to collect Gems faster, you can also take part in surveys from leading marketing research companies.
The Money Flame app has been downloaded more than 50,000 times on Google Play and has been rated 4.2 out of 5.
Is Money Flame Legit? Does it Pay?
Money Flame is a fun game, but unfortunately, there is no evidence that the company is processing payments.
The app description makes people think they can make easy money, but they don't make any promises.
That being said, I cannot claim the Money Flame is a scam with no proof.
I have read lots of reviews and just found one player who claims to have redeemed Gems for real cash. Lots of players said they have waited for more than 3 days but didn't receive any payment.
So, why are there so many 5-star ratings, you may ask?
Well, Money Flame asks users to review the game after just a few minutes of gameplay.

By the time people leave feedback, most of them didn't play for long enough to cash out. So, they tend to leave a positive review because they like the game, not because they got paid.
Money Flame is a great game if you just want to play it for fun, but don't expect to earn any money from this app.
Pros and Cons
Pros 
The game is cool.
No registration required.
There are not many ads compared to other reward apps.
Cons
It takes a long time to reach 2400 Gems.
You may never get paid.
How Does Money Flame Work? 
Installation 
Money Flame is available for free on Android devices. After installing the app, you will be asked to agree with the Terms of Service and Privacy Policy.
Once you click accept, you can start playing the game straight away!
Gems vs Rewards
Money Flame claims you can redeem 2500 Gems for $1 USD via PayPal or 50 Rs via Paytm.
Playing the Game
To start playing Money Flame, tap on the Play button and slide your finger to take control of the flame.
Your job is to dodge the flame from obstacles that keep falling and collect Gems along the way.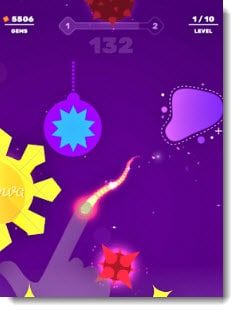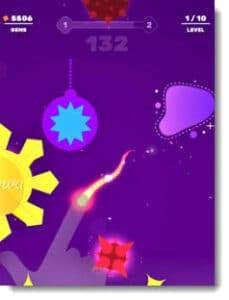 The spiky objects fall faster after each level, making it very challenging! I really like the game, to be honest!
If you let the obstacle hit you, then the game is over. The good news is that you may watch an ad to continue playing where you stopped.
As you play the game, a percentage bar will gradually fill, and you will get bonus Gems when it reaches 100%.
Complete Surveys
Another way to collect Gems is by completing surveys from TheoremReach, PollFish, and TapResearch.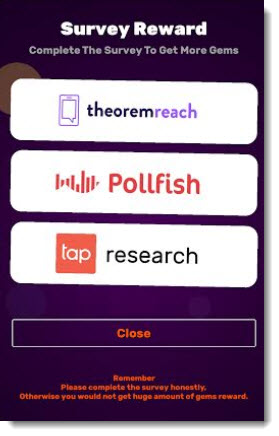 This reward platform is going viral! Cash out via PayPal, Visa, Gift Cards, and in-game currencies - Click here to find out how to generate an extra $10+ per day! 
When you sect any of these companies, you will be asked to complete a short profiling survey. Then, you can try to qualify for each survey by answering a few more questions.
Be aware that these marketing research companies can screen you out halfway through the survey.

Most surveys take 10 – 25 minutes and will give you less than 2500 Gems ($1).
Completing surveys through Money Flame is risky because you don't know if they will convert your Gems for cash. As I mentioned, many users have complained about missing payments.
In my opinion, it's safer and you can make a lot more money if you join this top-rated GPT website.
This platform will connect you with a host of marketing research companies and convert your points to cash once you reach $5.
How Do You Get Paid? 
To redeem your Gems, tap on "Redeem Gems", and select PayPal or Paytm. The redemption options are the following:
PayPal
$1 – 2500 Gems
$3 – 7000 Gems
$5 11000 Gems
PayTm
50 Rs – 2500 Gems
150 Rs – 7000 Gems
250 Rs – 11000 Gems
Next, provide your full name, and your PayPal email or Paytm number. The app states that your requested payment will be processed within three business days.
Conclusion
Money Flame is a cool game, but if you are just playing with the expectation of making money, you will be very disappointed.
You will have to play this game for hours and probably watch 100+ ads until you collect 2500 Gems. All of this for a slim chance to earn $1!
There are too many users reporting that they didn't receive the money after the 3 business days.
If you want to make real money online, playing games is definitely not the way to go!
It's tempting to earn a few dollars while having fun, but you have to understand that these apps are advertising machines that don't have any obligation to pay.
Earn a Full-Time Income Online! 
If you are struggling to make money from reward apps and other sites, you are not alone!
Most people can't make a decent income online because they are not aware of other possibilities.
If you want to take full control over your earnings and reach a full-time income, I advise you to build your own online business!
This excellent step-by-step program gave me a clear plan of action to build a website, rank content on Google, and generate affiliate commissions.
After following the training and working consistently, I was able to earn enough money and quit my job in 2019!
The good news is that you can sign up, complete the first 10 lessons, and start your online business completely for free.
>> Click here and check out my #1 recommendation! 

Final Words
Thanks for taking the time to read my Money Flame review. I hope it was helpful!
If you have any questions or want to share your thoughts on this app, feel free to leave a comment below.
Stay safe and peace out!