Welcome to my Lucky Cube app review!
The creators of Lucky Cube claim you can make real money by playing the dice game and completing simple tasks.
As you play the game, you will accumulate coins that you can supposedly redeem for cash via PayPal or Paytm.
There is an incredible number of gaming apps giving players the chance to redeem points for cash.
Unfortunately, most of them do not pay, and will just make you watch hours of ads for nothing!
You are here because you want to know if Lucky Cube is a scam or a legit application. Does it pay or not?
Keep reading as I will show you everything you need to know about this app and give you my honest opinion.
Also, don't forget to check out the step-by-step program that helped me reach $1,600 per month from my laptop and quit my job in 2019.
Lucky Cube App Review
Name: Lucky Cube
Website: https://www.tortechstudios.net/lucky-cube
Company: Sidtech Studios
Membership Eligibility: Worldwide
Minimum Payout: $1
Overall Rating: 1.6/5
What is Lucky Cube?
Lucky Cube is a mobile game based on luck and probability. The goal is to guess whether the upside face of the dice will show a higher or lower number in the next turn.
For example, if the dice is showing number three and you think the next number will be higher than three, you just have to press the 'Hi' Button.
If you think the next number will be lower than three, press the 'Lo' Button. It's that simple!
Lucky Cube also allows you to earn extra coins by completing surveys and installing apps. Once you accumulate 2000 Coins, you can withdraw $1 to your PayPal or Paytm account.
It's important to mention that Lucky Cube is funded by advertisers, which is how the company can run the app for free and still make profits.
Is Lucky Cube Legit? Does it Pay?
I don't have any proof to call Lucky Cube a scam, but I found strong evidence they are not rewarding players.
After reading tons of reviews on Google Play, I couldn't find a single user who got paid. They are many 5-star reviews, but those are brief testimonials saying the app is great, fun, and not much else.
On the other hand, you will see lots of users complaining that they didn't receive the payment. Here is just a small sample: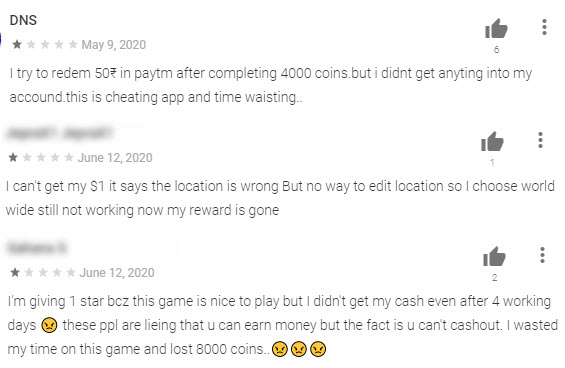 Pros and Cons

Pros
There are not many ads.
Earn more coins by completing surveys and downloading apps.
Cons
There are lots of complaints about payments. You may never get paid!
Slow earner – It takes ages to reach 2000 Coins.
Exchange 2000 Coins for just $1.
How Does Lucky Cube Work?
Installation
You can download Lucky Cube on Google Play and start playing it for free. Before getting access to the game, you just have to review and accept the Privacy Policy and Terms of Service. Registration is not required.
Keep in mind you must be 18 years of age or older to use the app.
Playing the Lucky Cube
The game is very straightforward! All you have to do is roll the dice and guess whether it will show a higher or a lower number.
There are two main buttons: The 'Hi' and the 'Lo' button representing the up arrow and the down arrow.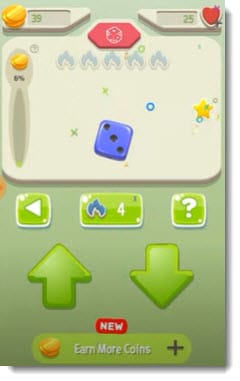 When you start Lucky Cube, the dice will roll automatically and drop on the board.
If you think the next number will be higher than what the dice is showing, press the Hi' button. Otherwise, press the 'Lo' button. You can only press one button at a time.
Every time you guess correctly, you will earn 1 Coin, and every time you are wrong, you will lose 1 heart.
The game starts with 30 Coins and 30 hearts.

Keep in mind that you won't be able to roll the dice if you run out of hearts.
You can collect 1 heart by clicking on the heart icon at the top of your screen and watching the full video.
What Are the Odds of Winning?
I the game overview section, Lucky Cube says you have a 50/50 chance to win, but that's not accurate.
In reality, the odds of winnings depend on the number you have and whether you press the Hi or the Lo Button.
For example, if you have the number 6 on the dice, your chance of winning the next round is 100% if you press Lo and 0% if you press Hi. After all, a dice with 6 sides can never show you the number 7.

This reward platform is going viral! Cash out via PayPal, Visa, Gift Cards, and in-game currencies - Click here to find out how to generate an extra $10+ per day! 
If the dice isn't rigged, then your probability of winning is ALWAYS higher if you press the 'Lo' button whenever you have the numbers 4, 5, and 6. For 1, 2, and 3, the odds of winning are higher if you press 'Hi'.

How to Earn More Coins?
Survey Rewards
You can earn more Coin by answering surveys from marketing research firms such as TheoremReach, PollFish, and TapResearch. Your "job" is to share your honest opinions about products and services, which will influence the decisions of companies.
App installs Reward
Another option to earn Coins is to download and use sponsored apps. You must not only install the app but also follow the instructions to claim the reward coins.
While I was testing Lucky Cube, they were asking me to install their other app called Money Fame and run it for 30 seconds.
Check-in 
Lucky Dice will give you a daily check-in bonus of 30 coins, and an hourly check-in bonus of 10 Coins. You can find the "Check-in" buttons inside the "Earn More Coins" section.
How do You Get Paid?
Users worldwide can redeem 2000 Coins for $1 via PayPal. For residents in India, you have the option to redeem 2000 Coins for 50 Rs via Paytm.
To request your payment, you must provide your full name and your PayPal email address (or Paytm mobile number).
Lucky Dice claims to process your payment within three business days after submitting your request.
However, you can consider yourself lucky if you get paid.
Conclusion
Lucky Cube is a boring game that you must play for many hours in hopes to earn a paltry $1. Unfortunately, the company does not seem to pay the brave players who reach 2000 coins.
As you play the game, the app is generating profits by showing you lots of commercials. You, on the other hand, does not have any payment guarantee!
You will probably waste your time, patience, and internet data!
Earn a Full-Time Income From Home
If you are serious about making money online, I discourage you from playing mobile games.
Instead, I suggest building your own online business in your spare time so you can eventually reach a full-time income from home.
Me, personally, I created my own website which is now generating over $1,600 per month in affiliate commissions and ad revenue.
You don't need to be tech-savvy or an expert in order to build a site and start making money.
My knowledge of internet marketing was extremely limited when I started my site, but I learned the ropes, and here I am!
This excellent step-by-step program gave me a clear plan of action to set up my site, rank content on Google, and attract a large audience.

You can achieve your goals too if you take massive action and be patient. It takes time, but remember…
"Nothing worth having in life comes easy."
– Theodore Roosevelt
Final Words
Thanks for taking the time to read my Lucky Cube app review. I hope it was helpful!
If you have any questions or want to share your thoughts, feel free to leave us a comment below!
Stay safe and peace out!