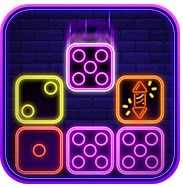 Welcome to my Magic Dice app review!
Maybe you found Magic Dice and the opportunity to win over $100 – $500 just by merging neon dices.
The game is promoted as a simple way to collect virtual cash and withdraw the money via PayPal.
Everything is part of an aggressive marketing tactic to get players to watch lots of sponsored videos.
I have seen a video showing a fictitious Magic Dice gameplay where each dice had a specific amount of dollars.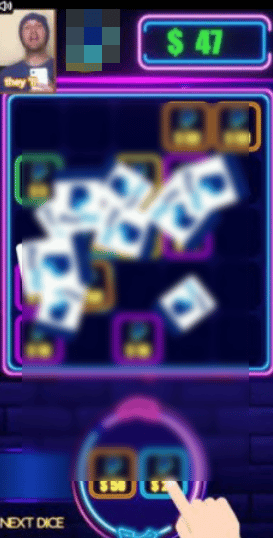 Then, whenever three similar dices combined, the cash would be added to the balance at the top.
You don't want to fall victim to greedy developers, so you are probably wondering – Is Magic Dice a scam or a legit application? Does it actually pay?
Keep reading to find out!
RECOMMENDED: Check out the step-by-step program that helped me build an online business from scratch and earn $1,600+ per month. No special skills required! 
Magic Dice App Review

This reward platform is going viral! Cash out via PayPal, Visa, Gift Cards, and in-game currencies - Click here to find out how to generate an extra $10+ per day! 
Name: Magic Dice – Merge Time
Company: Honeylet Raquinio
Payout Threshold: N/A
Eligibility: Worldwide
Overall Rating:

2/5
What is Magic Dice?
Magic Dice is an addictive match-3 puzzle game in which the player must combine dices with the same number. I couldn't stop playing it!
The game was developed by Honeylet Raquinio and is very similar to Dice World.
How Does Magic Dice Work?
Installation
Install Magic Dice for free on the Google Playstore and tap play to start. There is no need to create an account.
How to Play?
Drag the dices to the grid and try to place equal numbers together horizontally or vertically. L-shaped combinations work too!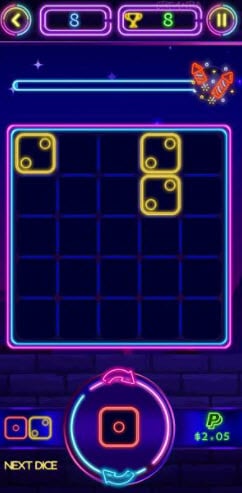 When you see 2 dices at once, you can rotate them as you with.
By combining at least 3 identical dices, they fuse and form another with a higher number. As a result, you will get virtual cash or diamonds occasionally.

Magic Dice will also offer you a bigger cash reward depending on your score. However, you must tap the button and watch a 30-second video to claim your prize.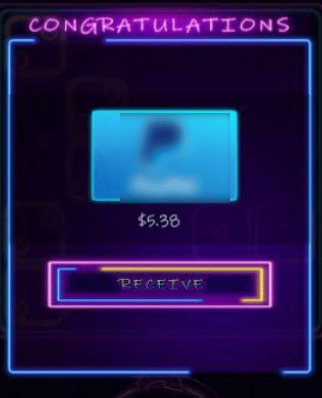 When you merge dices number 6 and above, you will get one with colorful stamps.
The game ends when there are no more spaces left.
To achieve higher scores, check which dice comes next and strategize.
Rewards
Magic Dice claims that all the money you collect within 3 days can be transferred to your PayPal account.
You don't need to reach a minimum payout amount to redeem your cash balance. Simply fill in your PayPal email and tap go.
In addition, the app allows you to exchange at least 180,000 diamonds for $5 paid through PayPal.
However, there is a daily cap of just 5 payments Magic Dice is processing each day.
As of writing this review, the $5 option isn't available; only $10 and above!
It takes forever to accumulate enough gems and, unfortunately, there is no guarantee you will cash out.

Does Magic Dice Pay?
I don't believe Magic Dice will transfer money to your PayPal account, regardless of how long you play this game.
The reason is that there is no contractual agreement that obliges the company to reward users.
If you try to open ToS (Terms of Service), it says: "Sorry, this website has been removed because of a legal issue related to the content."
Besides, the amount of virtual money they are "giving" you is too high. So, even if the app developer wanted, he could never afford to pay everyone!
After 3 days, you can submit your PayPal email, but I doubt you will receive a penny!
Keep in mind that Magic Dice is still in "Early Access", which means users cannot publish reviews on the Google Playstore.
Therefore, the developer is preventing people from discovering what might happen if they play for long enough.
It's unfair because the game seems complete and generating revenue to its fullest potential.
I reviewed countless games that use the same tactic. Despite being launched for months, they are still available as "Early Access", preventing everyone from commenting.
Is There an Alternative to Magic Dice?

Unfortunately, there is no similar game that transfers money to PayPal. I believe that all games that claim users can cash out hundreds of dollars are fake!
While you are playing Magic Dice, you will discover other applications through videos. Don't install any of them before reading reviews!
If you are searching for a legit platform that pays for trying new games and completing other simple tasks, check out Prizerebel.
I have been using this site for many years, and they never missed a single payment request. Mind you, I make over $150 per month with their referral program.
Conclusion
I do not have irrefutable proof to call Magical Dice a scam. However, I can tell you that your chances of making money are practically null.
The game is challenging and very addictive, even without the cash incentive. So, I only recommend it for people who want to play for fun.
If you need actual money and you cannot afford to waste time, avoid Magical Dice and any other mobile game.
My advice? Join this GPT platform or keep reading to discover how I earn a living online.
Work Remotely and Earn $1,000+ From Home
If you are serious about making thousands of dollars per month, uninstall all games on your phone, and start your own online business.
I am so glad I started my website back in 2015!
Thanks to this excellent program, I created an affiliate site that generates me over $1,600 per month. Today, it covers all my living costs and allows me to work anywhere, anytime I want.
With simple steps, you can build this type of business and achieve remarkable results too! Simply follow the step-by-step training and take massive action!
There are lots of successful 6-figure affiliates who have been through the same program.
Final Words
Thanks for reading my Magic Dice app review. I hope it was informative enough! If you have questions, let me know in the comment section below.
Take care!