Crazy Pusher is another Android game in which you must drop coins off the board to virtual dollars, and tokens.
The app shows you a list of rewards you can supposedly win once you reach the minimum cash out requirement. For example, if you accumulate 150 coupons, you will get $150 paid through PayPal.
Thousands of people are playing Crazy Pusher and watching lots of videos in hopes to earn at least 100 USD.
Unfortunately, most companies who run such applications prevent uses from cashing out or simply ignore their payments.
I am sure you are not willing to play it just for fun. So, can you make real money with Cash Pusher? Is it legit?
Read my review to find out!
Sick of fake apps that never pay? This step-by-step program helped me build my own online business and generate $1,600+ per month. It's free to join!
Crazy Pusher App Review
Name: Crazy Pusher
Developer: Borg Studio
Eligibility: Worldwide (+18)
Minimum Payout: $100
Price: Free (no in-app purchases)
Type: Entertainment (no financial risk)
Overall Rating: 

1/5

Recommended?

No
How Does Crazy Pusher Work? 
Installation
Crazy Pusher is only available on Google Playstore, and you do not need to sign up or give any permission before you can start the game. Simply follow the quick tutorial and you are ready to go!
How to Play? 
Tap anywhere to drop coins on the board so they get pushed forward by the U-shaped dozer.
As a result, they will slip off the edge of the platform, giving you different rewards.
Yellow and green coins award you tokens and virtual cash (coupons) respectively. For example, when you drop a green coin, you will earn cents.
Use two tools to boost your earnings: One for shaking the pusher machine, and another for building walls on both sides.
But first, you must either watch a video or spend 50K tokens.
Whenever a nickel falls into the orange box, it activates the slots, and you have the chance to win coins, chips, Amazon cards, bundles, and animals.
These items will fall onto the platform and are credited to your account once they get pushed off the edge.
You can earn an extra 50 coins by watching a clip or spending $2. Besides, you will get 1 coin every 8 minutes. 
Redeem 
Crazy Pusher offers several prizes according to the type of digital currency that you accumulate.

However, you can only cash out once you collect enough tokens, coupons and other items. Here is the minimum amount you needed to redeem each reward:
150 coupons: $150 PayPal
1 Million Tokens: $100 PayPal
30 Chips: $100 Amazon voucher
100 Amazon cards: $100 PayPal
100 Bundle: $1000 PayPal
30 Animals: $1000 PayPal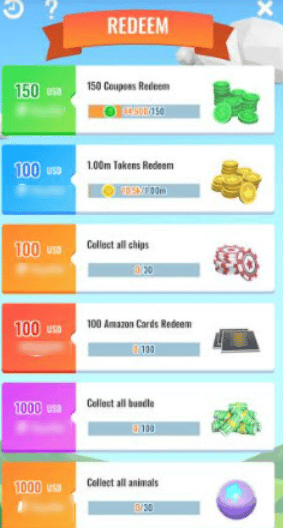 Does Crazy Pusher Legit? Does it Pay? 
Playing Crazy Pusher for half an hour was enough for me to realize it works just like the rest.
It's important to note that, except for tokens, all the other items depend on a rigged slot machine,
The reason I suspect it isn't fair is that the closer you get to the minimum payout threshold, the fewer rewards you will get.
Otherwise, people would never get stuck a few dollars or cents from reaching $150.
This is no coincidence, considering most players report the same issue!
In the beginning, Crazy Pusher gives you lots of green coins and other items just so it feels like you are making progress.
Therefore, you may end up watching an insane number of videos in hopes to reach the target on the same day!
However, the more you play, the lower your chances of winning something. So, you may never reach that last unit!
If you check the reviews on the Playstore, you will find many similar stories about people getting stuck and not being able to redeem.
A woman said when she finally dropped the 100th bundle, she didn't get credited. Therefore, she was stuck at 99 and couldn't get the $1,000 prize. How frustrating!



Here is another user complaining that he can never reach the minimum cash out requirement:

Even though Crazy Pusher is unlikely to pay you, I cannot say it's a scam without showing you solid proof.
Crazy Pusher Alternative 
As far as I know, Coin Dozer is the only coin pusher game that rewards players from the US and the UK.
Unlike most deceitful games out there, it doesn't give you the false hope of making money!

This reward platform is going viral! Cash out via PayPal, Visa, Gift Cards, and in-game currencies - Click here to find out how to generate an extra $10+ per day! 
Instead of earning virtual cash, you will get free entries to the daily and weekly prize draw. Click here to understand how Coin Dozer works.
Although this is a legit and fair sweepstakes app, your chances of winning something are slim.

If you want to make money without relying on luck, check out Prizerebel. As a member, you can get paid for playing games, completing offers, filling up surveys, and more!
Conclusion
Crazy Pusher is another game designed to generate as much profit as possible for the app developer.
It gives you the impression you may eventually cash out after collecting enough items, but unfortunately, no one seems to get paid.
So, yeah. It feels like cheating to me!
The slot machine is rigged because it gets harder and harder to match 3 winning symbols. However, even if you reach the payout threshold, it doesn't mean you will receive the payment.
Don't waste your time and internet data playing Crazy Pusher as your chances of getting paid are practically null.
Verdict: Not Recommended
Earn a Full-Time Income Online
If you wish to work from home and earn enough to live a comfortable life, I suggest that you grow your own online business.
In short, your job is to publish helpful content on your website, which attracts visitors looking for specific information.
Then, you can promote related products and make commissions when people follow your recommendations.
I've built a successful affiliate site thanks to this excellent step-by-step program. Today, it gives me the flexibility to work whenever and wherever I want, achieving a better work-life balance.
Success doesn't happen overnight, but the good news is that you can go at your own pace and build a side income in your spare time.
Final Words
Thanks for reading my Crazy Pusher app review. I hope it was helpful!
Feel free to use the comment section below to ask questions or leave your thoughts about this game.
Peace!