Dice World – Random Battle is another mobile game that has been advertised as an opportunity to win real money. The app developer promotes the game as if you could make a decent amount of cash every time you merge 3 dices. I don't know you, but when saw the ad, I had the gut feeling that it was not real.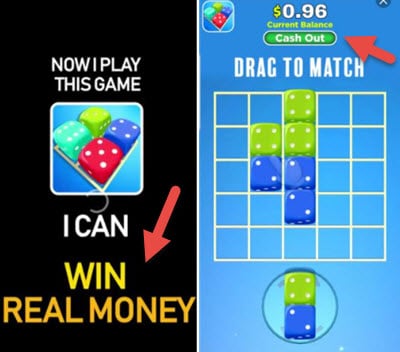 Companies who develop these games make you think you can cash out once you reach a specific amount of virtual cash. What most of them don't tell you is that you may never reach the target as the more you play, the less you will earn. In meantime, the company earns revenue by showing you a ton of advertising. Pretty smart, huh?
So, can you really make money with the Dice World app? Is it legit or another fake app? Read my review to find out!
RECOMMENDED: Check out the step-by-step program that helped me build my own online business and earn $1,600+ per month. No special skills required! 
Dice World – Random Battle App Review
Name: Dice World – Random Battle
Company: Xiao Faria daCunha
Type: Strategy
Eligibility: Worldwide
Overall Rating:

2/5
How Does Dice World Work? 
Dice Word is a challenging match-3 puzzle game!
You have to drag the dices to the 5×5 grid and combine at least 3 dices with the same number/colour. As a result, they will merge into a single dice that is one number above and you will earn coins. The number of coins that you will earn is always the sum of all the dices that were merged.
For example:
3 dices number 1 will become one dice number 2 and you will earn 3 coins.
4 dices number 2 will generate one dice number 3 and you will earn 8 coins.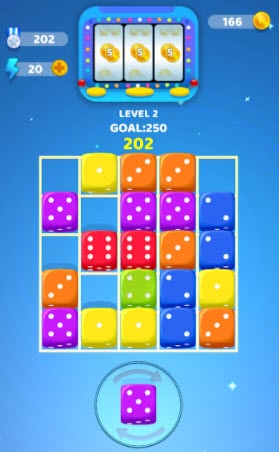 Whenever you hit the goal, you will complete the level and trigger the slot machine for a chance to win more coins. At this time, the will entice you to watch a video ad to multiply your earnings. However, even if you decline, they will still show you the ad.
You will get 1 dice or 2 attached dices that you can rotate. The game is over when you run out of spaces on the board. The more you play, the more challenging it gets!
Can You Make Real Money?
I was baffled when I launched Dice World and didn't find any opportunity to win cash rewards money. You will collect coins, but there is no way to redeem for cash via PayPal. If you tap on your coin balance at the top, nothing will happen!
Note that Dice World is still in the development stage (early access), so there is a chance they will add some kind of virtual cash or withdraw button in the future. But I am not very optimistic about it!
Even if they eventually provide an option to cash out, it doesn't mean you will receive the money. The reason is that virtual currency never has real-world value in these type of games. Besides, the company can always ignore payments without any consequences.
Conclusion – Is Dice World Legit? 
Dice World is just a game, so I wouldn't call it a scam. The main problem is that the developers are promoting it as if players could make real money, which is not the case!
Unfortunately, thousands of people are playing this game with false expectations. They will watch lots videos in hopes to cash out, but they probably never will. Well, at least it's not as boring as this dice game!
Another issue is that users still cannot leave a review on Google Play since the app is "Early access".
If you want to share your opinions about Dice World, you are free to use the comment section below.

Earn a Full-Time Income Online
If you are serious about making money online, get rid of games on your phone, pull up your sleeves and start your own online business. That's what I did back in 2015, and I don't regret it!
Thanks to this excellent program, I created an affiliate site that generates over $1,600 per month. Nowadays, it allows me to work remotely,
You don't need to be an expert in any subject, but you must be prepared to take the training seriously and put in the work.
Final Words
Thanks for your time to read my Dice World – Random Battle review. I hope it was helpful! If you have any questions, let me know in the comment section below.
Take care!