Welcome to my Stack the Numbers app review!
Stack The Numbers is another merge puzzle game that consists of hundreds of levels. The goal is to combine blocks of the same number to form new ones with double the number. There are lots of similar games on Google Play, including the popular Merging Number Puzzle!
I discovered Stack The Numbers through a video ad in which the numbers were actually virtual cash instead of tokens. So, every time the player merged two blocks, the game would credit the same amount of cash in his PayPal balance. For example, by merging two blocks of $64, the game would credit $64 into your PayPal balance.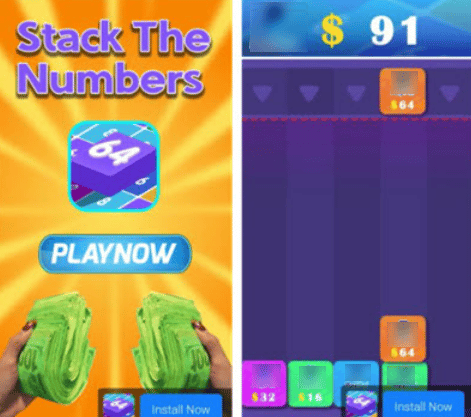 Even though it seems too good to be true, lots of people install the game with the expectation that it will behave the same way as shown in the ad. But unfortunately, that's not the case! 
In this review, I will explain exactly how Stack The Numbers works and give you my honest opinion. Is it legit or another fake, time-sucking app?
Tired of apps that don't pay? Check out the step-by-step program that helped me reach $1,600 per month and quit my job in 2019. 
Stack the Numbers App Review
Name: Stack The Numbers
Developer: Xiao Faria daCunha
Eligibility: Worldwide
Minimum Payout: $200
Price: Free (no in-app purchases)
Overall Rating: 

2/5
How Does Stack the Numbers Work?
Installation
The Stack the Numbers app is available worldwide on Google Play. You don't need to sign up or give any device permission before you can start playing.
What worries me about this app is the lack of a "Terms of Use" page, which is crucial for any reward app. So, the lack of transparency makes me even more skeptical!
How to Play Stack the Numbers
Before you start the game, click on the calendar, and claim your daily bonus. The first one is worth $4.55! Then, click "Start" and select Level 1.
Your job is to combine blocks with the same number as they keep falling. When you merge two blocks, they will form another block with double the number. As a result, you will earn points equivalent to the number of the two blocks merged.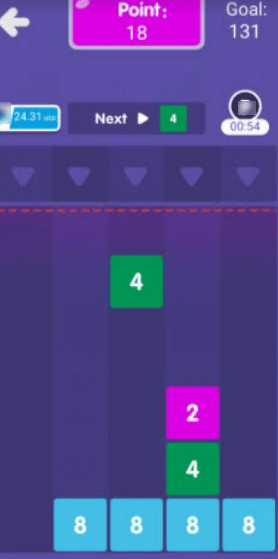 For example, if you combine two blocks number 8, you will get 8 points. So, no. You will not earn $8 as the advertising suggested. Instead, you will earn virtual cash rewards occasionally after merging multiple blocks at once.
It can happen that the resulting block will merge with the block below if they have the same number. When you merge multiple blocks in one go, you may be invited to watch a video ad and earn virtual cash.
The best strategy is to pile the blocks in the right sequence, placing higher numbers at the bottom and lower numbers at the top (64, 32, 16, 8, 4, 2).
To pass the level, you must reach a specific number of points (target). The game is over if a block hits the cordon at the top.
Rewards
You can request a payment via PayPal or Amazon gift card once you collect 200 USD. They say your rewards will be sent to you within approximately 3 – 15 business days.
Is Stack the Numbers Legit? Does it Pay? 

I cannot claim Stack the Numbers is a scam without proof. However, making real money with this app just a pipe dream in my opinion.
The game is in Early Access, which means that users still cannot write an honest review. This is bad, folks! I notice that lots of "money-making" games are in Ealy Access even though they have 500,000 and even 1,000,000 installs.
I can only assume they don't want to hear criticism on Google Play, which will discourage lots of people from installing the game. Well, after reviewing so many reward apps, I can tell you that the $200 cash incentive is utterly unrealistic! I don't think Stack the Numbers could afford to pay $200 to every user.
What usually happens after you play these games for a while is that your earnings will drop considerably over time. As a result, you may get stuck before reaching $200.
It's not uncommon for people to get stuck with just a few cents left to reach the minimum payout. This merging game also makes it very difficult to cash out.
Those who persist and keep playing despite earning just 1p at a time may cash out. However, the app will probably ignore your payment request.
Conclusion 
I really like playing Stack the Numbers. I think it's a very addictive game that is perfect for killing time while traveling or waiting on a queue. Unfortunately, the app developer is making people believe they can make easy money and cash out once they reach $200.
It's probably causing a lot of frustration, and to make matter worse, they don't let people publish a review on Google Play. If you want to play Stack the Numbers, do it for the game itself, not for the money.
Earn a Full-Time Income Online
I am afraid there is no game where you can make a decent amount of money via PayPal. So, don't waste your time!
It's possible to make $20 – $100 /day or even more, but it will require a lot more than playing games or completing simple online tasks. If you are prepared to put in the work to achieve this income level, check out my #1 recommendation.

This excellent program helped me build an affiliate site that generates affiliate commissions even while I am sleeping. Start the first 10 lessons for free and learn how to take advantage of the digital economy! I've been a member for over 5 years, and I can help you succeed! 😉
Final Words
We want to hear your valuable opinion about StackTheNumbers! Did you manage to reach $200 can cash out? Did you get paid or not? Let us know in the comment section below!
Take care!

This reward platform is going viral! Cash out via PayPal, Visa, Gift Cards, and in-game currencies - Click here to find out how to generate an extra $10+ per day! 
Read Also