Today, I discovered the Money Ball app after searching for a simple way to earn cash on Google Play.
This android game is almost identical to the popular Stack Ball, which has been installed over 100 million times.
The crucial difference is that Money Ball gives you virtual dollars that you can supposedly redeem via PayPal or Paytm.
Now, if it's true that this app pays, then why is it not as popular as the original? After all, who doesn't want to earn hundreds of dollars while having fun?
Millions of people all over the world are playing games and watching a ton of sponsored videos in hopes cash out. Unfortunately, most of them just end up wasting a lot of time and internet data.
So, Is Money Ball legit? Does it pay or not? Keep reading and you will find out!
Before you leave, check out the step-by-step program that helped me build an online business and generate $1,600+ per month. No special skills required! 
Money Ball Review Summary
Name: Money Ball: Make Money
Developer: Sidtech Studios
Availability: Worldwide
Minimum payout: $1 (PayPal), 50 rs (Paytm)
Price: Free
Overall Rating:

2.2/5
How Does Money Ball Work?
Installation
Money Ball is only available on Android devices. After installing the application on Google Play, you must review and accept the Terms of Service and Privacy Policy.
How to Play Money Ball?
Money Ball is a 3D game where you smash the revolving colourful platforms using a bouncing ball.
Simply tap on your screen to force the ball downwards and break the platforms.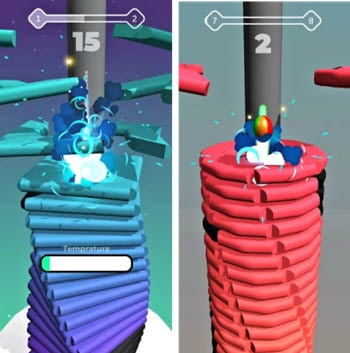 Complete the level by descending until the ball hits rock-bottom before the timer runs out. When you do so, you will earn coins.
In addition, you will earn coins after spinning the lucky wheel. You always have the chance to double the prize after watching a short video.
Avoid the black segments. If you hit them, you must either start the level from the beginning or watch a short video to continue.
Complete all 30 levels to win up to 3,000 coins. Beware, you only have 5 lives, and if you cannot complete the challenge, you will have to start from level 1.
The good news is that you won't lose the coins you have already accumulated.
Survey Rewards
Another way to collect coins is by completing surveys from these three leading marketing research firms:
Theorem Reach
Pollfish
Tap research.
All you have to do is select the router and answer questions honestly. According to the developer, you can anywhere over 300 coins per survey. 
Keep in mind that you will get disqualified if you are not a good fit.

Coins vs Cash Rewards
As you play Money Ball, you will accumulate coins that can supposedly be traded in for cash.
There are two payment options available for those who reach 15,000 coins. You can redeem $1 via PayPal or 50 Rs via Paytm.
Usually, it gives you 10 – 20 coins per level, so you may have to play for a very long time before you can request the payment.
It depends on how long and how well you play, but one user reported earning only 200 per day.
Is Money Ball Legit? Does it Pay?
I am always skeptical of "money" games because most of them entice players with hundreds of dollars. Here is one example!
Their typical payout threshold ranges between $100 – $300, which are utterly unrealistic!
Money Ball is different in that you must collect 15,000 coins to cash out only $1. Such small reward gave me a glimmer of hope that it could be real.
So, started reading reviews on Google Play and guess what? I couldn't find any person who received the money.
There are lots of positive testimonials, but most of them seem to be written by players who haven't had a chance to cash out yet.
Note the game gives 500 coins for people to leave a review after just a few minutes of gameplay. As a result, people leave a positive rating just because they enjoy playing it.
To top it all off, I found many users who cashed out, but did not receive any payment. One user clicked "Redeem" but nothing happened!

Does it mean Money Ball is a scam?
Not really. It's important to understand that the company doesn't make any promises, which is why I cannot make any accusations.
Besides, it's impossible to prove that no one is receiving cash rewards. They could pay 1% or 0.1% of players… Who knows?
The fact is that there is no evidence of payment and no guarantees!
Pros and Cons

This reward platform is going viral! Cash out via PayPal, Visa, Gift Cards, and in-game currencies - Click here to find out how to generate an extra $10+ per day! 
Pros
Excellent 3D graphics.
Amazing gameplay.
Earn extra coins by completing surveys.
Cons
Excessive amount of sponsored videos.
There is no payment proof.
No one seems to get paid.
Conclusion

Money Ball is almost identical to Stack Ball. The major difference is that it offers cash rewards once you collect enough points.
It's a great game, but the problem is that Sidtech Studios doesn't seem to transfer $1 to those who meet the requirement. Otherwise, it wouldn't be so difficult to find evidence of payment on the review section of Google Play.
I would play this game just for killing time because it's fun and challenging. However, I wouldn't expect to receive any money because of the lack of evidence.
Next, I am going to show you some great opportunities to make actual money online.
Earn a Full-Time Income From Home
If you want to make money online, I suggest you build your own internet business and become a content creator.
It's one of the best ways to earn money in 2021 and beyond. The reason is that you can work independently from home or anywhere you want.
Every year, more and more people have access to the internet. So, the audience continues to grow!
This excellent step-by-step training helped me build a site from scratch, attract lots of visitors, and generate multiple streams of income. I highly recommend it because that's how I make a living online!
Keep in mind this requires a lot of time and commitment.
Now, if you just prefer the easy life approach, then you can try Prizerebel. It's decent reward platform, but the earning potential is significantly lower!
Final Words
I hope this post answers all your questions about the Money Ball app. So, did you receive the payment or not? Share your results in the comment box below.
Thanks for reading!