Welcome to my Solitaire Jackpot app review!
Solitaire Jackpot is another popular card game developed by TUYOO.
This Hong Kong-based company advertises the app as an opportunity to earn actual money via PayPal and Amazon Gift cards.
I have already reviewed some of their most popular applications, including Lucky Diamond, Fish Blast, and Solitaire Bigwin.
Unfortunately, none of them provide compelling evidence of payments. In fact, everything suggests players don't make any money.
If you are thinking about playing Solitaire Jackpot to supplement your income, I urge you to read this review before you start.
Is it a scam? Does it pay or not? Let's find out!
Before you leave, click here and discover the step-by-step program that helped me build an internet business and generate $1,600+ per month. No special skills required! 
Solitaire Jackpot App Review
Name: Solitaire Jackpot – Win Real Money
Company: TUYOO ONLINE (HK) LIMITED
Eligibility: Worldwide (+18)
Payout threshold: $100
Price: Free
Type: Entertainment (no financial risk)
Overall Rating:

1/5
What is Solitaire Jackpot?
Solitaire Jackpot is another classic solitaire game available on the Play Store.

This reward platform is going viral! Cash out via PayPal, Visa, Gift Cards, and in-game currencies - Click here to find out how to generate an extra $10+ per day! 
There are hundreds of them, but the difference is that TUYOO provides virtual cash and tokens redeemable via PayPal and Amazon vouchers.
Just like a ton of "Money" games, Solitaire Jackpot supposedly lets you withdraw your funds once you reach $100.
Therefore, it gives the impression that you will eventually make money as long as you stick to it.
How Does Solitaire Jackpot Work?
Apps like Solitaire Jackpot are funded by advertisers who pay the developer to show videos and banners.
So, even though the game is free, it's earning revenue while you are playing and watching videos.
Therefore, TUYOO would share a slice of their earnings with players who meet the cash out requirement.
But the question is – Could it afford to pay $100 or even $10 to everyone? Before I answer this question, let me show you how to install and play this game.
Installation
Visit Google Play, search for Solitaire jackpot, and tap "install". Then, open the app and accept the "Terms of Use" and "privacy policy".

Cash Out Options
Solitaire Jackpot provides multiple ways to redeem cash rewards. Each method requires that you meet a specific requirement.
$100 PayPal = $100 virtual cash
$100 Amazon = $100 virtual cash
$10 Amazon = 10 Million coins
$0.3 Amazon = 10 green puzzle pieces
$0.5 Amazon = 10 blue puzzle pieces
$1 Amazon = 10 orange puzzle pieces
How to Play Solitaire Jackpot?
As soon as you launch the game, you will get the following bonuses:
$1
10,000 coins
Three Amazon card fragments
You must fill the 4 upper stacks with cards in the same suit, in increasing order.
Therefore, it's important to know the right sequence of cards, which is the following:
A, 2, 3, 4, 5, 6, 7, 8, 9, 10, J, Q, K.
The four suits are diamonds (♦), spades (♠), clubs (♣), and hearts (♥).
You will win the game by stacking all the cards in the four foundations. To do that, place cards in alternating color and decreasing order in the 7 columns.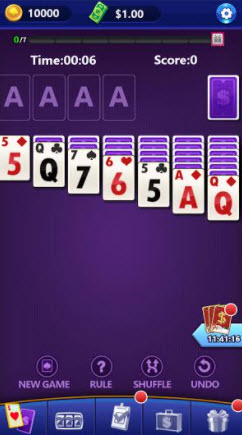 It's possible to move piles of cards between stacks to uncover new cards. Use the stock cards from the top if you get stuck. This excellent post explains in more detail the Solitaire rules.
Virtual Cash and Items
You will get the chance to play a scratch card every time you complete the blue bar at the top.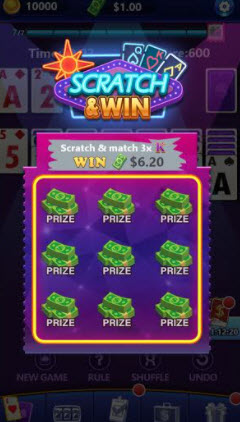 If you match 3 symbols, the dollars will be added to your cash balance. You can always play one more time after watching the advert.
By playing the scratcher, you may also find green, blue, and orange puzzle pieces.
You can earn more coins by playing the Fortune Wheel, watching videos, collecting bonuses, and completing daily quests.
To win more cash, coins, and puzzles, you can also play the Slot Machine. Keep in mind that each spin costs 2000 coins.
Earning a substantial amount of money online takes time and commitment. If you are prepared to do what it takes to succeed, the first thing I recommend you to do is invest in education. Click here to learn the ropes!
Is Solitaire Jackpot Legit? Does it Pay?
Solitaire Jackpot won't pay you even if you attain the cash out requirement.
The proof is on TUYOO's "User Agreement" page, which you can find on their official website.
It says your virtual currency can never be redeemed for real money or goods. Besides, you have no rights to virtual dollars or any in-game items.
In their own words:
Virtual Currency can never be redeemed for real money, goods, or any other item of monetary value from TUYOO ONLINE (HK) LIMITED or any other party. You understand that you have no right or title in the virtual in game items or Virtual Currency.
When you open Solitaire Jackpot for the first time, they ask you to agree with their "Terms of Use". On that page, they say you do not own virtual items. 

"By earning or purchasing virtual items, you are granted a limited license to use the software programs that manifests themselves as the Virtual items". 
What does it even mean?
Nowhere they mention you can cash out to PayPal or Amazon gift cards.
If you check the reviews on the Playstore, you find that players get stuck between $95 and $99. The reason is that the game gives just $0.001 at a time, making it almost impossible to reach $100.
I receive an incredible number of negative comments on my blog from users who regret playing such games. It saddens me because almost everyone is struggling financially, and cannot afford to waste time. 
Conclusion
Don't expect Solitaire Jackpot will transfer money to your PayPal account. What really matters is not how they advertise the game, but what they write in the "Terms of Service".
The reality is that game developer don't have to pay anyone. They make users believe they can cash out only to maximize ad views and, as a result, profits.
Unfortunately, lots of people are still unaware of how these apps work and end up wasting a lot of time.
If you just want to play Solitaire for fun, I recommend searching for games with fewer ads because they consume a lot of mobile data.
Verdict: Not Recommended
Earn a Full-Time Income Online
Having an online business in the current crisis we are all going through can make a tremendous difference!
You could work from home and earn a decent income by becoming a publisher, as I did. In short, I write helpful content and earn money by placing banners or promoting products as an affiliate on my website.
In 2015, I discovered an excellent training that helped me set up everything from the ground up and attract lots of visitors. Mind you, I had absolutely no experience with web design or marketing.
Today, I work remotely thanks to the knowledge and support I received from these guys!
Final Words
I hope this post answers all your questions about the Solitaire Jackpot app. If you want to share your experience, please leave us a comment below.
Thanks for reading!
Peace!