Welcome to my Hyper Pusher app review!
Perhaps you watched a video ad showing how you can make a ton of money pushing coins in a game called Hyper Pusher.
The developer gives you the impression you could earn hundreds of dollars in a matter of seconds!
He goes the extra mile to make you think this is real by displaying the PayPal logo and claiming you can cash out.
Here are some screenshots of the advert: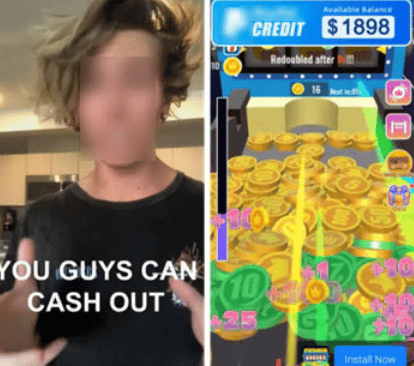 Such a controversial marketing strategy has already attracted over 100,000 players, and that number keeps growing by the day.
You are probably reading this review because you value your time, and you don't want to play just for fun. So, is Hyper Pusher legit? Does it pay or not?
Before you leave, click here and discover the step-by-step program that helped me build an internet business and generate $1,600+ per month. No special skills required! 
Hyper Pusher App Review
Name: Hyper Pusher
Company: Bord Studio
Eligibility: Worldwide (+18)
Price: Free
Type: Entertainment (no financial risk)
Overall Rating:

1/5
What is Hyper Pusher?
Hyper Pusher is a virtual medal game available for Android users. The app was developed by a company called Borg Studio, which also operates Lucky Drop and Crazy Pusher.
As you already know, they entice players with cash and eye-catching prizes such as MacBook Pro and Samsung phones.
All you must tap anywhere on your screen to drop coins and collect virtual currency and other items.
Then, once you meet the specific requirement for each payment method, you can cash out.
How Does Hyper Pusher Work?
You may wonder how this app can pay you. I mean, where is the money coming from?
Well, the developer generates revenue by showing you lots of short videos while you are playing. For example, when you want to double your earnings, you have the chance to watch a video.
In theory, the company would split its profits with players who reached the payout threshold.
However, earning hundreds of dollars just by playing Hyper Pusher seems too good to be true!
Before I give you more details about the supposed cash incentives, let me show you how to install, play and cash out.
Tired of making other people rich? Check out my top recommendation and start your online business today! 
Installation
Visit the Google Playstore, search for Hyper Pusher, and tap "install". After installing the application, open the app and play.
Keep in mind that you will automatically accept the Privacy Policy and Terms of Service. You can find the link to these documents in the beginning while the game is loading.

Later, you will understand why it's important to read these pages so you don't get caught up by surprise.
Thare are dozens of games like Hyper Pusher on the Playstore. Here another popular coin pusher app.
How to Play Hyper Pusher?
Simply drop the coins to push them off the edge of the platform. Green coins will give you cash, whereas yellow ones will give you tokens.
Whenever a coin falls into the blue box in the front, it activates the slot machine. If you match 3 symbols, you will get extra coins, virtual Amazon cards, and other items.
Sometimes, you can double the rewards after watching a video.
You can use the "Big Shake" to take down all the coins from the platform or the "Build Wall" to build walls on both sides to stop them from falling.
Lucky Activity
In this section, you can play the Puzzle Bubble and the Lucky Spin to collect puzzles from expensive gifts.
If you collect 10 or 20 fragments, you may redeem expensive gadgets such as a Sony 75-inch TV, MacBook Pro, Nintendo Switch, and more!
Puzzle pieces can also be collected by opening the lucky package while playing Hyper Pusher.
Keep in mind this is a prize draw, so there is no guarantee you will win.
How to cash out?
Tap on your cash or taken balance at the top and you will find all the requirements. Here is the full list of rewards:
150 Coupon (virtual dollars) = 150 USD PayPal
100 Bundle = 1000 USD PayPal
1 Million tokens = 100 USD PayPal
All animals = 1000 USD PayPal
All Chips = 100 USD PayPal
100 Amazon Cards = 100 USD Amazon voucher
According to the instructions page, they will process your rewards within 3 – 15 business days.

Does Hyper Pusher Pay Real Money?
Hyper Pusher works just like 99% of games that I reviewed on this website. Mind you, I've already tested hundreds of them!
They give you lots of rewards in the beginning until your earnings drop drastically when you get closer to the threshold.
It's designed to make you play for much longer than you estimated!
For some time, you don't feel like giving up because you want to make your time count. However, the more you play, the less you earn!
If you check the reviews on Google Play, you will find lots of players who could not cash out because they were stuck.

This reward platform is going viral! Cash out via PayPal, Visa, Gift Cards, and in-game currencies - Click here to find out how to generate an extra $10+ per day! 
One user said she has six withdrawals, which are pending for over one month!
There are lots of complaints and apparently, no success story. Therefore, I strongly believe you will not get paid!

Do you remember when I said it was important to read the Terms of Use? Well, that's mainly because of the following statements:
"Coupons are not real money and do not have monetary value."

"We make no guarantees as to the availability or supply of cash coupons."

"You have no right, property or interest to any such cash coupon."

"Any balance shown in your account does not reflect any stored value."
So, it's clear now the company has no obligation to pay anyone, even though it's advertised as an opportunity to earn money.
Hyper Pusher a Scam?
The large number of negative reviews is a big red flag, and personally, don't think the app pay.
However, I cannot accuse Hyper Pusher of fraud because of their "Terms of Use". As I said, it gives them the right to decide whether they will pay you or not.
Conclusion
Don't expect to receive the payment from Hyper Pusher, even if you eventually reach $150.
By playing this game and watching lots sponsored videos, you are helping the app developer make profits. However, he doesn't need to share a slice of the pie with any user!
It wouldn't be a problem if he offered transparent and regular giveaways, as Coin Dozer does.
Instead, players are led to believe they will eventually reach $150 after playing for long enough.
That's why people get angry and frustrated!
Verdict: Not Recommended
Earn a Full-Time Income Online
In this current crisis, we are all going through, having an online business can make a huge difference!
It would allow you to work from home and earn a good income without depending on any brick-and-mortar business.
In 2015, I discovered this excellent step-by-step training, which helped me build a website from scratch, attract lots of visitors and generate revenue.
Becoming a content creator can really earn you a full-time income if you are prepared to put in the work. If you are interested, click here to learn more!
Final Words
I hope this post helps raise awareness about the Hyper Pusher app.
So, did you manage to reach $150 or another requirement? If so, did you get paid?
Thanks for reading until the end!
Peace!