Welcome to my Knock Balls Mania app review!
Thousands of people are playing Knock Balls Mania in hopes to win money and big prizes.
This new block shooting game is very addictive, especially because the company dishes out virtual cash and claims you can cash out to PayPal when you reach $200.
I have reviewed hundreds of games that use the same strategy to go viral and make profits.
The more you play, the more ad revenue it generates. But instead of sharing a slice of the pie with the players, most developers take advantage of their "Terms of Service" to ignore payments.
Some apps don't even have a binding agreement, which makes things even less clear.
In this post, I am going to expose Knock Balls Mania and give you my honest opinion about it. Is it legit? Does it pay or not?
Before you leave, check out the step-by-step program that helped me build an online business and generate $1,600+ per month. No special skills required! 
Knock Balls Mania App Review
Name: Knock Balls Mania – Win Big Rewards
Developer: Lucky Wealth Ltd
Availability: Worldwide
Minimum payout: $200
Price: Free to play
Overall Rating:

1.8/5
How Does Knock Balls Mania Work? 
Installation
Knock Balls Mania is available for Android and iOS devices. Once you launch the app, wait for it to load and tap play to get started.
Bear in mind the developer doesn't provide the Terms of Use, which is worrying.
How to Play? 
It a very simple game! Tap your screen to shoot the balls and drop all objects from the top of the structures.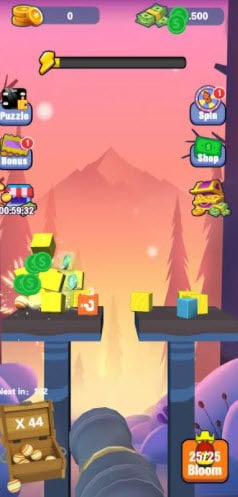 There are green and yellow coins in front of the objects. When you hit them, virtual cash and gold will be added to your account.
When you take down a red cube with a question mark, you may get a spin on the lucky wheel or a scratch card. Depending on how many symbols you match, you will get a specific amount of cash or gold.
In addition, a red cub will give you the chance to watch a video and collect iPhone, iPad, and Earphones puzzles.
You can destroy more objects quickly by hitting the TNT cube or pressing the "Boom" button.
When you run out of balls, you can wait for a few seconds or watch more adverts to get an extra 40 balls immediately.
What players dislike about Knock Balls Mania is the insane amount of advertising! Every time you want to collect cash or puzzles, you must watch a video promoting "money" games.
How do You Get Paid? 
Cash and Gold
You can cash out via PayPal or Amazon gift card once your cash balance reaches $200. Another option is to accumulate 5 million Gold and redeem a $2 Amazon voucher.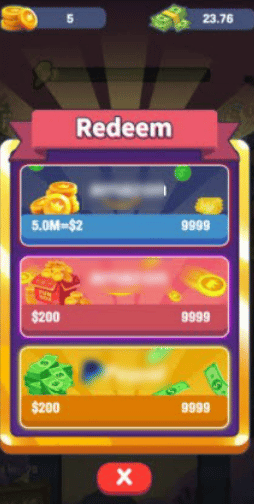 Puzzles
Knock Balls Mania claims that if you collect 200 iPhone puzzles, you will win this amazing device! You will also earn an iPad Pro and a Beats Powerbeats Pro if you find 150 and 100 puzzles, respectively.
Does Knock Balls Mania Pay? Is it Legit? 
That's why you came here for. You wanna know whether you can really make some money with Knock Balls Mania.
Unfortunately, there is no evidence of payments. In fact, everything suggests it doesn't pay!
I was reading the reviews on the Playstore and noticed that lots of people have issues. The app simply won't let them cash out after reaching the $200 mark. As for iPhones and other prizes, I also didn't find any winners!
One person said when she finally reached the payout threshold and pressed the PayPal button, nothing happened except for a "Click" noise. Some people also complain they got stuck at $199 for a long time!
The way these apps work doesn't even surprise me anymore since I already tested hundreds of games that manipulate earnings and ignore payment requests.
Based on my experience with internet marketing and ad networks, there is no way any gaming company could survive with this generous cash incentive.
Keep in mind the only way Knock Balls Mania generates revenue is by showing videos. Therefore, you would probably have to watch over 5,000 of them just to help the company break even.
Also, I want to draw your attention to the fact that this developer doesn't provide the "Terms of Service", meaning there is a total lack of transparency.
This is a reliable app where you can try your luck! 
Is Knock Balls Mania a Scam? 
I don't think the word "scam" would be appropriate in this case, but that's just my opinion.

Although the developers give users the impression they can make money, they didn't make any promises. So, it's a tricky question that only the competent authorities could answer.
What is important to know is that earning $200 just for playing a game is nonsensical unless the company is just picking random winners in a draw. If so, they would have to be more transparent rewarding the sweepstakes.
Check out this post to discover the apps that pay for playing games.
Conclusion
Knock Balls Mania is the typical "money" game that has no obligation to pay anyone. They entice players with the opportunity to cash out, but the request doesn't go through.
I wouldn't waste my time just to see whether it pays or not. I receive negative comments every day on my blog from frustrated individuals who don't make any money with such games.

This reward platform is going viral! Cash out via PayPal, Visa, Gift Cards, and in-game currencies - Click here to find out how to generate an extra $10+ per day! 
Now, it's okay if you just want to play for fun and pass the time. That's not too bad!
The only problem is the ridiculous amount of sponsored videos you have to endure. They are annoying and consume a lot of internet data.

Earn a Full-Time Income Online
In 2015, I discovered internet marketing and the opportunity to work from my laptop as a content creator.
In short, I write helpful articles for my website and attract visitors looking for information. You can build a site about any topic you want and promote related products for commissions.
After following this step-by-step training and working consistently for 2 years, I was able to reach 50,000+ visitors per month and make a good side income. In 2019, I finally quit my job to work for my business full-time time.
It takes time because it's not a get-rich-quick scheme. So, if this is something you would like to try,  click here and start your free lessons today!
Final Words
Thanks for reading my Knock Balls Mania review! If you played this game, kindly share your experience with us in the comment box below.
Other games