Welcome to my Coin Mania app review!
The creators of Coin Mania claim that you can win rewards just by tapping on your screen. However, it's not clear whether or not players can earn money.
Most people are installing this app with the expectation to cash out. After all, it tries to simulate classic arcade games such as coin pusher, scratch cards, and slots!
In this review, I am going to explain how Coin Mania works and answer some important questions. Is it a legit or a fake application? Does it pay or not?
Tired of playing games that do not pay? You are not alone! This step-by-step program helped me build my own online business and generate $1,600+ per month.
 Coin Mania App Review
Name: Coin Mania
Developer: BOLE Entertainment
Eligibility: Worldwide
Price: Free
Overall Rating:

1.6/5
What is Coin Mania?
Coin Mania is a mobile app where you can play addictive games such as Plinko, Lucky Dice, Happy Scratch, 2048 Blitz, and Jewel Puzzle.  
There is nothing new about it. The developer just copied existing games and added them under one roof.
As you probably know, Coin Mania gives you virtual coins that accumulate in your account. The green coins have a dollar sign, so many people believe they can eventually cash out via PayPal or gift cards.
The application is operated by Bole Entertainment, which also owns Solitaire Fever.
>> Check out the top GPT sites to earn money in 2021!
How Does Coin Mania Work?
Installation
You can download and install Coin Mania for free on Google Play. By purchasing the VIP program for $2.99 the company will remove all the annoying videos.
There is no need to sign up or allow any permissions before you can start playing the games. As soon as you open the app, you will earn a daily bonus of a few thousand coins.
On the dashboard, you can choose from nine different games.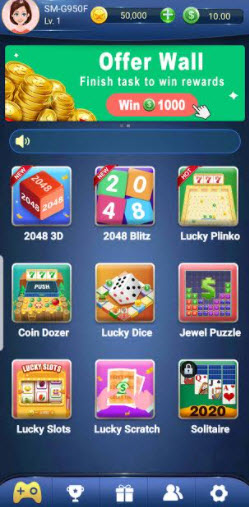 2048 3D
Try to hit cubes with the same number and color. Once they collide, they merge and form a higher-number cube. Keep merging until you unlock 2048.
2048 Blitz
The concept is very similar to the previous game. Tap on the screen to drop the blocks and merge the same adjacent number.
Lucky Plinko
Tap the black to drop the balls from the top. You will earn coins when they fall into the containers at the bottom. Light all the bulbs to activate the slot machine and get more balls.
Coin Dozer
In this popular arcade game, you will accumulate coins simply by pushing them off the edge. If a coin falls into the yellow box, it will trigger the slots and you will have the chance to earn more rewards.
Lucky Dice
Roll the dice to move the pin around the board and collect coins. Depending on where you land, they will let you open gifts and play the slots.
Jewel Puzzle
Drag Blocks to fill up lines horizontally and vertically. This is a great game to train your brain and is very similar to Color Block.
Lucky Slots
Press the spin button and win coins if you get 1, 2, or 3 chests. Also, get extra spins by matching 3 fruits.

Lucky Scratch
Scratch the cards and win and earn coins instantly if you match 3 symbols.
Solitaire
This game is temporarily locked.
How to Earn Extra Coins?
Coin Mania also allows you to collect more coins by completing sponsored offers in the Offer Wall. You can also earn virtual dollars by sharing your invitation code with your friends.
They process the invitation rewards in two phases:
Earn 40% when your friend logs in and enters your invitation code.
The remaining 60% will be paid after the person reached lv.6.
If you want to get paid for completing offers and getting referrals, check out my top GPT site here. 
How Do You Get Paid?
When you visit the trophy section, it says those who achieve the highest scores in a week win 100 (virtual cash).
However, there is no confirmation of whether people can withdraw money or not. Unlike other games, Coin Mania does not mention any cash out options or requirements.
This lack of transparency regarding rewards makes me even more skeptical!
Is Coin Mania Legit? Does it Pay?
No, I don't think Coin Mania will pay you regardless of how long you play those games.
I went through hundreds of reviews on Google Play and could not find a single person who cashed out. Some users claim they got stuck at $70!
Coin Mania does not even mention you can cash out once you reach a specific amount! So, how can anyone accuse the app of fraud without any proof? It's impossible!

They display dollar signs because they know some players will fantasize about making real money. However, there is no binding agreement or any regulation that would force the company to pay you.
Final Thoughts
Coin Mania lets you play some of the most addictive and challenging games under the same roof. I think they are great to pass the time!
However, do not expect to transfer virtual dollars via PayPal or any other method. The developer doesn't even mention cash rewards.
Earn a Full-Time Income Online
If you are serious about making money from home, avoid wasting time on apps, and become a content creator.

This reward platform is going viral! Cash out via PayPal, Visa, Gift Cards, and in-game currencies - Click here to find out how to generate an extra $10+ per day! 
This excellent step-by-step program helped me create a WordPress site and attract a large audience using proven strategies.
Today, my site allows me to work 100% remotely. Besides, I don't need to report to any boss or customer to pay my bills.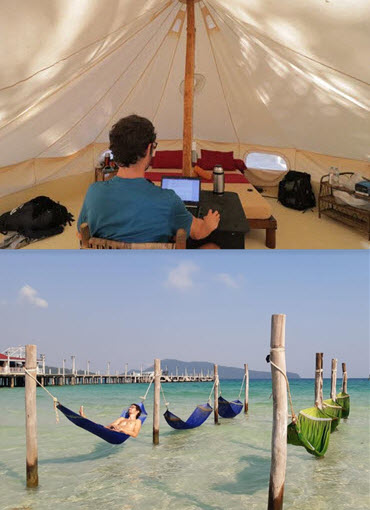 >> Check out my #1 recommendation and join now for free! <<
Final Words
Thanks for reading my Coin Mania app review. I hope it was helpful. If you have questions, just leave me a comment below!
You may also like this post: Pusher Mania App Review – Is It Legit? Does it Pay Real Money?