Big Win Hunter was one of those "money" games where players could supposedly cash out via PayPal.
One of their adverts showed a simulation where the player was making hundreds of dollars in a short period. Here is a screenshot that proves that!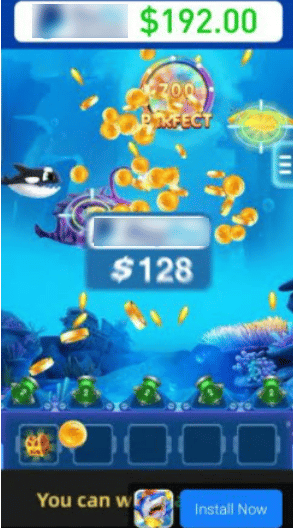 The result? Well, thousands of people installed and played the game to get a slice of the pie.
Such an aggressive marketing strategy has been used by many app developers for the past three or four years.
Unfortunately, most of them do not live up to people's expectations and cause extreme frustration.
Big Win Hunter is a nice and addictive game, but is it legit? Does it pay or not?
Keep reading to get all the answers and make sure you bookmark this website for the latest app reviews!
Tired of earning virtual currency? This step-by-step program helped me build my own online business and generate $1,600+ per month.
Big Win Hunter App Review
Name: Big Win Hunter
Developer: Rechard John
Price: Free
Overall Rating:

2.3/5
How Does Big Win Hunter Work?
Installation
Install the game for free on Google Play for Android devices. It does not require sign in or any permission.
How to Play?
Big Win Hunter is essentially a merging game with excellent graphics!
Your job is to combine the same level weapons (turrets) to upgrade and make them more powerful.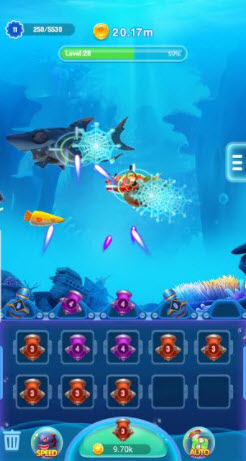 Next, drag them to the attack position so they start shooting on the fishes automatically.
Whenever you kill a fish, you will earn gold, which you can use to buy more weapons.
Keep on upgrading your weapon to kill stronger fishes and collect more coins.
Activate the acceleration will give you double attack speed for 1 minute. You can also use the auto arrange tool to make your life easier.
When you complete the green bar, you must fight the boss to pass the level.
There is no other challenge in this game, which is why it becomes very boring after half an hour.
Does Big Win Hunter Pay Real Money?
No, it doesn't!

In the past, Big Win Hunter enticed players with the opportunity to earn cash rewards, which explains why the app went viral!
Every time you unlocked a new Turret and watched a video, they would give you some fictitious PayPal money (Golden Fish Reward).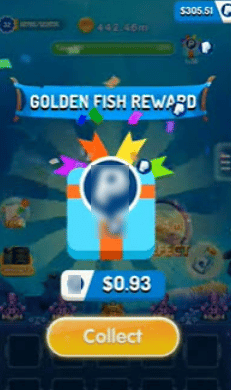 However, you could only cash out after collecting $80, being active for 10 days. Later, they increased the minimum payout to $300, and required players to kill 2000 bosses.
That would take ages!
Big Win Hunter showed a list of users who had recently cashed out, but no one knows if they were real or not!
Discover game apps that pay here!
No Cash Rewards
Recently, the developer has removed the cash incentive from the game, so now players can no longer accumulate virtual dollars.
I don't believe Big Win Hunter was processing payments via PayPal because it just seemed too good to be true.
Game developers simply cannot afford to pay $50 – $300 to every user who reaches milestones.
Maybe there are some rare games that reward a few lucky players from time to time. But in that case, the odds of winning are usually very low!
For example, WINR Games organizes legit giveaways, but there are millions of entries. So, most people prefer to convert tickets to cash, and hopefully, withdraw via PayPal.

Final Thoughts
Big Win Hunter became viral by claiming people could make real money just by merging weapons and killing fish.
The game is nice, but it gets boring after a while. Therefore, its main attraction was the cash incentive, which doesn't exist anymore. Nowadays, it's only a normal game without dollar signs and PayPal icons.
You should not play Big Win Hunter with the expectation to exchange coins or virtual cash for money. It just won't happen!
Earn a Full-Time Income Online
If you are searching for a legit opportunity to work from home, I suggest content marketing!
You can provide writing services as a freelancer, but personally, I prefer growing my own online business.

This reward platform is going viral! Cash out via PayPal, Visa, Gift Cards, and in-game currencies - Click here to find out how to generate an extra $10+ per day! 
The reason is that it provides a lot more freedom and much higher income potential!
This excellent step-by-step program helped me create a WordPress site and rank competitive articles on Google.

Today, advertisers pay me for placing banners on my site and linking to their products. You can do the same and work from anywhere you want!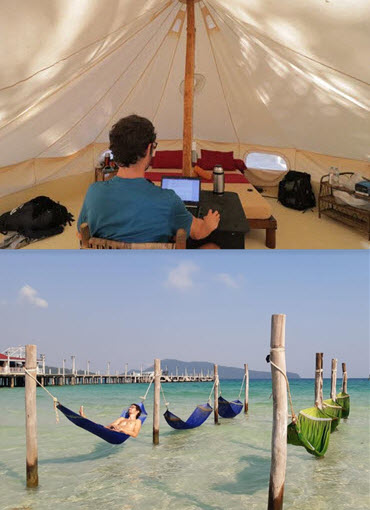 >> Check out my #1 recommendation and join now for free! <<
Final Words
Thank you for taking the time to read my Big Win Hunter app review!
As you may have noticed, the developer has launched the game in "Early Access", which makes it impossible to leave a review on Google Play. So, use the comment box below if you want to share your experience!
You may also like this post: Fish Blast App Review – Is 100 USD Achievable?