Pocket Games 3D is an all-in-one reward app that combines the most popular games for your Android device.
The application gives users the expectation to transfer actual money to PayPal once they reach $200 worth of virtual dollars.
With so many jobless people struggling in this "new normal" situation, it is not a surprise these types of apps go viral easily.
I have tested hundreds of apps, and I can count on my fingers the number of those that actually pay.
My mission with this review is to explain how Pocket Games work and warn you about the risks. Is it legit? Does it pay or not?
I know you value your time, so keep reading to find out!
Before you leave, check out the step-by-step program that helped me build an online business and generate $1,600+ per month. No special skills required! 
Pocket Games 3D App Review
Name: Pocket Games 3D
Developer: Lucky Coins
Availability: Worldwide
Minimum payout: $200
Price: Free to join (no in-app purchases)
Overall Rating: 

1/5
What is Pocket Games 3D?
Pocket Games 3D is a brand-new app where you can play different games to earn for virtual cash and puzzle pieces.
These puzzles can supposedly be exchanged for prizes such as an iPhone 11 Pro and a Gucci Bag.
There are six 3D games available:
Toss Master
Crush'em all
Knife Hit
Coin Pusher
Roll Challenge
Dice King
You can also play the Lucky Spin and the Scratch card to collect more puzzles and coins.
Pocket Games 3D has been launched a week ago and has already been installed 50,000 times on the Playstore. I think it has the potential to reach the 1 million mark within a few months. We'll see!
How Does Pocket Games 3D Work?
Pocket Games 3D is available for Android and iOS users worldwide. The app is funded by advertisers, who display videos for players on the platform.
To maximize profits, the developer awards virtual dollars for players who tap the button and finish watching the video.
It's a clever marketing tactic that reputable networks like Google or Facebook would probably never accept.
However, they can bypass strict policies by dealing directly with app developers or other companies.
How to Play?
Simply choose any game from your dashboard and start playing. When you open the app for the first time, you will receive a new user bonus of $3.30.
Then, they will show you where you should click to transfer your money. Just like most games, you can only cash out if you collect $200, which is a very unrealistic amount if you ask me!
Also, they claim if you collect 10 or 20 puzzle pieces you can redeem the following prizes:

iPhone 11 Pro
Gucci Bag
Versace Watch: 10 puzzles
Cartier Love Bracelet
Jocuu Juicer machine: 20 puzzles
And more!
Most of the time, though, you will earn coins that can only be used to get extra dices and coins in the coin pusher game.
Next, I will find a brief description of each game:
Toss Master
This is a simple ring tossing game identical to the Toss'em All app!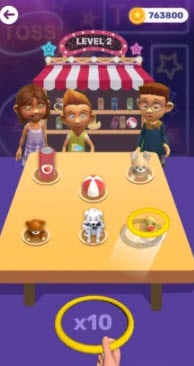 Tap on the objects to throw the ring around them. The goal is to pass the level by catching all the items. Some levels have green coins (virtual cash) and puzzle pieces instead of just bottles and toys.
Crush'em all
This is one of the most boring games I have ever seen. To be honest, I would not even call it a game.
You must press the button until the objects are crushed by the compression machine. Complete the tasks to pass the level and earn rewards.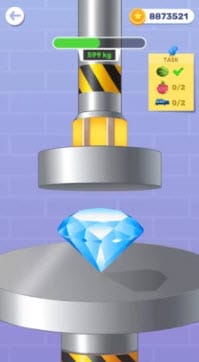 Knife Hit
Throw the knives towards the rotating object and avoid hitting other knives. After you pass the level, you will collect cash or coins.
There are dozens of knife throwing games for Android and iOS. Lucky Knife 2 is almost identical!
Coin Pusher
There are probably hundreds of Coin Pusher games like this one out there! Simply tap to drop the coins and push the ones at the front off the edge.

Sometimes, Pocket Games 3D will award you puzzle pieces and bonus rewards. In my opinion, this is the most addictive game in this app.
Roll Challenge
Another simple game where you must tap on the right time to make the cola can hit the best spot. You will collect coins depending on where the can stops.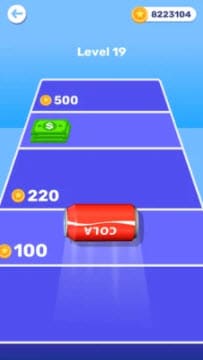 Dice King
Dice King is very similar to other classic board games such as Rolling Dice and Bounty Club. It's equally boring because all you have to do is roll the dice and collect rewards, coins, puzzles, and cash.

This reward platform is going viral! Cash out via PayPal, Visa, Gift Cards, and in-game currencies - Click here to find out how to generate an extra $10+ per day! 
Is Pocket Games 3D Legit? Will They Pay You?
I cannot make any accusations without proof, but I doubt you will make any money with this app.

Although I have seen lots of positive reviews on the Playstore, I couldn't find any person who reached $200 and received the payment.
Besides, no one mentions collecting all the 10 puzzle pieces and winning the iPhone of other prizes.
Those 4 – 5-star reviews praise the app for giving users the opportunity to win cash rewards. But they rarely give us any relevant information about specific results.
And guess what? Most users who write about their experience are disappointed for not making any money.
Does it mean Pocket Games 3D is a scam? Well, not really…
If you check the EULA (end-user license agreement), it says by the time you tap "Play", it binds you to their terms and conditions.
Now, here is the most important part of this document. It says:
"We reserve the absolute right, at any time and at our sole discretion, to manage, regulate, control, modify or eliminate virtual items as we deem fit."
That basically means the company can do whatever they want with your account and all your earnings.
Conclusion
Pocket Games 3D entices users with the possibility to earn hundreds of dollars, but there is no payment evidence.
After scrolling through a bunch of reviews on the Playstore, I gave up searching for someone who got paid.
As with most money games, the company has total control over your virtual balance. Therefore, they can simply delete or manipulate your rewards, so you never reach the payout threshold.
Verdict: Not Recommended
Is There Any Gaming App that Gives PayPal Money? 
YES! One of the few apps that transfer real money to PayPal just for playing games is Givvy, a cool app developed by a Bulgarian company.
Sadly, the earning potential is extremely low, but at least they operate ethically. You can make more money by completing offers from reputable GPT sites. Most of them pay you to install apps and meet specific requirements, which is
If you cannot afford to waste time in this current financial crisis, avoid Pocket Games 3D, Givvy, or any other mobile game.
Earn a Full-Time Income Online
In 2015, I discovered internet marketing and the amazing opportunity to work from home or anywhere I wanted.
In short, I create helpful articles, as you can see on this website, and attract visitors looking for information. You can build a site about your passions and interests and thrive on the internet as well.
After following this step-by-step training and taking consistent action, I could reach over 50,000 visitors per month and make a decent income. Today, it allows me to work remotely and have I build from the ground up.
Yes, you do the same with proper knowledge and mindset. I am not saying it's easy, but it's achievable with hard work and perseverance. Click here and start your free lessons!
Final Words
Thanks for reading my Pocket Games 3D review!
If you played this game and you want to share your thoughts with us, the comment box below is all yours!

Peace!