Welcome to my Lucky Bingo app review!
Perhaps you watched an advertisement saying you could win hundreds of dollars with a mobile application called Lucky Bingo.
A woman went to the restaurant and realized she didn't have enough money to pay her bill.
Easy!
She takes her phone, plays Lucky Bingo for a while, and BINGO! She makes over $530 in a blink of an eye!
Next, the video shows the waiter wondering where the money is coming from. I guess she's already making plans to quit her job! 🤣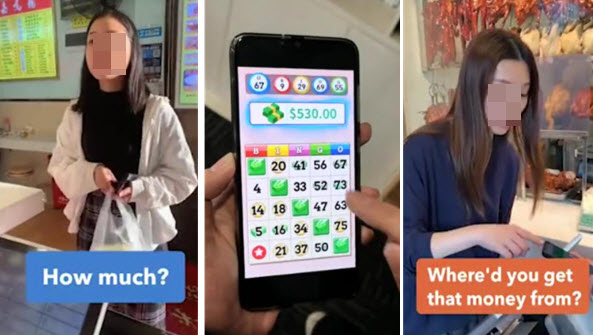 I know you are skeptical, thinking that this is too good to be true. I am here to expose Luck Bingo and answer some crucial questions:
Is it fake or real? Can you really make money with this game? Keep reading this post, as it will save you a lot of time and, hopefully, help you make actual money online!
Before you leave, click here and discover the step-by-step program that helped me generate $1,600+ per month working from my laptop. No special skills are required! 
Lucky Bingo App Review
Name: Lucky Bingo
Developer: Borg Studio
Availability: Worldwide
Price: FREE
Type: Entertainment (no financial risk)
Minimum payout: $150
Overall Rating:

2/5
What is Lucky Bingo?  
As the name suggests, Lucky Bingo is a classic bingo game available on Android devices.
The app was developed by Bord Studio, the same company that operates a few other "money" games such as Crazy Pusher and Lucky Drop.
The goal is to complete all numbers in a horizontal, vertical, and diagonal row.
When you complete the pattern, it will trigger the slot machine, and you will have the chance to win the jackpot.
You will also collect virtual cash and other items that can be redeemed for great prizes.
How Does Lucky Bingo Work?
Installation
You can download and install Lucky Bingo for free on the Playstore. You don't need to create an account or give permission to play.
How to Play?
It's simple! After tapping "Play now," you will get a scorecard with 25 randomly generated numbers.
Listen to the caller while he reads all the 27 letter-number combinations.
Tap the number if you have it on your card. Note that some specific numbers give you dollars and coins.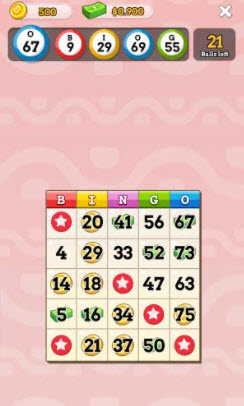 If you complete five squares in a row, you will shout BINGO!
Then, the slot machine will be triggered, and if you match 3 symbols, you will get the reward. For example, by matching 777, you will win the jackpot of $777.
Click "Claim More" and watch the video to multiply your reward.
If you don't shout Bingo at the end, you can watch a video to get extra balls.
There is a limited number of scorecards, but you will always get a new one every 600 seconds.
Besides, you can play with up to 4 cards at a time, speeding up your earnings.
Endless Prize List!
You will accumulate dollars, coins, virtual Amazon cards, and iPhone puzzles by playing Lucky Bingo.
According to Bord Studio, you can withdraw your prize as soon as you meet a specific requirement. Here is a list of all the possibilities:
1 Million coins = $100 PayPal
$150 (virtual dollars) = $150 PayPal
Hit 777 in the slots = $777 PayPal
30 iPhone puzzle pieces = 1 iPhone 11 Pro
100 Amazon cards = $100 Amazon voucher
In addition, you can win several prizes if you collect enough puzzles. Here is the complete Gift list:
Sony 75-inch TV, MacBook Pro, Louis Vuitton bag, Samsung galaxy, App iPad Pro, Syson Supersonic, Nintendo Switch, Philips Coffee Machine, Gucci Bloom Perfume, Chanel Rouge Lipstick, 20 Score cards.
You can collect puzzles by visiting the Lucky Activity section, where users get the chance to spin the wheel or tap the bubble.
Bonus Dollars
Lucky Bingo also claims you will win $7 when you invite your friend to install the game.
Keep in mind the bonus dollars are separated from your cash balance. So here, you need to refer over eight people to achieve $56 and cash out.
Does Lucky Bingo Legit? Does it Pay?
I firmly believe your chances of making actual money with Lucky Bingo are incredibly low!
If you search my website, you will find hundreds of games that offer similar cash incentives and the popular iPhone gift.
Unfortunately, none of them provide any evidence of payments. On the contrary, they collect an insane number of complaints on Google Play from frustrated players who cannot cash out!
Many people report that the closer they get to $150, the less money they earn. After you reach $100, the spins rarely land on cash, and you will make 1 cent at a time.
Players also complain that Lucky Bingo keeps crashing frequently, so they must close and start all over. It becomes very discouraging!
The company replied by saying they have many winners every day. However, I am yet to find someone who received a penny from these "high-paying" games.
If you check the "Terms of Use," it says cash coupons are a form of virtual currency in the game and do not have a monetary value.
Therefore, they can do whatever they want, and you have no right to request any money. Also, I found nothing about rewards on that page, so it doesn't seem like a sweepstakes app to me.
That being said, I cannot accuse the company of fraud. That's because it would require me to prove that Lucky Bingo doesn't pay anyone. Unfortunately, only the company has access to this information.
Is There an Alternative to Lucky Bingo?
Yes, a handful of legit applications give away real cash prizes. I can assure you the Daily Raffle app is your best choice!
By watching videos, you will collect tickets and select six numbers from 1 to 9. Then, the algorithm generates random numbers and shows the results at the end of the day.
You can win $125, $250, $500, and even $1000, depending on how many numbers you match. However, remember that the odds of winning are very low, and if other people select the exact numbers, you will split the prize.
Conclusion
Lucky Bingo is a well-designed game with excellent graphics, but there is no evidence that it pays.
All apps that claim to pay over $100 should not be taken seriously! The reason is that the amount of money they offer is too high and incompatible with their business model.
Most people are playing Lucky Bingo because they expect to cash out, not because of the game itself. So chances are, they will get stuck before reaching the minimum requirement.
Earn a Full-Time Income Online
I don't know you, but I don't like relying on luck to make money. I played free Bingo and scratch cards but never won anything!
Luckily for all of us, earning a decent income every month working from home is possible. But first, you need to learn a proven strategy and put in the work!
There are great options out there, but I prefer content marketing. It involves creating a website, providing helpful articles, and attracting an audience. Then, you can generate revenue by placing banners or promoting products as an affiliate.
If you want to learn more about this opportunity and get started on the right foot, check out my #1 recommendation! 
Final Words
Thanks for reading my Lucky Bingo app review. If you have questions or thoughts about this game, comment below.
Stay safe and peace out!