Welcome to my Merge Up 7 app review!
I have recently watched an ad claiming that Merge Up 7 is a 100% lucrative game. They show us hundreds of dollars added to the PayPal balance in a matter of seconds!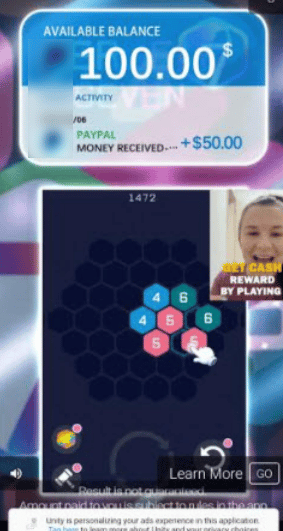 These types of ads don't surprise me anymore. In my last post about another merging game, the developer claims his app makes $3,000 a week. Trust me, lots of people fall for it!
If you are not familiar with money-games, it's important to know they are not being held liable for any claims made on their ads. Besides, Google doesn't seem to audit or ban applications based on how they conduct the business. So, just because an app is available on the Play Store, it doesn't mean it pays.
Merge Up 7 does not make any claims or promises, but it suggests players can earn a lot of money. Otherwise, you would not be here searching for some answers. Well, at least they say "Result is not Guaranteed" in small print.
Can you really make money with Merge Up 7? Is it a legit or fake money game? Check my review to discover why you want to avoid it.
RECOMMENDED: Check out the step-by-step program that helped me build an online business and generate $1,600+ per month. No special skills required! 
Merge Up 7 App Review
Name: Merge Up 7
Developer: Infinity Game Studio
Eligibility: Worldwide
Type: Puzzle game
Overall rating:

1/5
What is Merge Up 7?
Merge Up 7 is a puzzle game that gives you virtual dollars for merging numbered and colourful blocks. All you must do is place at least 3 identical hexagons side by side. The hexagonal tiles will merge and form another one with a higher number and different colour.
Merge Up 7 is very similar to Crazy Hexagon. Both apps give you the expectation to transfer the money to PayPal once you collect enough virtual dollars.
Think Twice Before Installing Merge Up 7
As soon as I download it on my Samsung Galaxy, my antivirus software warned me of adware. I immediately closed the window and uninstalled Merge Up 7 just for the safe side. Here is a screenshot of the warning: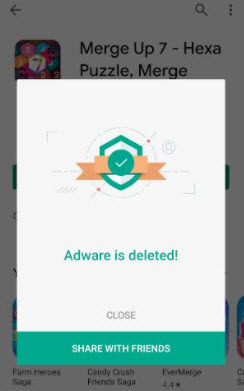 I cannot prove this app is an actual threat because not every adware is malicious. However, I didn't want to take any risks!
An adware may cause a lot of problems on your device such as slow internet speed, excessive number of pop-up ads, slow mobile performance, and more!
How Does Merge Up 7 Work?
Installation
The Early Access version of Merge Up 7 is available on the Play Store. After installing the game, users can tap play and start playing immediately.
How to Play?
Simply drag the hexagon puzzles to the honeycomb shaped platform and try to combine at least three blocks of the same number.
All blocks will merge and form a unique block with a higher number. For example, four puzzles number "1" will turn into one number "2". Once you merge three "7", you will unlock the "STAR".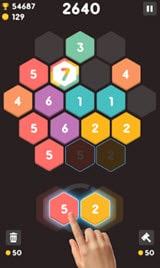 You must place either 1 or 2 bonded hexagons. Therefore, it's challenging to fit the blocks and keep merging after some time. The game is over when there is no space on the board.
You can use the refresh tool to get another puzzle, or the hammer to eliminate the blocks you don't want.
Whenever you merge lots of puzzles at once, you will earn virtual dollars that accumulate in your account. As Merge Up 7 is funded by advertisers, they only give you the cash after watching a short video. That's how he is making profits that, in theory, should be shared with players.
How Do You Get Paid?
Requesting the payment from a money-game like Merge Up 7 is usually quite simple. But getting paid is another story! Once you reach the cashout limit, tap the withdraw button and submit your PayPal email.
I don't know the exact requirement because I didn't access the game. However, I'd guess it's $100 or $200.
Does Merge 7 Up Pay? Is it Legit?
I have played enough games to know exactly how they behave in terms of rewards. Merge Up 7 does not differ from most of them!
It gives you excellent cash prizes at first, but the more you play, the less money you will earn. The main purpose of diminishing rewards is to make you watch a lot more ads than expected.
Your earnings will probably drop to just a few pennies at a time, making it extremely hard or perhaps even impossible to cash out.
After playing day and night, you may eventually meet the requirement and submit your payment request. Sadly, there is little chance Merge Up 7 will transfer the money to your account.
Without evidence of payments, and no user reviews on the Play Store, it's difficult to believe this application is giving actual money. Nevertheless, I cannot accuse any company or person without proof.

It's a shame thousands of people will install this apparently unsafe app, and watch hundreds of videos for them.
Is There an Alternative to Merge Up 7?
There are lots of merging games that claim to transfer money to PayPal, but none of them are proven to pay. There are merge balls, merge emojis, merge fruits, merge dogs, you name it!
If you want to make money by playing games, it's better to use a reputable GPT platform like Prizerebel. As a member, you will have access to several offer walls where you can earn points by installing and trying sponsored games.
Depending on the game and requirements, you may earn over 3000 points, which is worth $3. Then, once you get 5,000 points, you redeem $5 via PayPal and gift cards.

This reward platform is going viral! Cash out via PayPal, Visa, Gift Cards, and in-game currencies - Click here to find out how to generate an extra $10+ per day! 
Conclusion

Merge Up 7 is a challenging puzzle game to pass the time, not to make real money. I didn't feel comfortable installing this game since my antivirus software detected adware, which may slow down my phone, and cause many other issues!
I believe very few people have an antivirus installed on their phones, so many of them will probably never know if they were infected. If you already installed this game, you should scan and clean your device using an antivirus software.
I don't recommend installing Merge Up 7 because, first, you won't make any money, and second, there are similar games out there. So, it's not worth the risk of having adware on your device!
Earn a Full-Time Income Online
It's possible to earn hundreds and even thousands of dollars if you operate your own online business. I started mine 5 years ago, and I am so glad I did.
Today, it covers all my living expenses and allows me to work remotely anytime, anywhere I want!
In short, I create helpful content for this website and attract visitors from all over the world. Then, I make money by displaying banners and affiliate links on the pages.
You can do the same if you take the time and put in the effort to grow your website as I did. This excellent step-by-step program will show you the way!
Final Words
Thank you for reading my Merge Up 7 app review. If you played this game and you want to share your experience, write down your review in the comment box below.
Peace!