Welcome to my Crazy Hexagon app review!
Lots of people are trying to make some easy money by doing what they already do on a daily basis. The most popular activity is of course playing mobile games! 
Perhaps you found Crazy Hexagon after watching a commercial. I didn't see how the company promotes it, but their page on Google Play suggests players can earn amazing cash prizes and gift cards.
You are here because you don't want to fall victim of app developers who attract users through false expectations. So, is Crazy Hexagon legit or fake? Does it pay if you reach their payout requirements? In this review, you will find all the answers you need!
RECOMMENDED: Check out the step-by-step program that helped me go from $0 to $1,600 per month and live the laptop lifestyle. No special skills required! 
Crazy Hexagon App Review 
Developer: Lucky Game Studio CO. Ltd
Eligibility: Worldwide
Payout threshold: $100
Price: Free
Overall Rating: 1.5/5
What is Crazy Hexagon? 
Crazy Hexagon is a popular merge game where players must combine three same tiles to make the numbers grow. It's very similar to several other apps I already reviewed in the past, such as Merge Numbers Plus, Balls Merge and Swipe to Blast. The major difference is in the form!
While you are playing Crazy Hexagon, you will earn coin and virtual cash that you can supposedly withdraw via PayPal once you reach $100. They also claim that if you pass all levels, you will earn $777! How cool would it be if it was real?
Crazy Hexagon has been installed over 1 Million times and rated 4.2 out of 5, which is is excellent. But, are players actually making money? Before I give you the answer, let's have a look at how the game works!
How Does Crazy Hexagon Work? 
Crazy Hexagon is available for free on Google Play. After launching the app, the game will start immediately so you don't need to sign up or give any nonsense permissions.
All you have to do is drag the tiles to the honeycomb shaped board and try to fit more than 3 same numbers together. Then, these tiles will merge into a unique tile with a number that is double the previous one. Therefore, it follows this sequence: 1, 2, 4, 16, 32, 64, 128…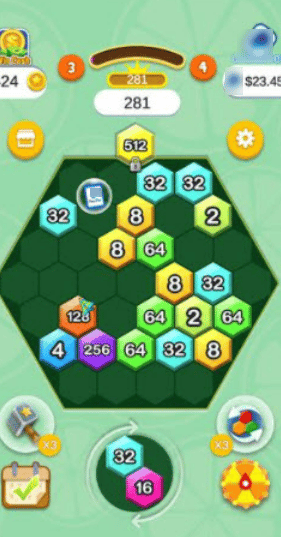 You will drag either 1, 2 or 3 tiles bound to each other. In case of multiple tiles, you can tap to switch their positions according to your needs.
In addition, you will find the hammer and the switch tool that makes your life a little bit easier! Need more help? Spin the wheel for a chance to win props and. rewards.
Whenever you merge the numbers, Crazy Hexagon will give you coins and virtual dollars from time to time. Then, you get more rewards once you combine enough tiles and level up.
Sometimes, you will also see a PayPal bubble floating around. Burst it and watch a short video to collect more cash. Speaking of videos, Crazy Hexagon is full of tedious adverts that slow down your progress in the game. Be aware they usually promote other Money games that do not pay. 
TIP: By joining this reputable GPT site, you can make $100 on the side by completing easy online tasks. It's 100% legit and pays every time! 
How Do You Get Paid? 
Thare are two places where you can cash out: The coin and the cash balance page. Here is the complete list with rewards and payout requirements:
$30 Amazon Gift Card = 10,000,000 coins
$100 PayPal = $100 (virtual cash)
$777 PayPal = Reach Lv. 100
$200 PayPal = $200 (virtual cash)
According to the company, prizes will be issued within 3 – 7 business days after the review.

Does Crazy Hexagon Pay? Is It Legit or Fake? 
Just like Lucky Birds and many other games out there, Crazy Hexagon will pay you gradually less over time. Lots of people reported that when they reached $99.98, the videos stopped and they coudn't collect more coins and cash.
Therefore, they make it impossible to cash out by preventing users from achieving the payout threshold. This will probably happen to you as well if you play the game for long enough.
If you are willing to play Crazy Hexagon for hours in hopes to supplement your income, I urge you to think twice because it can be a very frustrating experience!
People are going through serious financial turbulence right now, and the least they need is an app to waste their time.
I also need to mention that this app doesn't provide the Terms of Use, which is a bummer. With no legal contract between us and the developer, it's even harder to believe the cash rewards are real.
Can You Make Money Playing Games? 
Yes, absolutely! But apps that supposedly pay more are much less likely to pay you. Don't trust developers that claim you can earn over $100 because they provide no evidence of payments and they don't need to pay anyone.
Any game developed by Bling such as Bitcoin Blocks pay you for sure! But would you even bother to play for just 1 cent a day? Well, in the last section, I will show you how you can make over $40 per day online and scale the business to live a life of freedom! 
Conclusion 
Crazy Hexagon is a nice game to pass the time, but you stop earning rewards when you are close to the cashout limit.

There is nothing wrong with playing games on the phone every once in a while. However, you don't want to be caught up in this situation where you are spending a significant portion of your time on them. Especially with the unrealistic expectation of making $100.
Earn a Full-Time Income Online
With so many businesses collapsing all around us, there has never been a better time to pursue an online income for you and your family.
One of the most solid business models is to a build a website and publish helpful content that gets top google rankings.
It's actually simple, but it requires work and patience. I started my journey back in 2015 after following this excellent step-by-step program. I wanted to quit my job and make money while travelling the world, which is what motivated me to put in the extra hours after my job to build this alternative income from the internet.

This reward platform is going viral! Cash out via PayPal, Visa, Gift Cards, and in-game currencies - Click here to find out how to generate an extra $10+ per day! 
I am very glad I did! Today, my site attracts thousands of visitors every day and pays for all my expenses!
If you want to learn the proper strategies that helped me rank high on Google and build this site from scratch, click here and take your first steps today!

Final Words
I hope this review answers all your questions about the Crazy Hexagon app. So, did you play this game? How was your experience? Let us know in the comment box below.
Thank you for reading!