Welcome to my Tap Fill Arts app review!
You may have found Tap Fill Arts, a mobile application that supposedly pays you just for colouring images on your smartphone. They make it seem as if even pupils could make a ton of money with this application!
The app has been installed over 50,000 times, and that number continues to grow because of how they advertise it. One of their commercials shows the person tapping on the number to fill the blank space with paint and earning hundreds of dollars.
Here is a screenshot: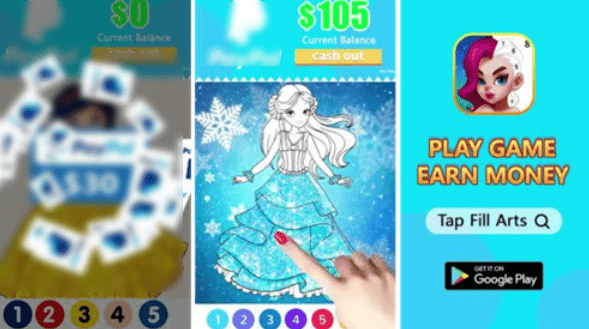 Have you noticed that almost every "Money" game tries to catch your attention by using the PayPal logo?
Also, people who are unaware of how these games work may think just because it's available on Google Play, it must offer a real opportunity to make money. As you will see, more cautious is required!
If you are planning to use Tap Fill Arts, I urge you to read this review first because it can save you a lot of time down the road. Is it a legit or fake app? Does it pay you for coloring digital drawings or not?
RECOMMENDED: Discover the step-by-step program that helped me go from a minimum wage barista to making $1,600 per month as an online entrepreneur. It's 100% newbie-friendly! 
Tap Fill Arts Review
Name: Tap Fill Arts
Developer: Lemon Spady
Eligibility: Worldwide
Payout threshold: $150
Price: Free
Overall Rating:

2

/5
What is Tap Fill Arts? 
Tap Fill Arts is an art drawing game where players can supposedly earn money by bringing images to life. The developer claims you can cash out via PayPal just by painting the images. What? I am sure you are very skeptical too!
How Does Tap Fill Arts Work?
Installation
Tap Fill Arts is available for free on the Play Store for your android device. The installation is quick because it's only 14.80 MB and you don't need to sign up.
How to Play Tap Fill Arts? 
Upon launching the application, you will see a huge list of drawings. Select the one that appeals to you the most and start painting!
The images are divided into pieces of different sizes. Each cell is marked by a number that represents a specific color in the pallete. Note that some cells are so small that you may have to zoom in to identify and paint them.
Just tap on the color at the bottom and fill up all the grey cells that have the same number. Tap Fill Arts is easy to play, but some images are incredibly complex and require patience.
If you get stuck because you cannot find the tiny spaces, tap the bulb to reveal where it is! Each additional hint costs 100 coins. 
Then, once you finish painting, you will see a flashback of your progress. Also, you can download or share the art with your friends on social media.
Be aware that Tap Fill Arts is full of advertising, which is how the developer is generating revenue from it. Therefore, you will spend a lot of time and internet data not only opening the images but also watching the videos.

Collecting Rewards
Whenever you finish painting all the places with a particular color/number, you will receive virtual cash or coins. You can always tap the orange button and watch a short video to double the prize.
How Do You Get Paid? 
As expected, Tap Fill Arts only lets you withdraw the money via PayPal after you reach $150. If you are brave and lucky enough to meet the requirement, tap the cash balance, press the withdraw button and insert your PayPal email.
You can also redeem 150,000 coins for a 10 USD Amazon Gift card. But does Tap Fill Arts actually pay?
Does Tap Fill Arts Pay? Is it Fake? 
It's very unlikely that you will receive the payment! I checked the reviews on Google Play, and no one reported making any money from this app. If the company was processing payments, it would be easy to find a positive testimonial.
Most people said Tap Fills Arts conveniently stopped rewarding once they reached $98, making it impossible to cash out. If you are new to "money games", you should be aware that most of them prevent you from reaching the cashout limit to avoid payments.
At first, Tap Fills Arts gives you a decent amount of cash just so you keep coloring and watching videos. But after passing the $90 mark, you will get 1 or 2 cents at a time. That's when the penny drops and people realize they are swimming against the tide as the more they play, the less they earn.
Still, many brave players keep pushing forward, but the app eventually stops giving money. So, you will probably get stuck forever and never reach the minimum requirement of $150.
I just want to finish this section by saying that this app provides a Privacy Policy, but not the Terms of Service. This is a good indicator that Tap Fills Art doesn't reward users, otherwise, they would want to make sure users followed the rules.
Wanna make real money online? Check out my top recommendation here! 

Pros and Cons
Pros
Easy to play.
It's great for killing time and relaxing.
Many users enjoy colouring the pictures.
There are lots of paints
New images are added daily.
Cons
There is evidence that the developer is processing payments.
Almost everyone seems to get stuck between $95 – $98.
There are too many ads!
There are no terms of service.
Conclusion 
Many people enjoy colouring pictures using the Tap Fills Arts app. I think it's great for killing time when you feel bored, but don't expect to withdraw money or gift cards.
The reason I am skeptical is that applications funded by advertising don't have enough funds to pay $150 for every user. The cash incentive is just too good to be true!
Besides, I couldn't find any user who received the payment from this app on the review section of the Play Store. So, don't use Tap Fill Arts if your only intention is to make easy money. You will just waste your precious time!
If you want to earn money by playing games on your phone, check out the list of game apps here. 

This reward platform is going viral! Cash out via PayPal, Visa, Gift Cards, and in-game currencies - Click here to find out how to generate an extra $10+ per day! 
Final Words
 hope this review answers all your questions about Tap Fill Arts. So, did you play this game? Have you made it to $150? Let us know in the comment box below.
Thank you for reading!