Welcome to my Shooting All Virus app review!
Shooting All Virus has been advertised as a game that gives you cash rewards just for the fun of killing viruses.
In the video, the developer claims you can get a $50 gift card right now and shows a PayPal balance with the payment. However, the small print at the bottom of the advert gives us a hint. It says results are not guaranteed, and the amount paid to you is subject to rules.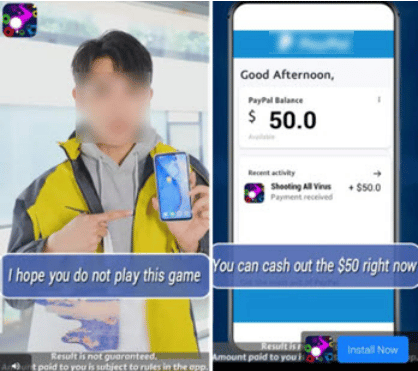 I am very familiar with apps that make players believe in easy money, and I can tell you. This doesn't look real! So, does Shooting All Virus pay or not? Is it fake? Check my review before you try to cash out!
Before you leave, check out the step-by-step program that helped me reach $1,600+ per month from my laptop and work remotely. No special skills required! 
Shooting All Virus Review
Name: Shooting All Virus – Virus War Shooting Challenge
Developer: simon90tk
Eligibility: Worldwide
Payout threshold: $200
Price: Free (no in-app purchases)
Overall Rating: 2/5
What is Shooting All Virus?
Shooting All virus is a very addictive game in which you must aim and shoot the balls to eliminate the viruses. When you do so, you will collect coins and virtual dollars that may be redeemed via PayPal.
The app has been installed over 100,000 times, mostly by people who expect to make some money just like they saw on the video ad.
How Does Shooting All Virus Work? 
Installation
Shooting All Virus is available on the Play Store, and it's completely free to play. You don't need to create an account or accept any permissions. Just tap the "Start" button and enjoy!
How to Play Shooting All Virus? 
Once the game starts, you will see viruses containing a specific number. Aim the balls at them by swiping your finger and shoot.
Every time a ball hits a virus, it bounces and subtracts a unit from its number. You will destroy a virus once that number drops to zero.
The balls keep colliding with the viruses and the walls around your screen. Then, all of those that fall to the bottom stop bouncing and move to the top.
Shooting All Virus becomes increasingly difficult because the more you play it, the higher the numbers. As a result, it takes a lot more balls to destroy each virus. Besides, they become more numerous too!
You will get more balls after each round, but still, it's very challenging! Therefore, you may have to use specific tools to kill viruses faster.
Here are four props that are available at your fingertips:
Speed – speed up the game for 5 minutes to save time. It's free by watching a video.
Double balls – double the number of balls in the next round after use.
Laser Cannon – Inflicts 500 – 1000 damage to every virus along the line.
Bomb – Inflicts 500 – 1000 damage to all the viruses where the bomb drops. Use it for free by watching the ad or spend 5000 coins.
In addition, you can tap the blue button at the top and wait for the video to get 10 extra balls. 
TIP: By joining this reputable GPT site, you can make a little extra cash by doing simple online tasks. It's 100% legit and pays once you reach $5. 

Earning Rewards
As you may have noticed, Shooting All Virus has a coin and cash balance at the top. Every time you kill a virus, you will collect coins.
The game also entices you to play more by giving you virtual dollars from time to time. They show a PayPal card and claim you won a specific amount of cash. However, you can only get the reward by tapping on the "Collect button" and watching a video.
You can click "No Thanks", but in that case, they won't give you any money.
Note there is a treasure chest on the right side, which is your level reward. Once you get enough points, you can open the chest and watch a video to collect more virtual dollars.
How Do You Get Paid? 
You can cash out using both your coin and cash balance. If you tap on your coins at the top and select your country, you will see a list of payment options. For example, residents in the USA must have at least 280,000 coins to redeem for $5 cash or Amazon gift cards.
As for your virtual cash balance, it can supposedly be redeemed for Paypal money once you reach $200, $300, $500, $600, $800 and $1000. It just seems too good to be true, so you are probably wondering if you can really receive that money in your pocket.
Does Shooting All Virus Pay? Is it legit?
Just like most games on the Play Store, the developers don't provide evidence of payments. The company also doesn't let players leave a review because the app is still launched as "Early Access" (incomplete).
Although I have no proof to call Shooting All Virus a scam, it's safe to say that your chances of making money with it are bleak. The reason is that game developers don't make enough revenue to pay hundreds of dollars to every user.
Some apps like Givvy and Daily Raffle organizes genuine sweepstakes that give players a chance to win rewards. However, Shooting All Virus doesn't even provide the "Terms of Service" to inform users about the rewards and rules. That's why I strongly believe the cash prizes are fake.
At least they state in the advert that results are not guaranteed. But what are the odds of winning, then? There is no answer to this question!

At first, Shooting All Virus provides a decent amount of cash and lets you accumulate over $100 in less than half an hour. But after a certain point, you will be making only a few cents at a time!
There are usually two outcomes if you play these games for long enough: You may get stuck before you have the chance to cash out or the company may ignore your payment request.
Pros and Cons
Pros 
It's great for killing time and is very addictive.
Cons
There is no evidence of payments.
The games is "Early Access", so no one can publish a review on the Play Store.
There are no Terms of Service.
Unrealistic payouts.
They will probably ignore your payment request if you reach $200. But maybe you never get there!
There are too many ads.
Conclusion

This reward platform is going viral! Cash out via PayPal, Visa, Gift Cards, and in-game currencies - Click here to find out how to generate an extra $10+ per day! 
Shooting All Virus is a nice game, but the company may never process the payment to your PayPal account. The possibility of making hundreds of dollars is too far-fetched!
Therefore, I don't recommend you to use this app for hours only because you expect to make real money.

I receive comments daily from people who are terribly frustrated with these so-called "money games". Most of them regret playing and feel cheated as they spent a lot of time and internet data for no compensation.
Now, if you just want to play for fun, go ahead and enjoy!
Final Words
Thank you for reading my Shooting All Virus app review. I hope it helps you make an informed decision! If you have questions about this application or you want to share your experience, leave us a message below!
Peace!