Welcome to my Lucky Pinball app review!
The creators of Lucky Pinball are advertising their game as an opportunity to win a lot of money via PayPal. I discovered this application through an over-hyped commercial that said people could earn $50 by playing for only 30 minutes. Not only that, but they also claimed anyone could withdraw at least $1 to their accounts.
It just seems too good to be true! After all, why would someone work hard to pay their bills when they could just play mobile games all day long and earn 10 times the minimum wage? How could society function properly if this was actually true?
I suppose you are here because you value your time, and you don't want to play a game just to make the developers richer. So, is Luck Pinball a fake money app? Does it pay or not?
RECOMMENDED: Check out the step-by-step program that helped me go from $0 to $1,600 per month and live the laptop lifestyle. No special skills required! 
Lucky Pinball App Review 
Developer: Merge Game LLC
Eligibility: Worldwide
Payout threshold: $100
Price: Free
Overall Rating:

1

/5
What is Lucky Pinball?
Lucky Pinball is another plinko game where you get tokens and coins just for dropping pinballs and activating the slots. The app was developed by Merge Games LLC, and was previously called Crazy Pinball.
While you are playing Lucky Pinball, you will earn those virtual currencies which you can supposedly cash out via PayPal and Amazon gift cards once you meet the requirements. I will explain more about the withdrawals later on.
How Does Lucky Pinball Work? 
Installation 
Lucky Pinball can be installed on Google Play and doesn't cost any money. Once you launch the app, the game will start immediately with no registration or permissions needed.
How to Play Lucky Pinball? 
The game starts with 50 balls that you can throw from the top simply by tapping on your screen. There are grey, yellow (star), and green (cash sign) obstacles. Whenever a ball hits the yellow and green pegs, you will earn 5 tokens and $0.01, respectively.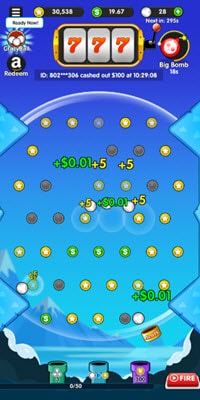 Note there are three Mario Bros warp pipes at the bottom of the screen. When a ball falls into any of these pipes, you will get bonuses like extra tokens, balls, etc.
There is also a small yellow container moving left and right. If the ball drops there, it will activate the slot machine and you will have the chance to win more rewards.
As you drop the balls, an orange bar will load and you can tap the "fire" button once it completed. This button will drop lots of green balls and help you earn faster.
Be aware that Lucky Pinball will show you an unbelievable amount of videos promoting other "money Games" that usually don't pay. So, don't fall for the hype!
They will give you one free ball every 300 seconds. But if you don't want to wait, of course they have a solution for you! Watch another video or spend $0.50 to get 30 balls!
CrazyBall 
At the top left corner, you will see this shiny icon called CrazyBall. When you enter this section, you will see a glass sphere with lots of balls inside.

Once you tap play, these balls will hit the top and give you tokens and cents. Next, you will get a number. If you match all 5 numbers, they claim you will win the jackpot of $10,000. 
You can play the Crazyball for free every 2 hours, or watch a video to play immediately.
As you can see, Lucky Pinball has created a smart system to entice players to watch as many videos as possible.
How do You Get Paid? 
Tap on your coin or token balance and redeem using any of these three methods:
You need 5 million tokens to redeem an Amazon gift card. Unfortunately, Lucky Pinball doesn't state the amount of money in the voucher.
Reach 100 coins to cash out $100 via PayPal.
Match 5 lucky numbers in the Crazyball and win $10,000.
In the redeem page, Lucky Pinball entices you to watch another video and play the lucky wheel to withdraw all your money in advance.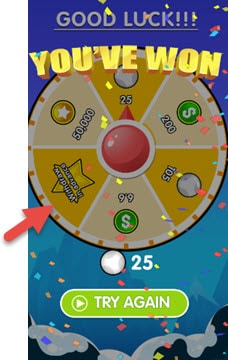 It's important to know that the chances of landing on the instant payment reward are incredibly low or even null.
Is Lucky Pinball legit? Does Pay or Not? 
No, the game doesn't pay! They advertise it as if you could make $50 in just 30 minutes and cash out with just $1 in your account.
Although it's true that you can accumulate your first $50 quickly, the app won't let you withdraw the money until you reach $100.
Well, they give you an option to withdraw in advance, but only if you win the prize in the lucky wheel. You can spin the wheel hundreds of time and you may never land on this specific reward. So, don't count on that!
The problem with games like Lucky Pinball is that they are programmed to not let you reach the minimum requirements.

It's easy to earn $50, but after some time, you will earn less than 5 coins ($0.05) every once in a while. Basically, you will watch hours of videos and when you are close to the cashout limit, they will stop giving the rewards you deserve.
The number of negative reviews and complaints on the Play Store is staggering! I coudn't find anyone who made money playing this game, and even if I did, I wouldn't believe without proof.
One guy said he played Lucky Pinball for three days and nights only to find that his cash balance doesn't go past $99.99! Therefore, he can never request the payment!
Is There an Alternative to Lucky Pinball? 
No. There is no alternative to this game that would allow you to make real money. I have reviewed a handful of similar apps such as Lucky Plinko, Plinko Master, and Plinko Dream. All of them behave similarly by preventing players from meeting the requirements. So, don't waste your time.

This reward platform is going viral! Cash out via PayPal, Visa, Gift Cards, and in-game currencies - Click here to find out how to generate an extra $10+ per day! 
Conclusion

Lucky Pinball is another addictive plinko game that thrives on advertising. The most resilient players are the ones who will waste the most time.
I feel sorry for people who are not aware of how these games work and don't do proper research on the internet before playing. Unfortunately, millions of players around the world are learning the hard way they cannot trust money games blindly.
You can make actual money by playing games if you join a reliable GPT site and complete their app offers. Just don't expect to get rich because game developers have a limited budget, and they pay very little money for players to try their apps.
Earn a Full-Time Income Online
There has never been a better time to earn a decent amount of money from your laptop. But first, you need to learn the business model and put in the work.
One of the most solid strategies is to a build a website and publish helpful content for the internet. I started my journey online entrepreneurial journey back in 2015 with the amazing support from this online business program.
These guys gave me all the knowledge and tools to grow a successful affiliate site and make a full-time income from home. Today, the site attracts thousands of visitors every day and covers all my expenses, including the travel tickets around the world.
Click here and take your first steps today!
Final Words
I hope this review answers all your questions about the Lucky Pinball app. So, did you play this game? Did you get stuck as well? Kindly share your experience in the comment box below.
Thank you!