Welcome to my Plinko Dream app review!
Google Play has suggested me another money game called Plinko Dream. So, I decided to give it a try and share with you some facts and opinions about this app.
As usual, the developer is trying to get people's attention by claiming they can win excellent cash rewards.
All you have to do is tap on your screen to drop the balls and withdraw the money to your PayPal account once you collect enough coins.
It seems too good to be true, which is why you are wondering if this is legit or fake!
In this review, I am going to explain how Plinko Dream works and why you want to avoid it.
RECOMMENDED: Check out the step-by-step program that helped me build an affiliate site and quit my job in 2019. No special skills required! 
Plinko Dream App Review
Developer: Plinko Dream Inc.
Eligibility: USA, UK and Canada (+18)
Payout threshold: $100
Price: Free
Overall Rating:

1

/5
How Does Plinko Dream Work?
Plinko Dream is funded by advertising, meaning that the developer is generating revenue by showing you sponsored videos.
In theory, the company was supposed to share a slice of the "pie" with players who reach the requirements.
The Playstore is jam-packet with similar games. Here is another Plinko game I reviewed a few days ago!
They all entice users with virtual dollars because that's what motivates people to play the game for a long time.
The more you play, the more videos you watch, and hence, the more money they make!
Installation
After you install Plinko Dream on your Android device, you can play the game immediately. There is no need to create an account or activate permissions.
How to Play Plinko Dream?
When you start the game, they will give you a $1 bonus plus 30 balls.
Just tap on your screen to drop the balls from the top. Whenever they hit the obstacles on their way down, you will earn tokens or virtual dollars (coins) depending on the pegs.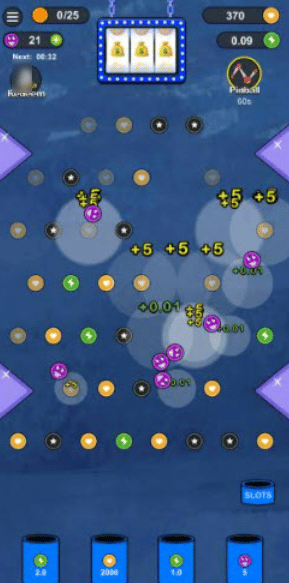 A yellow peg gives you 5 tokens, whereas the green peg awards you $0.01.
If you hit one of the 4 jars at the bottom, you will win bonuses such as $2, 2000 tokens, $1, an extra balls.
Also, note there is a smaller jar moving left and right. If the ball falls into this container, it will trigger the slots machine, where you have the chance to win more cash, Amazon cards and fruits.

You can get 30 extra balls by watching a short video, which is not always ready.
In that case, you should wait for a while and try again later. In the meantime, Plinko Dream will give you 1 free ball every 10 minutes.
Take advantage of the Dollar Booster, Pinball, Big Bomb, and Plink to maximize your earnings.
How to Redeem Rewards?
Simply click on the "Redeem" button with the Amazon icon and you will find 3 different options:
Earn an Amazon Gift Card (Unknown prize): Collect 5 million tokens.
Cash out $100 via PayPal: reach 100 coins.
Win $1000: Collect 24 types of fruits.
Is Plinko Dream Legit? Does it pay?
First, it's important to know that only residents in the USA, the US and Canada (excluding Quebec), are eligible to play Plinko Dream. Besides, you must be 18 years old.
Therefore, anyone younger and/or who lives in another country has no chance of winning actual money.
If you check the terms of service, it says they will select the winners at random using a computer algorithm.
That means you may never receive the payment, even if you reach $100 and meet all the requirements.
Now, how can anyone know whether the developers are selecting winners or just pretending to do so? How many giveaways does Plinko Dream organizes per month or year?
Well, only the company holds this information, and for some reason, they prefer to keep things secret.
Plinko Dream behaves just like most Money games that you will find on the Playstore.

Once you hit around $90, you will no longer get green obstacles to be able to reach $100.
Unfortunately, the slots and jars will give you no other rewards, UNLESS you are one of the lucky ones.
I wouldn't be optimistic about it since no one seems to get paid. I challenge you to find a winner in the review section of Google Play.
Conclusion
Don't play Plinko Dream with the expectation to win money. Maybe they reward a few users every once in a while, but who knows?

This reward platform is going viral! Cash out via PayPal, Visa, Gift Cards, and in-game currencies - Click here to find out how to generate an extra $10+ per day! 
If you want to win cash prizes by playing games, I suggest you try Givvy or the Daily Raffle App.
Both applications operate legitimate and transparent sweepstakes!

How I Make Money Online
Me, personally, I don't like using apps and sites that control my earnings or that is based on luck.
I prefer to use a proven method that depends on my work ethic. It's called content marketing!
In short, I create helpful content for my website and attract visitors searching for answers they ask on Google.
This type of online business helped me quit my job in 2019 and achieve time and location freedom.
If you want to learn step-by-step how to build it, check out my #1 recommendation here.
Final Words
Thanks for reading my Plinko Dream app review. If you have questions or thoughts about this game, leave us a comment down below.
Peace!