Welcome to my Playsmart app review!
I was sneaking through the Playstore when I found another money making application called Playsmart.
It claims users can not only play games for free but also earn points redeemable for cash and gift cards.
I have reviewed lots of other loyalty apps for gamers such as Mistplay, Playspot, and FunTap.
It's usually difficult to find an app that honor payments, but there are honest developers out there.
In this post, I am going to cover all you need to know about Playsmart, so you know what to expect in terms of earnings and payments.
Is it really a smart way to play games on your phone? Let's see!
RECOMMENDED: Check out the step-by-step program that helped me build an online business from scratch and quit my job in 2019. No special skills required! 
Playsmart App Review 
Name: Playsmart
Developer: JustDice
Eligibility: Worldwide (+18)
Minimum Payout: $0.50
Price: 100% Free
Overall Rating:

2.4

/5
 What is Playsmart?
Playsmart is another loyalty platform for mobile gamers.
In a short, the app provides a list of sponsored games and shares a percentage of its profits with users who play them.
As you actively use the apps, you will collect coins that can be traded in for cash and voucher codes once you reach the payout threshold.
Playsmart is operated by JustDice GmbH, which are the same creators of App Like, Cash Alarm, Coin Pop, and so many others! I wrote about most of them in this post. 
Is Playsmart Legit? 
Yes! All games from this firm are legitimate as far as I can tell. They have a track record of paying users who meet the requirements.
If you check the testimonials on the Playstore, you will find many users who got paid with no issues.
One player said she redeemed a $25 Amazon gift card after using Playsmart for 1 month and a half. That's a pretty decent cash incentive, if you ask me.
On the opposite spectrum, you can find users saying the earning rate is too slow and there are very few games available.
I advise you to withdraw your money as soon as you reach $0.50 because you never know!
Even though the app is legit, there is no guarantee that the company will convert coins to cash. You can find this information in their Terms of Service, which states the following :
The Provider does not guarantee the user any winnings. In particular, the user has no right to the payout of a certain award. There is only an entitlement of the payout if such an award has been offered explicitly by the provider."
Many people are experiencing log in and other types of error, which prevents them from playing games and collecting rewards.

Their other apps have had the same issues for months or even years! Whether these errors occur on purpose on not, we will never know!
My perception is that you have roughly 50% chance of receiving your money from this app.
How Does Playsmart Work?
How to Get Started? 
Playsmart is available on Android devices for people over 18 years old.
The first step is to download the app for free on Google Play, accept the Terms and Conditions, and sign up using either your Facebook or Google account.
Then, they will ask a few basic questions about you to be able to suggest relevant apps. This includes your gender, date of birth, and name.
After that, you will earn a welcome bonus of 200 coins.
You also need to activate usage access so that Playsmart can track the time you play specific games.
Otherwise, you can't collect coins. Click "Continue", activate "allow usage trekking", and you are good to go!
Coins vs Rewards
As you play the games, you will earn coins you can spend in the shop.
The minimum payment is just $0.50, which makes this app a lot more trustworthy compared to hundreds of Money making games out there.
You can cash out your 50 cents via PayPal or Amazon gift cards once you collect 400 coins. 

The company requires that you take a selfie to prove that you are a real person. If you are worried about your personal data, I advise you to read their Privacy Policy page.
How to Earn Coins with Playsmart? 
It's very simple!
Just choose a title, tap "Play Now" followed by "Install Game". Next, they are going to direct you to Google Play where you can complete the installation.
Once installed, you must launch the game through Playsmart so you can earn coins.
Play for as long as you want and collect your reward!

This reward platform is going viral! Cash out via PayPal, Visa, Gift Cards, and in-game currencies - Click here to find out how to generate an extra $10+ per day! 
The downside of Playsmart is that they don't tell us in advance the coin per minute rate. For example, it just says "1x Coin", and 2x PXP.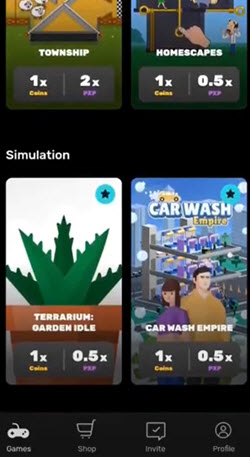 The PXP multiplier helps you level up your profile and boost your earnings.
It's also important to mention that the income potential of a specific game decrease as you play.
Eventually, the amount of money you are making becomes insignificant, and the only solution is to install another game.
How Much Money Can You Earn?
Very, VERY little!
Someone on Youtube played Township for 5 minutes and only got 5 coins. At this rate, he will take forever to cash out 50 cents.
Some people claim to make $10 – $20 per month, but I am skeptical. The reason is that the more you play a specific game, the less it pays you.
The lack of new games is also a limiting factor.
Pros and Cons
Pros
Easy money.
It has a good reputation regarding payments.
There are lots of games depending on your country.
Cons
It doesn't provide new games too often.
Slow earning rate compared to competitors.
Many users report log in errors.
You must submit a selfie before you get paid.
Is There an Alternative to Playsmart? 
There are LOTS of loyalty apps for gamers out there, most of which are operated by the same company.
However, if you pick another one from JusDice you cannot expect a different result.
I believe Mistplay is the best mobile platform that lets players earn a little extra cash for playing games.
The rate of pay is higher and it most players don't report any errors or missing payments.
Conclusion 
Playsmart is a decent app for people who enjoy playing new games and don't mind earning a few dollars while having fun.
Unlike many fake apps out there, you will receive the payment if you collect enough coin. However, there is a risk of experiencing errors that may prevent you from using the application.
I wouldn't recommend Playsmart for those who are desperate for money, though. You can earn over $100 per month by joining a GPT site like Prizerebel.
How I Make Money Online
In a nutshell, I create content for this website, which generates revenue though affiliate marketing and advertising. My articles rank on Google and attract lots of people searching for information.
If you want to jump into this type of business, it's crucial to create a solid foundation, so you are better armed to beat the competition.
That's why I recommend learning from expert marketers who will show you the best course of action.

This excellent step-by-step program helped me grow a successful affiliate website from the ground up and quit my job last year.
It took a lot of time and effort to generate to make it happen, but it was worth it!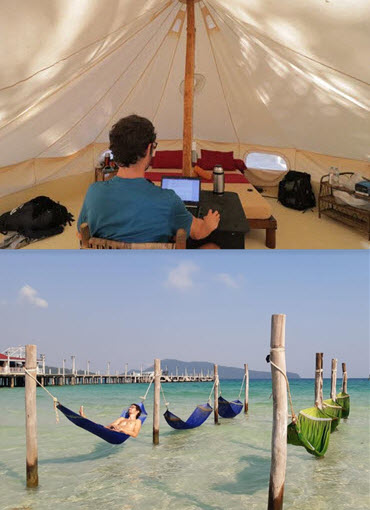 Success doesn't happen overnight, but if you plant the seeds today, you can eventually enjoy time and location freedom. 
Final Words
Thanks for reading my Playsmart app review. If you have questions or thoughts about it, leave us a comment down below.
Stay safe and peace out!