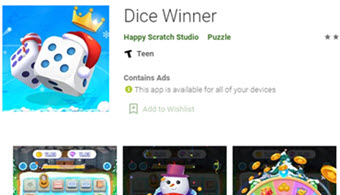 Dice Winner is another classic board game offering players attractive cash rewards. I mean REAL money!
One of their adverts shows a surface with 26 squares worth $5, $10, $50 and even $100.
Whenever the pin lands on the specific place, the corresponding cash adds up to a fictional PayPal balance.
I am very familiar with the co-called "money" games available on both Google Play and App Store.
They all use similar business model to attract players and get them to watch lots of sponsored videos. Here is another board game I reviewed a few days ago!
They say you can cash out once you accumulate enough coins or virtual dollars, but there is absolutely no evidence of payments.
Users flood the review page with complaints, and nothing seems to change.
In this review, I am going to explain how Dice Winner works and give you my opinion. Does it pay or not? Is it fake?
RECOMMENDED: Check out the step-by-step program that helped me build an affiliate site and quit my job in 2019. No special skills required! 
Dice Winner App Review
Developer: Happy Scratch Studio
Eligibility: Worldwide
Payout threshold: $100
Price: Free
Overall Rating:

1

/5
How Does Dice Winner Work?
Basically, the company generates revenue by displaying sponsored videos. So, the idea is to make you play the game for as long as possible to maximize profits.
They accomplish this by giving you virtual dollars and items that can only be exchanged for actual money if you reach the target amount.
Rewards
If you tap any of the three different balances at the top, it will open the page with all the cash out requirements. Here is the list:
5M gems = 50 USD PayPal
100 Dollar = 100 USD PayPal
100 Cards = 500 USD Amazon vouchers
150 Lucky = 1,000 USD Amazon Vouchers
200 Fruits = 10,000 USD GIFT
Bear in mind that tokens can only be spent on the slot machine and cards game.
Installation
Dice Winner can be installed for free on the Playstore. You don't need to create any account or activate permissions to access the game, but I recommend reading the Privacy and user agreement.
How to Play Dice Winner?
You will start with 20 dices, but you can always play more by watching videos.
Just press the "Roll" button to throw the dice and make the pin move according to the numbers.
Depending on where you land on the board, you will get virtual dollars, spins (slots), scratch cards, and amazon cards and tokens.
Usually, you can multiply your rewards by tapping on the "Spin" button and watching a video. These clips are usually unavailable, so you have to be patient.

Once you complete a full circle around the board, you will have the chance to get an extra reward, but only after another advert.
At the bottom of your screen, you will find scratchcards, the slot machine and cards.
To play the slots and the cards, you must either collect spins/tickets by rolling the dice or buy them using your token balance.
The slots give you the chance to collect not only cash but also gems, fruits and the lucky number 7. As I mentioned earlier, you can exchange these items for cash rewards, but only if they let you reach the target.
Does Dice Winner Pay? 
At first, you will be happy with the generous cash incentives popping up on your screen. But as you get close to $100, your earnings drop drastically and you struggle to make a single penny.
The board doesn't show more cash icons, you rarely match symbols on the slots, you get the picture!
As a result, you may never reach the cashout limit to be able to withdraw the money.
Lots of people reported they couldn't make any money from the Dice Winner app. That doesn't surprise me at all.
It's a very frustrating experience for those who spend their previous time trying to reach their requirement.
I am yet to find someone who received a $100 payment from any of these "money-games" available on Google Play.
I checked the User Agreement and didn't find any information regarding rewards. They only warn you about your duties and what you should not do.
However, you have no rights to the virtual dollars you collect on the platform. Unless the company provides enough evidence of payments, I don't believe Dice Winner pays. 

Conclusion
Dice Winner is another board game that makes you think you will eventually redeem $100 if you stay awake all night on your phone.
But there is no guarantee of anything! You will probably get stuck just like millions of people who play other similar games.
If you want to win cash prizes by playing games, try Givvy or Mistplay. Both applications get excellent reviews on Google Play and have a track record of rewarding loyal gamers.
Another great option is to join a GPT site like Prizerebel and complete simple tasks. It pays a lot more and you can cash out much faster than those apps.

This reward platform is going viral! Cash out via PayPal, Visa, Gift Cards, and in-game currencies - Click here to find out how to generate an extra $10+ per day! 
How I Make Money Online

Me, personally, I don't like companies controlling how much I earn based on corporate interests.
I'd rather make money on my own terms, which is why I created an internet business. It opened doors to excellent opportunities and higher income potential.
In short, I create helpful content for my website and attract visitors searching for information on Google.
This business helped me quit my job in 2019 and achieve time and location freedom!
If you want to learn step-by-step how to build it from scratch, join this step-by-step program.
It's the exact same training platform where I learned the whole process of creating profitable affiliate sites.
Final Words
Thanks for reading my Dice Winner app review. If you have questions or thoughts about this game, leave us a comment down below.
Peace!