Welcome to my Shake Shake Tree review!
There are many developers out there trying to convince people that money grows on threes. Literally!
Shake Shake Tree is another "Early Access" game that claims users can win real legit money.
In a commercial that I found while playing another game, a guy entices viewers to click the install button and make $600 in three hours. 
Then, it showed this money tree dishing out lots of dollars and a PayPal balance with a $500 payment.
Here are some screenshots: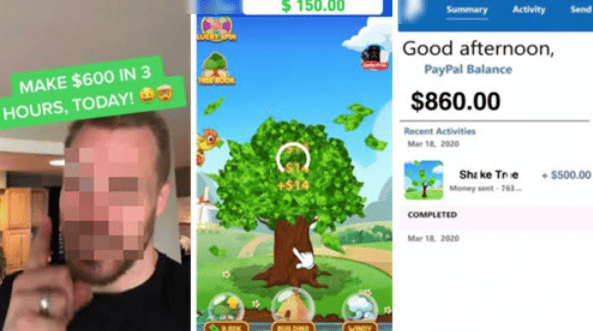 I am writing this review because I know many people have the wrong expectation while playing these games.
Although there are genuine apps out there, most of them receive a crazy number of complaints for not paying out. 
So, is Shake Shake Tree real or fake? Are they serious about payments? Avoid playing before you read this!
RECOMMENDED: Check out the step-by-step program that helped me build an affiliate site and quit my job in 2019. No special skills required! 
Shake Shake Tree Review
Developer: Qhei Mobile
Eligibility: Worldwide
Payout threshold: $300
Price: Free
Overall Rating: 

1

/5
What is Shake Shake Tree?
Shake Shake Tree is an Android application allows you to earn virtual dollars just by tapping (shaking) the money tree.
As you do so, it will grow and give you PayPal money, gems, and puzzle pieces. However, you can only exchange these items for rewards once you meet the requirements. Well, that's what they say!
I have recently reviewed another identical app that stops giving cash, making it impossible to reach the cash out limit.
Shake Shake Tree reminds me of Lucky Money Cube, where players must tap on the ice cube thousands of times for a remote chance of making actual money.
How Does Shake Shake Tree Work? 
Installation 
Shake Shake tree is available on Google Play for Android devices. You don't need to sign up or allow any permission to access the game.
How to Play Shake Shake Tree?
Just keep tapping on your money tree until it gives you virtual cash (PayPal) or purple diamonds.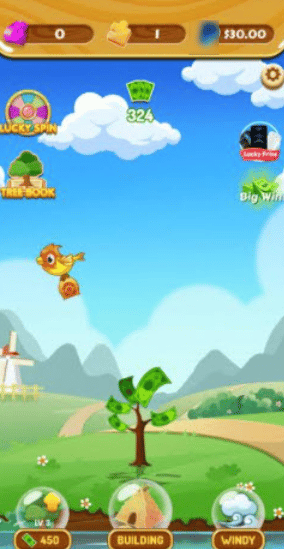 Before you collect your reward, you must tap on the green button and watch a sponsored video. That's how the developers are making profits with this game.
The problem is that videos fail to load frequently, which makes the process of earning rewards very slow.
Keep in mind that those green notes you get every time you tap on your screen cannot be converted to real cash rewards. Instead, they are used for upgrading your tree.
Keep an eye on the target in the left corner. Once you reach the requirement amount, you can upgrade the tree and jump to another level. As a result, your tree will grow and give you more notes per tap.
Tap "Windy" and watch a video to make your tree shake automatically. You can also play the Lucky Spin and tap the bird to collect more rewards.
Lucky Prize 
In this section, Shake Shake Tree allows you to earn and exchange puzzle pieces for glorious prizes such as iPhone 12 Pro, Apple Watch and Airpods.
You can earn puzzles by tapping the video bubble at the top and watching a clip. Also, you will earn new fragments after signing up every day.
Invite
Shake Shake Tree also has an invitation page where you can copy and share your code or link with your friends. They claim you can redeem $5 once you refer 100 people.
I wouldn't recommend promoting this game to anyone until you read this post until the end.
How Do You Get Paid? 
You need to have at least 300 USD to transfer the money to your PayPal account.
You can also withdraw 500 USD via Amazon, Google Play and PayPal once you reach 600,000, 580,000, and 585,000 Gems respectively.

Not only that, but they also have the 1500 USD and 3000 USD prizes for those you collect enough keys.
You get keys by watching at least 50 videos.
Is Shake Shake Tree Legit? Does it Pay? 
Shake Shake Tree doesn't look like an platform that reward players because the cash incentives and prizes are too far-fetched.
I played it and tried to cash out, but they prevented me from reaching $300. I had $290 and was supposed to earn another $36, but Shake Shake Tree removed the money from my balance. So, it's impossible to withdraw!

This reward platform is going viral! Cash out via PayPal, Visa, Gift Cards, and in-game currencies - Click here to find out how to generate an extra $10+ per day! 
Surely, the company could not afford to pay everyone who reached the requirements unless they rewarded only a few lucky players. If that was the case, then they should organize transparent sweepstakes. Here is an application that operates legitimate prize draws. 
That doesn't seem the case with Shake Shake Tree, though. They want every player to believe they can win money as long as they reach $300! That's the primary strategy that allows them to maximize profits at the expense of people's times.

As the developer launched the game in "Early Access" no one can leave a review on Google Play to report their result, which is a bummer!
Since I wrote this review, a few people have left some negative comments. You can check them below this page and you will find that no one received any money!
Nevertheless, I cannot make any accusation here without showing proofs, but it's my duty to warn people.
By playing Shake Shake Tree you risk wasting your time and internet data because there is no guarantee you will get paid.
Another important thing to mention is that the developer hasn't provided the User Agreement or terms of Use, which is an essential document for users.
This shows a complete lack of transparency.
Conclusion 
I usually tell people they should only play games for fun, but with Shake Shake Tree, well…
Who wants to tap a gazillion times and watch hundreds of videos only to realize they cannot cash out?
I know it's very frustrating for people who are unaware of how these games work. Unfortunately, the virtual cash is always controlled by the developers who can choose to pay you or not.
And even if you try to contact them, most likely your email won't change their minds.
After reviewing hundreds of money games, I am very familiar with their unscrupulous business practices. If you see an advertising that exploits the PayPal logo and suggests you can win hundreds of dollars, don't download the app!
Is There an Alternative to Shake Shake Tree? 
The idea of making money just by tapping on your phone screen is very tempting. I get that! However, you need to understand that this business model is utterly unrealistic and only benefits the developer.
Therefore, there is no similar alternative that actually pays! If you want to get paid for playing games, the best option is to join a reliable GPT site like Prizerebel and complete their gaming offers.
You can actually earn hundreds of dollars if you complete surveys and other simple tasks. But, it takes time as this is not a get-rich-quick scheme!
How I Make Money Online
In short, I write content for this website, which welcome readers from all over the world!
Having a website is the closest you can get from growing your REAL money tree.
Every article I publish has the potential to attract visitors and, therefore, generate revenue though advertising or affiliate marketing.
It takes a lot of time and effort to build trust with Google, rank the articles, and make it happen. But, that's why it's so amazing once you start collecting the fruits of your labour.
If this type of business interests you, check out my top recommendation here.

Final Words
Thanks for reading my Shake Shake Tree review. If you have questions or thoughts about it, feel free to leave us a comment below.
Peace!