Welcome to my Swipe to Blast app review!
Hundreds of thousands of people have already played Swipe to Blast in hopes to cash out $200 via PayPal or Amazon gift cards.
Every day, I receive several comments from people who play similar games and don't make a single penny.
Game developers are enticing users with the chance to win real money just to maximize their profits. After all, people play for longer and watch more videos when there is a glorious reward down the road.
Today, I am here to expose another app and warn you about the possibility of wasting a lot of time. So, is Swipe to Blast a scam? Does it pay or not? Check out my review to understand the risks!
Before you leave, check out the step-by-step process that helped me reach $1,600+ per month from my laptop and quit my job in 2019. Sign up for free and start today!
Swipe to Blast App Review
Name: Swipe to Blast: Flop
Developer: Liaquat
Contact: [email protected]
Availability: Worldwide
Minimum payout: $200
Overall Rating:

1/5
 Overhyped Ads
So, you were playing another game when an advert about Swipe Blast was thrown on your face!
First, they showed you a smiling woman who said you could make real money from playing it.
Then, you saw a simulation where hundreds of dollars accumulated quickly at the top of the screen. Note they overuse the PayPal logo to make it seem more appealing.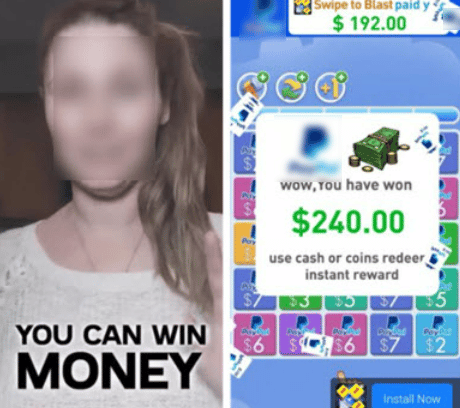 If you play free games on your phone, you are probably familiar with aggressive marketing strategies. Please, don't fall for the seduction regardless of how convincing they are.
What is Swipe to Blast?
Swipe to Blast is another merge number game that gives you virtual PayPal cards just for playing.
But just like 99% "money" apps, you cannot cash out until you have earned a specific amount. With Swipe to Blast, the minimum requirement is $200.
Over 500,000 users have installed this application, which not surprisingly, is still in "Early Access" on the Playstore.
That means Android users are not allowed to publish their honest reviews and tell the world whether they received the money or not.
TIP: By joining this reputable GPT site, you can make an extra $100 per month by completing simple online tasks. It's 100% legit, and it does pay! 
How Does Swipe to Blast Work? 
 After installing the game on the Google Play Store or App Store, tap "Play" to get started. You don't need to sign in or allow any kind of permission.
All you have to do is swap a number to place at least three numbers side by side. When you do that, all the blocks with the same numbers merge to form one with a higher number.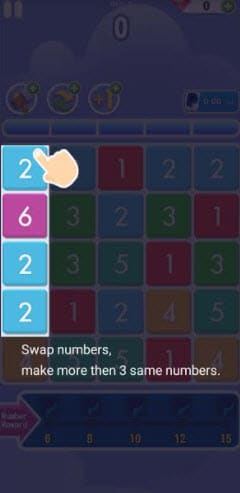 Every time you reach the target number, you will receive some virtual cash. Merging lots of blocks at the same time may also trigger a reward.
However, you must click the "Collect" button and watch a video to add the money to your account.

The videos not always available, which are very annoying because the lack of them prevents you from earning. The funny thing is that after you close the reward pop up, they may show you an advert.
So, they clearly have videos, but it seems they don't want you to collect the virtual cash you deserve.
Keep in mind you have 5 health (lives). Whenever you move a block that doesn't merge, you will consume 1 health. On the other hand, every time you combine numbers, you will earn 1 health. 
The game is over when your health is 0.
Diamonds
Swipe to Blast also awards you diamonds while you are merging the numbers. It can be used diamonds to buy health or props that will help on your next move.
Unfortunately, gems cannot be converted to cash.
How Can You Cash Out? 
In theory, you can cash out via PayPal or Amazon gift cards after accumulating $200. If you meet the requirement, tap on your balance, and request your payment.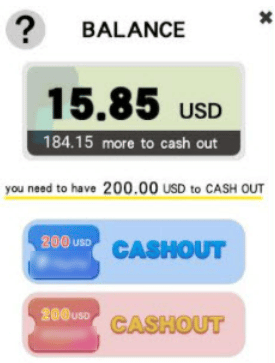 Is Swipe to Blast Legit? Does it Pay?
Based on my experience with hundreds of "Money" games, I don't think Swipe to Blast pays. The cash incentive is too high, and there is no way the company could afford to pay $200 for everybody who played for long enough.
Therefore, the least they could do is limit the number of people who win. But then, one might wonder how they get to decide who gets the prize or not.

Are winners selected at random? How many winners per day or month? There is no transparency!
It's important to note that Swipe to Blast has no Terms of Service, which means there is no binding agreement between the developers and users. Therefore, there is no promise here!
They say users can make money, but without evidence and without knowing the odds of winning, it's really hard to believe! 
There are two common outcomes from playing such games. They either stop awarding virtual dollars cash or simply ignore your payment request.
Does it mean Swipe to Blast is a fraud? Well, I cannot accuse any company of anything on my blog without solid proof.
So, I will just warn you you may waste a lot of time if you play this game with the expectation to earn money.

This reward platform is going viral! Cash out via PayPal, Visa, Gift Cards, and in-game currencies - Click here to find out how to generate an extra $10+ per day! 
 Conclusion 
Swipe to Blast is a nice game to pass the time, but forget about the money part. There is not even the "Terms of Service" page, so don't expect the developer will share a big portion of his profits with players.

Mind you, $200 in marketing expenses is a hell lot of money! You'd probably have to watch over 4,000 videos just so the company could break even. It doesn't add up!
I don't know who came up with the idea of providing cash incentives while imposing conditions to withdraw.
What I know is that this business model has caused a lot of frustration to millions of people worldwide. It just doesn't feel right!
Earn a Full-Time Income Online
Back in 2015, I was earning the minimum wage in London, trading my time for money, and struggling to pay my bills. You know the story!
That's when I started searching for ways to make money online. After reading some blog posts, I discovered a solid strategy used by lots of successful online entrepreneurs.
In the link below, I will show you the same step-by-step program that helped me build my own online business and quit my job at the coffee shop.
>> Click here and check out my top recommendation
You just need to know the right steps in the right order – you need a coherent plan!
In fact, once you get this down, you can scale the business and even start hiring freelancers. The sky is the limit!
Final Words
Thanks for reading my Swipe to Blast app review. I hope it was helpful. If you have questions or would like to share your thoughts, leave us a comment box below.
Peace!