GAMEE Prizes is an extremely popular application that claims you can win real money by playing free games.
By completing missions and entering tournaments, you will get daily cash prizes and tickets to take part in the weekly money draw.
As of writing, they are giving away $1887.50 every week!
Here at My Room is My Office, I reviewed countless apps that give players the opportunity to monetize their gaming experience. Some of the most popular ones include Mistplay and Playspot.
Unfortunately, most of them only work in the developer's best interest. It's not uncommon for points and payments to go missing!
You are here in search of crucial questions that will save you time and sanity. So, is GAMEE Prizes legit? Does it pay or not?
Before you leave, check out the program that helped me reach $1,600+ per month from my laptop and quit my job in 2019. Sign up for free and take your first steps today! 
GAMEE Prizes App Review
Name: GAMEE Prizes
Developer: Gamee
Type: Sweepstakes
Availability: Worldwide (+18)
Minimum payout: $10
LEGITIMATE
Overall Rating: 2/5
What is GAMEE?
GAMEE is a sweepstakes application that supposedly reward users just for playing games. The app is 100% free, and it's available for Android and iOS users all over the world.
You can collect entries for contests by playing games, completing sponsored offers, and referring friends.
How Does GAMEE Prizes App Work?
Installation and Registration
You can install the GAMEE app on your Google Play or App Store. To access the platform, you must sign in using your Google, Facebook, or email account.
By signing up, you agree with the Terms of Service and Privacy Policy. So, have a look at those pages to check contest rules, rights, and other important information.
How to Earn Cash and Tickets?
There are 4 ways to collect virtual cash from GAMEE:
Prize draws
Fortune Wheel
Leaderboard
Inviting friends
Therefore, it's not so easy because you have to rely mostly on the lucky wheel. You can increase your chances of winning cash prizes by collecting as many tickets as possible. However, the odds are against you! 
Tickets can be earned by completing game missions and taking part in tournaments with other players.
There are over 70 cool games readily available inside GAMEE, so you don't even need to install them on the Playstore.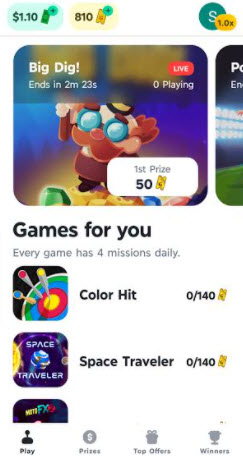 Before you start the game, they will tell you the score required to complete the mission and the reward.
A great way to collect a significant number of tickets is to complete special offers.
You can earn thousands of tickets by installing third-party games and completing specific requirements like completing levels or making purchases.

Eligibility
You are eligible to participate in GAMEE contests if you live in a country where the app is available and you are at least 18 years old.
Weekly Draw
With GAMEE, you can win the jackpot of $500 and other cash prizes in the weekly draw.
You enter the contests automatically when you collect at least 10,000 tickets. The more entries you have, the higher your chances of winning.
Lucky Games
There are two or more lucky games per day with $10, $100, and other prizes.
To participate, you must collect your lucky numbers by watching a video. The more stamps you have, the higher your chances of winning!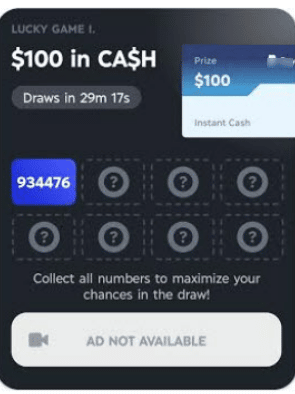 GAMEE generates a random number when the timer ends. If you are the winner, they will add the cash to your balance instantly.
Now, if you win a physical prize such as an iPhone, you must contact the company to receive it.
The downside of GAMEE raffles is that you cannot pick the numbers individually. This can raise questions about the integrity of the draw.
In my opinion, they should provide a key and hash number related to each contest so that people could monitor the results using an HMCA generator. This sweepstakes app takes its draws very seriously! 

Daily Leaderboard
The 50 players who collect the highest number of tickets share the daily cash prize, which around $100 – $120. Those in top positions earn more!
As of writing, the top player collected 262k tickets and is about to win $5.
Fortune Wheel
Every day you can spin the wheel for a chance to win $0.10 – $1 or 10 – 50 tickets. Watch videos to get more spins!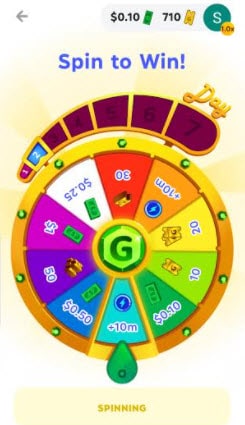 Invite Friends
You can refer friends to use GAMEE and earn $0.10 plus 500 tickets when the person reaches level 5. In addition, you will get 10% of all tickets earned by your referral, forever!

This reward platform is going viral! Cash out via PayPal, Visa, Gift Cards, and in-game currencies - Click here to find out how to generate an extra $10+ per day! 
There is a limit of 5 referrals per day, and the company can reject the reward if they suspect fraud.
To invite friends, simply click on "invite" on the dashboard and share your link.

Multiplier
As you reach specific milestones, you will level up and be eligible for multipliers. With every level, you will multiply your tickets by 0.1.
At level 30, which is the last level, your tickets will be multiplied by 4!
How to Withdraw Your Money?
You can cash out via PayPal after you reach the minimum threshold of $10. Keep in mind that any cash prize added to your account will expire after 12 months.
Is GAMEE App Legit? Does it Pay?
GAMEE is a legitimate application, but lots of users are frustrated because it's very hard to earn money. As I mentioned, it relies too much on luck, and you cannot convert your tickets to money.
The minimum payout of $10 is too high, and you may get stuck at a specific amount for MONTHS!
Some users reported that the Fortune Wheel skipped the 7th day, which is when they were supposed to win cash rewards.
I am always very skeptical of these "lucky wheels" on sweepstakes apps because the odds of winning seem to get lower and lower as you approach the threshold.
One user said she had been playing for 2 months and didn't make any money!
According to the developers, the main purpose of GAMEE is to entertain users and give them a chance to win prizes. Therefore, you should not set high expectations.
I was very disappointed to read the reviews on Google Play and struggle to find anyone who actually made it to $10. Therefore, I believe only a tiny percentage of users get paid.
Is There an Alternative to GAMEE?
Yes, there are! Givvy and Play & Earn are two similar applications that allow you to collect points for playing games and enter contests.
There are three major reasons I think they are superior:
You can exchange points for cash.
Each prize draw has a limited number of entries, and you can see them in real-time. Therefore, you can calculate your real chances of winning.
There are several prizes every day.
Need more choices? Check out the best sweepstakes apps here!
Pros and Cons
Pros
There are several games.
The games are fun.
Excellent cash prizes.
Cons
You cannot exchange tickets for cash.
The minimum payout of $10 is simply too high!
The odds of winning are very low.
Lack of transparency. They don't show how many tickets were entered for each prize draw.
Conclusion
It's very hard to make money with GAMEE, which is why you should only use it for entertainment.
They provide cash and tickets on the Fortune wheel, but each prize doesn't have the same probability of winning.
Besides, I suspect the chances of landing on cash decrease over time, making it very difficult to reach $10.
That's being said, I don't think GAMEE is a scam!
If you cannot afford to waste time, look somewhere else! You can try one of the alternative apps that I mentioned above, but the income potential is extremely low!
I always recommend Prizerebel for people who want to earn a little extra money by completing simple tasks. You can earn an extra 100 bucks per month and it's 100% legit.

Earn a Full-Time Income Online
Back in 2015, I was struggling to pay my bills as I was enrolled in a Master's degree and working full-time to cover my bills.
And yet, at my lowest point, I saw an opportunity!
That's when I discovered a business model that could work in ANY economy and dug myself out of the mess!
By clicking on the link below, I show you the same step-by-step program that helped me build an online business and say farewell not only to my co-workers but also to my Uni. Yes, I dropped out, and I am so glad I did!
>> Click here and check out my top recommendation! 
Final Words
Thanks for reading my GAMEE app review. I hope it gives you a clear understanding of how this app works. If you have questions or would like to share your thoughts, feel free to use the comment box below.
Peace!