Welcome to my Play & Earn app review!
Are you trying to find an application that pays you real money for playing mobile games?
Unfortunately, the Playstore is jam-packed with misleading and fake apps that never pay out!
Right now, there are probably millions of people around the world who are just making the developers richer.
I have to confess I was very skeptical when I first came across Play & earn. But after discovering it's operated by Givvy Ltd, then I felt some relief.
The reason is that this Bulgarian company has another popular and reliable app called Givvy, which is rewarding everyone.
So, is Play & Earn legit or fake? How much money can you make? In this review, you will find all the information you need.
Before you leave, check out the step-by-step program that helped me build my own internet business and quit my job in 2019.
Play & Earn App Review
Name: Play & Earn
Developer: Givvy Ltd.
Availability: Worldwide (+16)
Minimum payout: $0.10 (Revolut) $0.29 (PayPal)
LEGITIMATE
Overall Rating:

2.6/5
What is Play & Earn?
Play & Earn is a mobile application that allows you to take part in free giveaways with prizes ranging from a few cents to 55 USD.
First, you must gather coins by playing games, referring friends, and completing simple tasks.
If you prefer, you can convert virtual coins to cash and withdraw via PayPal or Revolut.
Just like all reward apps, Play & Earn generates revenue by connecting you with advertisers and marketing research firms.
That's how the company generates enough revenue to reward its members.
How Does Play & Earn Work?
Play & Earn works similarly to Givvy. The only main difference is that it provides other games.
Installation and Registration
Play & Earn is available for Android and iOS devices. Before you gain access to the dashboard, you must read and accept the Terms and Conditions. Next, select your language and currency.
In order to save your account, I recommend you tap on your profile and sign in with Facebook or Gmail.
Keep in mind this application is designed for users who are at least 16 years of age.

Giveaways
In the member's area, you will find a list of multiple giveaways with prizes ranging from 0.27 and 55 USD.
It tells us crucial information such as the number of coins per entry, the total entries, and the time until the next draw.
Therefore, it's possible to calculate the probability of winning, which is usually hidden by perhaps 99% of apps.
This level of transparency impressed me a lot!
For example, the odds of winning 11 USD in this giveaway are 1 in 11,000.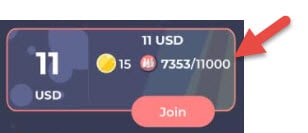 To participate in sweepstakes, select how many tickets you want to enter, and tap "Done".
Each entry costs anywhere between 10 and 50 coins, depending on the prize and number of entries allowed.
Winners are selected at random by a computer algorithm and displayed at the top of the screen.
Exchange Coins For Real Cash 
If you don't want to rely on luck, you can trade your coins for money. The major drawback of the Play & Earn app is that the conversion rate is incredibly low.
On the converter page, it says 119 coins are equivalent to 0.01 USD.
The minimum payout amount is $0.29 if you choose to withdraw via PayPal and only $0.10 through Revolut.

Once you request the payment, the money will be transferred to your account within 5 and 7 business days.
Keep reading to learn about all the different methods you can collect coins.
Survey 
Companies need your opinions about topics and products so they identify new opportunities and make improvements.
Therefore, Play & Earn rewards users for filling up surveys from a marketing research firm called TheoremReach.
If you answer all the questions, you will receive 300 coins ($0.02) after completion.

This reward platform is going viral! Cash out via PayPal, Visa, Gift Cards, and in-game currencies - Click here to find out how to generate an extra $10+ per day! 
Keep in mind that less than 10% of people complete the survey successfully.
The vast majority of respondents get disqualified for various reasons. Read this article to avoid disqualifications. 

In my opinion, it's not worth completing surveys using the Play & Earn app. Use this GPT site to earn more from surveys!
Invite Friend
You can earn coins by sharing your referral link with your friends. You will both get 130 coins when your friend confirms his phone number and 240 coins once he collects 500 coins.
Puzzle 
Solve the puzzle by tapping on each piece and inserting it in the right position. You will earn 3 coins, and you can only play 6 times a day.
If you run out of lives for a particular game, tap on the heart button at the top, and watch a video. After watching it, you will get 1 life for each game.
Rectangles
Every time you complete a rectangle by drawing lines, you win a point. The user with more points at the end of the game wins 3 coins.
Balloons
Collect all the balloons and avoid the bombs to get 3 coins.
Tasks
Play & Earn connects you with a popular offer wall called Offertoro so you can earn coins for completing simple tasks.
You will get rewarded for installing apps, playing mobile games, answering quizzes, subscribing to offers, and more! Some free offers provide 8000+ coins, saving you a lot of time!
You can also collect 5 coins by liking and sharing their Instagram or Facebook page.
Is Play & Earn Legit? Does it Pay? 
Play & Earn is a legitimate app without a doubt. It's one of the few applications that reward everyone as long as they meet the minimum requirement.
The best thing about Play & Earn is that they don't have control over your earnings like other "money" games do.
Therefore, they cannot cheat you by paying you less and less.
So, yes! If you stick to it, you will make progress and eventually cash out with no issues!
If you check the reviews on the Google Playstore, you will find lots of positive testimonials from users who received the money.
The main downside of both Play & Earn and Givvy is that the conversion rate is very low. Even if you complete surveys and offers, it takes a very long time to reach $0.29.
Unfortunately, the only way to earn a decent amount of money is through giveaways.
Pros and Cons
Pros
Exchange coins for real money.
There are many opportunities to collect coins.
Get paid via PayPal and Revolut.
The giveaways are transparent.
Challenge other users.
Low payout threshold.
Fast payments.
Cons
Surveys and tasks pay very little money compared to GPT sites.
The exchange rate is very low.
Users complain about bugs in the games.
Play & Earn Alternative 
The Daily Raffle app is a great sweepstakes app. It provides free tickets for a chance to win cash prizes ranging from $150 to $1000. However, the odds of winning are much lower!
If you don't want to rely on luck, I always recommend Prizerebel because they pay a lot more for answering surveys and completing offers.
Although it's not an application, you can sign up and complete tasks using any browser on your phone or tablet.
Depending on your country and the amount of time you spend on this platform, it's possible to bring in an extra $150 per month.
Earn a Full-Time Income From Home! 
If you are serious about making money online, I suggest you build your own online business as I did.

In short, I write articles/reviews on my own site and earn money by showing ads and affiliate links.
Today, my website allows me to work remotely and earn enough to cover all of my expenses. The best part is that I am free to work from wherever I want!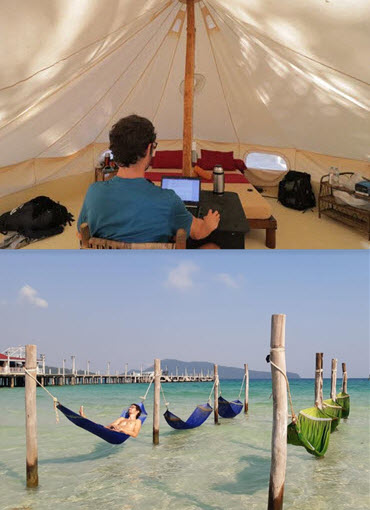 If you want to create a website and benefit from the digital economy, follow this step-by-step program, and take massive action!
Conclusion 
Play & Earn is 100% legit, and it does pay. However, the earning potential is very low, and it takes ages to cash out. Therefore, I don't think it's worth completing tasks and converting coins to cash.
When it comes to sweepstakes, it's another story! I think Play & Earn is one of the best apps available!
If you just want to play the games and try your luck with the giveaways, then why not? The games are fun and you can challenge other users!
Verdict: Legit
Final Words
Thanks for reading my Play & Earn app review. I hope it was helpful and informative!
So, have you made any money with this application? Kindly share your thoughts and experiences below. 
Peace!