Welcome to my Click Money app review!
I recently watched a commercial on my phone promoting Click Money as if it was the easiest way to make money. They showed me a PayPal balance with some massive payouts and said I could get the money within 30 seconds.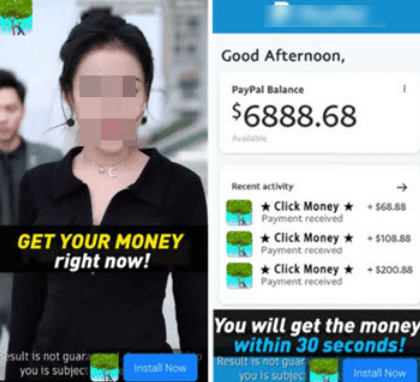 Many people install this application in hopes to withdraw the money just by clicking on a virtual money tree.
There are lots of similar games inspired in the popular Money Tree app such as Tree for Money, Starry for Cash, Shake Shake Tree and more! They all want you to play for as long as possible, which is why they give you virtual dollars for watching their videos.
I am pretty sure you will regret playing this game if you don't get the money in your PayPal account after putting so much time and effort into it. So, does Click Money pay? Is it legit or fake?
Before you leave, check out the step-by-step program that helped me build an affiliate site and quit my minimum wage job. No. You don't need any previous experience, only the drive to succeed!  
Click Money App Review
Developer: Merge Boat Games
Eligibility: Worldwide
Payout threshold: $300
Price: Free
Overall Rating: 

1

/5
What is Click Money?
Click Money is another Android game that makes people believe they can win cash rewards just by growing a money tree. The app is operated by Merge Boat Games, which also has this identical "money-tree" game. 
All you have to do is tap vigorously on the screen, watch the video, and collect virtual PayPal cards worth a couple of dollars. The money will accumulate in your account and you have the chance to cash out once you have at least $300.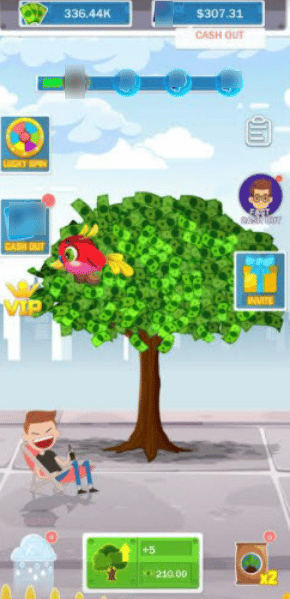 In my opinion, it offers a boring gameplay, but players are actually interested in making money rather than having fun.
How to Play Click Money? 
First, it's important to note there are two cash balances with different currencies. I will call the left one "green notes" and the right one "PayPal cash".
Every time you tap on the money tree, you will collect "green notes" and fill up the green loading bar. Then, when it hits the PayPal logo, Click Money will congratulate you and offer a specific amount of "PayPal cash" on the condition that you watch a video. 
Every video is generating revenue for the developers and I can guarantee you it's not $20+, but only a few cents. So, how can they pay you if you are supposedly earning more than the game owners? Good question! I will get to that later…
Use the "green notes" to upgrade your money tree and keep up with the rewards. Bear in mind these virtual dollars cannot be withdrawn to PayPal.
You can also take advantage of the Auto Click earnings and the Click double reward to help you rise your tree level.
Check out the game apps that actually pay here! 
Invite
You can supposedly earn more "PayPal money" by inviting your friends to install Click Money through your affiliate link. They will give you only $5 for every 100 people.

I would expect the referral program to pay more than just tapping on the money three, but it's the other way around. It's definitely not worth inviting others to play this game.
How Do You Get Paid? 
According to Click Money, you can cash out via PayPal only when you reach $300. All you have to do is open your cash balance, press "Cash out" and insert your PayPal email.
The developer doesn's mention how long it takes to receive the money in your account, but I guess they will make you wait forever.
That's why they also provide the Fast Cash Out option, which allows you to receive the payment on the same day. It's weird because they will pay you $10, but only if you have $5,000 in your account.
Is Click Money Legit? Does it Pay? 
No. You should not expect to get the money even if you select the fast cash out method. There is no evidence that Click Money is rewarding players who meet the requirements.
Just like Starry for Cash, the developer is operating the game as if it was still incomplete. That's why you see the "Early Access" in front of the app's name. Well, the problem is that players cannot publish review on Google Play to report whether they receive the money.
The game is only a simulation, meaning it won't transfer any money to your account. However, it leads people to daydream about it because of the cash out buttons, PayPal logo and everything. It's crazy!
The company is generating revenue when people watch those ads, but it could never afford to give away hundreds of dollars to every player.
In my opinion, Click Money is not even worth playing to pass the time because what's the fun in pretending to get rich?
VIP – Don't Waste Your Money

Believe it or not, Click Money has a VIP membership that removes all the ads. It costs £5.99 per week!
I know many people will upgrade because they hate watching those repetitive videos. Besides, they can accumulate money a lot faster!
I don't recommend you do that because not only you will waste time but also money.
Earn A Full-Time Income Online
If you dream of working from home and making thousand of dollars per month, I suggest you build your own internet business.

This reward platform is going viral! Cash out via PayPal, Visa, Gift Cards, and in-game currencies - Click here to find out how to generate an extra $10+ per day! 
In a nutshell, it consists of building a website and publishing content based on your passions and interests. Having a site that ranks high on Google allows you to generate revenue from advertising, affiliate marketing, and even your own products.
Once you learn the ropes, you can scale your business and even outsource the work by hiring freelancers for you. The sky is the limit! It takes time and effort to make it work, but I am sure this is a solid strategy worth pursuing.

Thanks to this excellent step-by-step program, I created a lucrative site that ranks on top of Google's search results and gives me a great level of freedom.
Join for free here and start your first 10 lessons today!
Final Words
Thanks for reading my Starry For Cash app review. If you have questions or thoughts about it, just leave us a comment below.
Peace!