Welcome to my Solitaire Pop app review!
Solitaire Pop is another patience game that suggests you can make a lot of money and even become rich.
In one of their adverts, the developer claims you don't need to redeem or withdraw the money as he will pay you directly to your PayPal account.
Another crazy thing he said is that if you keep playing, you can win $1000 per week! 
As if such bold claims were not enough, he shows a PayPal Balance with $6888 and a few payments from Solitaire Pop. Check it out!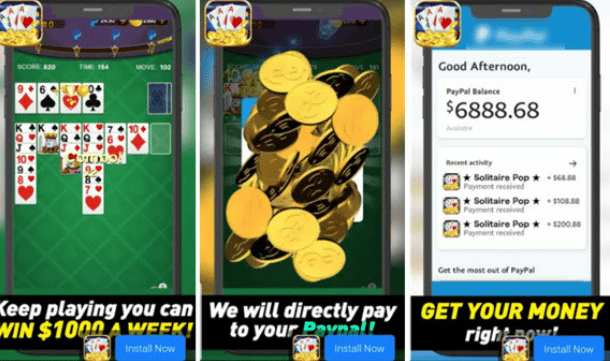 I have already reviewed some solitaire games that entice players with cash rewards such as Solitaire Bigwin and Solitaire Jackpot. Sadly, no one seems to make any money even after meeting the requirements.
So, Is Solitaire Pop legit? Does it pay or not?
If you want to play this game to supplement your income, read this review before you do so. This can save you a lot of time!
Before you leave, click here and discover the step-by-step program that helped me build an internet business and generate $1,600+ per month. No special skills required! 
Solitaire Pop App Review
Name: Solitaire Pop – Enjoy Free And Fun Card Game (Early Access)
Company: elsanchez873
Payout threshold: $200
Price: Free
Overall Rating: 

1/5
What is Solitaire Pop?
Solitaire Pop is your classic solitaire game with a big twist: It supposedly gives away a lot of money just for playing. Why play anything else if you could make hundreds of dollars with Solitaire Pop?
How Does Solitaire Pop Work?
Games like Solitaire Pop are free to play, but it doesn't mean the developer is not profiting from it. In fact, he is making money from every video you watch in return for virtual dollars.
In theory, the company would share part of its revenue with players.
Installation
You can install Solitaire Pop on Google Play and start the game immediately. No registration or permissions are required.
No Instant Payouts! 
Right off the bat, I checked the cash out requirements and Voilà! You need at least $200 to request the payment to your PayPal account. Here is a screenshot of the "Redeem" page.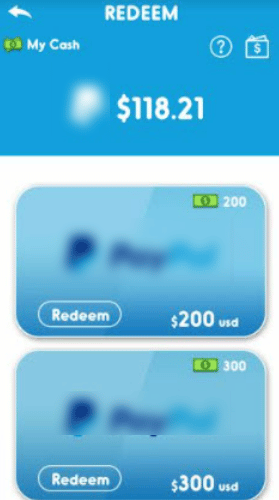 If you tap on any of the options without playing for too long, they say you don't have enough cash.

Remember, they are promoting this game as if you didn't have to meet any requirement. Well, that's not the case! You do need to withdraw as Solitaire Pop will not pay directly to your PayPal account.
Solitaire Pop also allows you to trade coins for Amazon and Google Play gift cards. In the USA, players can redeem $100 when they reach 680,000 coins.
How to Play Solitaire Pop?
As soon as you launch the game, you they will give a $5 bonus. If you check in daily, you will get more cash and coins.
The goal is to build four groups of cards arranged in ascending order. If you are not familiar with card games, here is the correct sequence from low to high.
A, 2, 3, 4, 5, 6, 7, 8, 9, 10, J, Q, K.
Each group can only have one of the four suits: diamonds (♦), clubs (♣), spades (♠) and hearts (♥).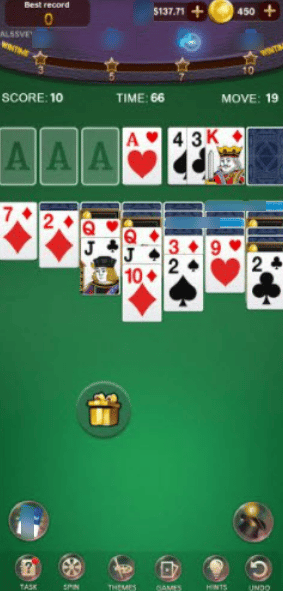 To move cards from one column to another n the order of points from small to large, the cards must alternate red and black.
Click on the bottom of the Card Group to move all the cards between columns. When a gap occurs, you can place K or a continuous card group starting with K in the open position.
When all the cards in the library are flipped, click on the library to reset the flop.
You will win the game once you place all the cards in the four foundations. If you feel stuck, you can use the "magic wonder", "hint" or "undo" tools.
Earning Cash and Coins
You will receive virtual dollars and coins by exposing specific cards and making progress in the game. Most of the time, you must tap "collect" and watch a short video to get the money or token.

You will also see a gift floating on your screen from time to time. If you tap this icon, you have the chance to earn more rewards.
Is Solitaire Pop Legit? Does it Pay?
No. It's very unlikely that Solitaire Pop pays. At first, they will give you a decent amount of cash after watching the video. But if you keep playing for long enough, your earning will drop from $20+ to only a few cents at a time.
They will make it almost impossible to reach $200 and you may give up before getting there. I didn't try to cash out, but once I made it to $150+, then I noticed a big drop. I know the pattern because I played hundreds of "money games" and they all work the same.
You may eventually reach $200 and request the payout, but it doesn't men Solitaire Pop will transfer the money to your PayPal account. I lost count of how many comments I received from people who played one of these games and never made a dime!

This reward platform is going viral! Cash out via PayPal, Visa, Gift Cards, and in-game currencies - Click here to find out how to generate an extra $10+ per day! 
I want to draw your attention to the fact that Solitaire Pop has no Terms of Service. Without a legal agreement, it's even harder to believe the company is processing payments.
Besides, Solitaire Pop doesn't let users publish reviews On Google Play because it's still "Early Access". Therefore, you cannot read what others have to say about their experience trying to make money with this app.

If they are chancing so many lives by giving away "free" money, why not let people spread the word? Think about it!
Conclusion
The creators of Solitaire Pop are trying to make their game go viral by offering easy money. However, this is the type of game that doesn't pay because the cash reward is very unrealistic. They could never afford to give away  $200 to everyone!
It's a shame because they advertise the app as an opportunity to make $1,000/week and get paid instantly to PayPal. With no proof of payments, they are probably breaking cosumer laws in many countries.
Unfortunately, lots of people still fall for over-hyped ads because they don't know how this industry works. Now you know that if it seems too good to be true, it probably is!
Verdict: Not Recommended
Earn a Full-Time Income Online
Having an online business that pays you month after month can make a big difference, especially now that jobs are scarce and unstable.
You could work from your laptop and earn a decent revenue by becoming an internet marketer. All you have to do is publish helpful content and earn money by placing links and banners on your site.
That's how reached over $1,600 per month and quit my job as a barista! 
In 2015, I discovered this excellent step-by-step training that helped me set up my business from the ground up and attract lots of visitors. Mind you, I had absolutely no experience as a marketer or web designer.
Today, I work remotely thanks to the knowledge and support I received from Kyle and Carson
>> Click here to learn more about their digital course here!
Final Words
I hope this post answers all your questions about the Solitaire Pop app. If you want to share your experience, please leave us an honest review below.
Thanks for reading!
Peace!