Welcome to my Starry for Cash app review!
I was browsing the Play Store when I found Starry For Cash, which is another game where players tap to grow a money tree and supposedly cash out via PayPal.
The app was developed by Merge Boat Games, which is the same company behind the popular Tree For Money app. It's also very similar to another game I reviewed recently called Shake Shake Tree!
These apps give a decent amount of virtual dollars to make people play for a very long time. The purpose is to get you to watch a ton of ads and maximize their profits.
Although there legit games out there, most developer are not willing to share part of their advertising revenue with players. So, is Starry for Cash real or fake? Do they pay or not? Keep reading to find out!
Before you leave, check out the step-by-step program that helped me build an affiliate site and quit my minimum wage job. No special skills required! 
Starry For Cash App Review
Developer: Merge Boat Games
Eligibility: Worldwide
Payout threshold: $10
Price: Free
Overall Rating: 

1

/5
What is Starry For Cash?
Starry For Cash is an Android app allows you to earn virtual dollars by tapping and cultivating your money tree. It claims that you are one step away from being rich! Yeah, okay…
As it grows, you will earn PayPal money that can only be transferred to your account once you meet specific requirements. It's a very tedious game because all you have to do is tap vigorously on your screen and watch ad after ad.

This reward platform is going viral! Cash out via PayPal, Visa, Gift Cards, and in-game currencies - Click here to find out how to generate an extra $10+ per day! 
The only motivation to keep playing Starry for Cash is of course the opportunity to make money. Without cash rewards, most people would quickly lose interest and stop playing in less than 10 minutes.
How to Play Starry For Cash? 
Just tap on the money tree to collect green cash notes and fill up the pink bar at the top. Once it hits the PayPal logo, you get a notification with some virtual dollars.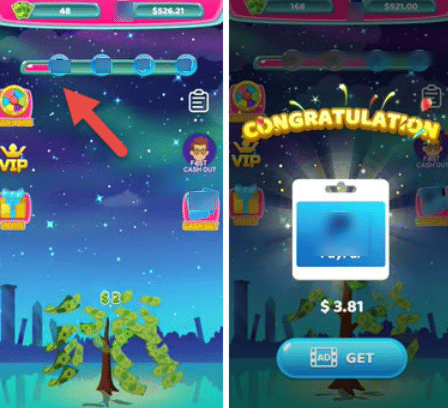 To collect the money, you must select "Get" and watch the short video until the end. Sometimes, the ads are not available, which prevents you from collecting the reward.
The green dollar notes you collect by tapping on the plant accumulate in a separate balance, and can only be used to upgrade your money tree. So, they cannot be cashed out through PayPal.
Once you collect enough cash notes to level up, press the upgrade bottom and your plant will grow. As a result, you will earn more notes per click and the PayPal rewards will keep coming at a steady pace.
Use props such as rain (tap automation) and fertilization to make your tree grow faster. You can also play the Lucky Spin for a chance to win more prizes.

Invite Friends
You can supposedly earn more money by encouraging other people to install the Starry for Cash app and use your invitation code. The app will give you only $5 for every 100 referrals.
How Do You Get Paid? 
Starry For Cash will give you high payouts and you may accumulate over $1,000 in less than half an hour. However, if you enter the cash out page, it says you can only withdraw the money to Paypal once you watch a specific number of videos to activate your order.
For example, to cash out $500, you must watch 300 videos. That would be a dream come true for many people who are struggling to pay the bills. But is it real or fake?
Is Starry for Cash Legit? Does it Pay? 
No, I don't think it pays. There is no evidence that Starry for Cash is rewarding players who meet the payout requirements. The possibility of making hundreds of dollars with a simple game funded by advertisers is just too good to be true. 
Unfortunately, we cannot read what other people have to say about this game because it was launched as "Early Access". Therefore, players cannot leave a review on the Play store to report their results and frustrations.
That being said, I cannot make any accusations without proof. What I can say is that there is very little chance of getting paid and so you'll probably waste a significant amount of time. Besides, the videos consume too much internet data, which ultimately costs you money.
I usually recommend playing games for entertainment. How can one have fun by tapping thousands of times on a virtual tree? Me, personally, I prefer more challenging to pass my time!
Tired of making someone else richer while you get nothing for your time? Keep reading to discover how you can make the internet work in your favour.
How I Make Money Online
In a nutshell, I publish helpful content for this website, which welcome visitors searching for information from every country!

Having a website allows you to tap into a global audience and generate income from advertising, affiliate marketing, and other motivation methods. With this business up and running, the sky is the limit!
It takes time and effort to build trust and rank articles on the top positions. But only those who walk the path less travelled can benefit from the freedom of working from home and becoming an online entrepreneur!
I commit myself to the process and reached my goals. You can do it too!
If you are willing to do whatever it takes to succeed, check out this step-by-step program and start today!
Final Words
Thanks for reading my Starry For Cash app review. If you have questions or thoughts about it, just leave us a comment below.
Peace!