Welcome to my Neon Tile Master app review!
As you know, Neon Tile Master is giving players the expectation of making a lot of money through PayPal. Hundreds of apps are using similar tactic to encourage people to play and watch videos for much longer, and therefore, maximize profits. It works like a charm!
The advert that I watched recently suggests Neon Tile Master pays over $320 just by matching identical tiles. It reminds of another money game that I reviewed recently called Lucky Tile!
Here is a screenshot: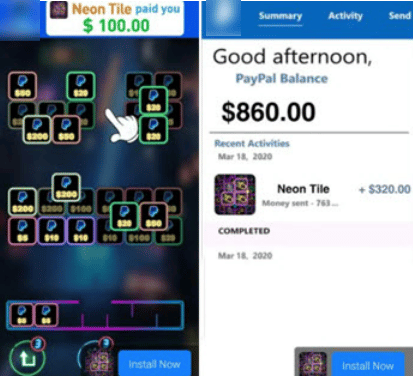 In this review, I am going to expose this Android game and give you my honest opinion. Is it legit or fake? Does it pay? Keep reading because I don't want you to waste time and get frustrated.
Before you leave, check out the step-by-step program that helped me build a passive income site and quit my job in 2019. No special skills required! 
Neon Tile Master App Review
Name: Neon Tile Master
Developer: Cashock
Payout threshold: N/A – Redeem all the money you can collect within 71 hours
Price: Free
Overall rating:

2/5
What is Neon Tile Master?
Neon Tile Master is an addictive puzzle game that consists of matching 3 identical squares side by side. Once you eliminate all the tiles, you will pass the level and earn virtual dollars.
Note there are tiles with the PayPal and Amazon logo. Match them to add the reward to your PayPal and Amazon balance, respectively.
In addition, you have the chance to win an iPhone 12 Pro once you complete 200 levels and watch 300 sponsored videos.
How Does Neon Tile Master Work?
Installation
You can install Neon Tile Master for free on Google Play or App Store and start the game right away. Just tap play and follow the short tutorial.
How to Play Neon Tile Master?
The game starts with lots of blocks with different images on your screen. Once you click the square, it will move to the display bar which can accommodate a maximum of seven squares.
Whenever you match three identical tiles, they will be eliminated. Depending on the configuration of tiles on your screen, you will have to think carefully before making your next move.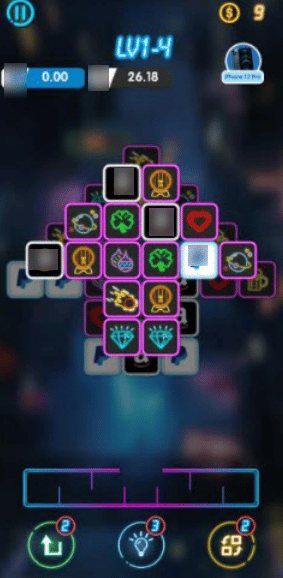 The game is over if the display bar is full and you cannot place more 3 identical tiles together.
There are three props that will help you pass the level:
Undo tool: If you hit the wrong square, tap the undo tool to cancel your click.
Cue tool: No squares to collect? Tap this tool to get a hint.
Refresh tool: Use this prop to rearrange the squares when you feel stuck.
It's a simple game, but it becomes very challenging at higher levels. The reason is that you are forced to play with a limited number of tiles before unlocking the ones behind.

Earning Rewards
When you complete the level or match the PayPal logo in the display bar, Neon Tile Master will add cash to your PayPal balance. However, you must first click "Get" and watch a short video to collect the reward.
You can also accumulate cash in your Amazon balance by matching squares with the "A" symbol.
Check out the best gaming apps here!
How Do You Get Paid?
This game offers a unique cash out method. It says you can redeem all the money you collect during the event to PayPal. Below this message, you can see the countdown with over 71 hours left.
Don't want to wait? The developer claims that if you collect $500, you can redeem immediately!
If you want to withdraw your Amazon cash balance, you will need to reach $300 or $1000.
Also, you have the chance to win the amazing iPhone 12 Pro worth $1499 by completing 200 levels and watching 300 videos.
Is Neon Tile Master Legit? Does it Pay?
No, I don't think it does! Mobile games cannot give away so much money to players unless they are selecting only a few winners at random. Unfortunately, there is no evidence that Neon Tile Master is rewarding people regularly via sweepstakes.
They don't guarantee that you will cash out, but on the flip side, you put money in their pockets by watching lots of advertisements. It's not a win-win situation!
I am yet to find a game that actually pays hundreds of dollars via PayPal. It's very unrealistic because in order to pay you, the developer would have to earn a lot more from the videos you are watching.
So, if each ad pays him $0.05, you'd have to watch 2000 videos just so he breaks even!

To make matters worse, the developer has launched an Early Access version of Neon Tile Master. In practice, it doesn't let players publish their reviews on the Play Store and share their results.
Luckily, internet users have other means to search for information apart from Google Play.
Pros and Cons
Pros
Addictive and challenging gameplay.
It helps to pass the time.
You can play offline without the ads.
Play offline if you hate ads.
Cons
No evidence of payments.
Unrealistic payouts.
Conclusion

This reward platform is going viral! Cash out via PayPal, Visa, Gift Cards, and in-game currencies - Click here to find out how to generate an extra $10+ per day! 
Neon Tile Master is advertised as if players could win easy money on demand. However, you should not expect to get paid even if you reach the targets.
I reviewed hundreds of apps that attract people in search of extra income. These "money" games always give players a lot of cash in the beginning, but slow down as people get closer to the cashout limit.

No one should do any task or play any game with false expectations. Yet, Neon Tile Master makes users believe anyone will eventually withdraw the money to PayPal. Unfortunately, it's very unlikely that the company will process your payment.
If you just want to play for fun, you can just turn off the wi-fi or mobile data and enjoy the game without the ads. It's much better because you won't waste time watching videos and save a lot of data.
Earn a Full-Time Income Online
If you like the idea of working from home and even become a digital nomad, I suggest you build your own internet business.
The method that I use is very simple. It consists of publishing helpful content and promoting digital products as an affiliate.
Most people don't even try because they think it's too complicated. I have started with absolutely no experience and I can tell that you can accomplish great results too if you are willing to learn and put in the work as I did.
The possibility of long-term travel gave me enough motivation to succeed and generate an online income. What is your dream?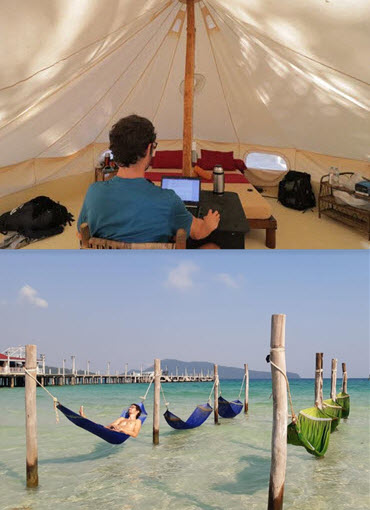 This excellent program helped me build a website from scratch and attract lots of visitors using solid SEO strategies. You can sign up here for free and start today with no strings attached.
Final Words
I hope this review answer all your questions about Neon Tile Master. If you want, you can use the comment box below to ask me any question or share your honest review about this game.
Thanks for reading!