Lucky Tile is an addictive match-3 game that gives you virtual cash after completing levels.
The app is operated by V Long Technology, which also owns other apps such as this block puzzle game.
The developers claim you can withdraw the money via PayPal or Amazon vouchers once your balance reaches $150.
Lucky Tile is completely free anyway, so why not give it a try? Well, if you value your time, and you can't afford to waste it away, I encourage you to read this review until the end.
Nowadays, there is an insane number of mobile games using this smart tactic of awarding virtual dollars. They know this will attract hundreds of thousands of players around the world!
Unfortunately, over 95% of them are not willing to share a single penny with players.
So, can you make actual money with the Lucky Tile app? Is it legit or fake? Keep reading to find out!
Top recommendation: This step-by-step program helped me build my own online business and generate $1,600+ per month. Join now and start your first 10 lessons!
Lucky Tile App Review 
Name: Lucky Tile
Company: V Long Technology Inc.
Eligibility: Worldwide
Payout Threshold: $150
Overall Rating: 2/5
How Does Lucky Tile Work?
 Just like most apps, Lucky Tile is funded by advertisers, which means you will watch lots clips while playing.

This reward platform is going viral! Cash out via PayPal, Visa, Gift Cards, and in-game currencies - Click here to find out how to generate an extra $10+ per day! 
You can start the game after accepting the Terms of Use and Privacy Policy. These documents are huge, but they have crucial information that I would share with you later.
Simply tap the tiles to send them to the bar. You must put 3 of the same tiles together to eliminate them.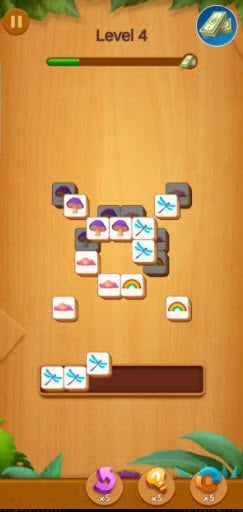 If you tap the wrong tiles, use "UNDO" to cancel the last tap.
Also, you can refresh the tiles on the board and get some tips if you have no clue.
To pass the level, you must eliminate all the tiles on the board.
Keep in mind there are limited spaces on the bar, which is why you need to think carefully before placing your tiles.
I have never played this type of game, and I really enjoyed it!
As for the money part, I cannot tell you the same!

Does Lucky Tile Pay?
Lucky Tile will give you virtual cash once you clear all the Tiles on the board.
After passing the first level, they will award you $100.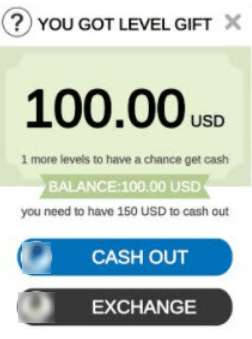 This should not be celebrated because first, this is not real money, and second, you cannot redeem before you reach $150.
The problem is that your cash reward will dwindle, and eventually, you will be earning 1 or 2 cents every 10 or more levels.
This reward pattern makes it impossible or nearly impossible for users to cash out. The reason is that the more you play, the more levels are required to earn a penny.
After reading lots of reviews on Google Play, I couldn't a single player who made it to $150 and received the money.
Is Lucky Tile a scam, then?
Despite how Lucky Tile operates regarding cash rewards, I cannot call it a scam.
The reason is that the company does not make any promises. They say you have the chance to win money, which does not mean you will.
If you check the "Terms and Conditions" you will find that the company has the right to limit the number of wins per game. Besides, they are the owner of virtual currency.
Yeah, I know how you feel about it. It's frustrating, to say the least!
Pros and Cons 

Pros
The game is challenging and a time killer.
There are over 3000 levels,
Beautiful graphics.
Cons
There are lots of ads.
There is no concrete evidence that users are making real money.
You will probably give up before reaching $150.
Is There an Alternative to Lucky Tile?
There is no mobile game that will transfer so much money to your PayPal account!
If you want to get paid for playing games on your phone or tablet, I suggest joining a GPT platform like Prizerebel.
As a member, you can collect points for installing the apps and reaching specific levels.
Then, you can request a $5 payment once you collect 5000 points. Some users make over $150 per month as they also take surveys and complete other types of offers. There are lots of opportunities!
Now, if you dream of working from home and being your own boss, I suggest that you operate your own internet business.
This step-by-step program helped me build an affiliate site and earn life-changing commissions.
Today, it allows me to work remotely, and benefit from the digital economy. Click here to learn more!
Conclusion 
Don't play Lucky Tile with high expectations of winning real money.
The minimum cashout requirement is almost impossible to reach, and you will probably give up along the way. That is because you will earn 1 penny every 20 levels or more!

The only guarantee is that you will watch a ton of clips while the developers are making profits from your views. It's a win-lose situation!
The game itself is great, but if you cannot afford to waste time, simply avoid it.
Final Words
Thanks for your the time to read my Lucky Tile app review. I hope it was helpful!
So, did you manage to reach $150 and cash out? Kindly share your experience in the comment box below.
Peace!