Lucky Chest is a free mobile game that claims you can win real money by scratching cards and entering raffles.
By matching 3 symbols, you will earn virtual currency (cash and coins) which adds up to your account. Then, you may cash out via PayPal or various gift cards once you reach a sufficient amount.
There are countless sweepstakes apps for Android and iOS devices. The problem is that most of them manipulate your winnings, and never let you receive the payment.
Some of them are legitimate and reward users, but they are extremely rare!
So, does Lucky Chest go against the grain? Is it legit or another fake money game?
Keep reading because this post can save you hours of your life!
Tired of apps that don't pay? Check out the step-by-step program that helped me reach $1,600 per month and quit my job in 2019. 
Lucky Chest App Review
Name: Lucky Chest
Developer: ThirtyNine Interactive Limited
Eligibility: Worldwide
Minimum Payout: $10
Price: Free
Overall Rating: 2.5/5
What is Lucky Chest?
Lucky Chest is a sweepstakes app that allows users to take part in a reward program. By playing the scratchers, you can earn in-game virtual currency redeemable for cash via PayPal or gift cards.
The app is sponsored by advertisers, so it's completely free! However, you will be encouraged to watch videos to unlock scratch cards and collect raffle tickets.
How Does Lucky Chest Work?
Installation and Registration
Lucky Chest is available worldwide for Android users. After installing and launching the app, you must sign up using your Facebook or Google account.
First, I advise you to take the time to read and agree with the Terms of Use and Privacy policy. Most people ignore this documentation, so they have no idea what to expect regarding rewards.
Don't rely on luck to make money online! Check out my top GPT site here! 
Scratch Card Game
You will automatically receive 38 scratchers every day you log in to Lucky Chest. Keep in mind that you must watch a short video to unlock a new scratcher.
Simply scratch off the virtual card to see if you are the winner. If you match 3 colored icons, you will collect coins or cash. Each scratcher has a specific prize, some of which are worth $100s and even $1000s.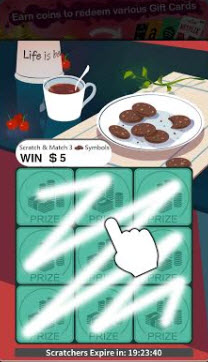 According to the Terms of Use, winners will be selected at random by a computer algorithm. So, what are your actual chances of winning?
Well, it depends on the number of entries for each promotion period. As there are thousands of players, the odds are definitely not in your favor.
They should be more transparent by showing the stats of previous contests. Unfortunately, the statistics are kept secret from the public.

Even if you don't match 3 symbols, Lucky Chest gives you 1,000 – 2,000 coins or a few cents.
Raffles Game
Lucky Chest also allows you to get entries into the daily raffle. As of writing, there are two prizes worth $10 and $5.
You can collect one ticket by watching a 30-second clip or spending 2,000 coins. Each promotion period allows a maximum of 1000 entries.
Payouts
You can cash out to your PayPal account and redeem gift cards with the coins you earned in Lucky Chest.
PayPal
Reach $10 to redeem via PayPal. Alternatively, you may convert 14,000,000 coins to £4 or the equivalent in your currency.
Gift Cards
Each gift card requires a specific number of coins. These are the requirements in the UK:
App Store (£5): 16,000,000 coins.
App Store (£10): 30,000,000 coins.
Amazon (£5): 17,000,000 coins.
Amazon (£10): 30,000,000 coins.
Spotify (£10): 30,000,000 coins.
Netflix (£15): 44,000,000 coins.
To redeem gift cards, you must choose a valid country in the list, which is comprised of Spain, UK, France, Canada, Netherlands, Italy, Germany, Australia, Germany, Australia, and the USA.
Is Lucky Chest Legit? Does it Pay?
One thing I learned after four years of reviewing Sweepstakes apps is that they never guarantee winnings.
Unfortunately, most of them prevent people from reaching the minimum payout threshold, so they can never make any money.
There is a risk that Lucky Chest will stop giving cash as you approach $10. One user reported getting stuck at $6 as the scratchers were only giving coins.


However, I also found users who were able to withdraw the money to PayPal. Here is a positive testimonial:

As I mentioned earlier, it's important to read the Terms of Use so you are not taken by surprise. Remember that you had to accept the rules before playing the game.
Here are some key statements about rewards:
"You have no property interest, right or title to any such coins, and cash. Any balance shown in your account does not constitute a real-world balance or reflect any store value…"

We will, in our sole discretion, determine the availability and exchange rate for any virtual in-game currencies, which may be modified at any time. 
Therefore, even if you don't get any rewards, it doesn't mean the app is a fraud.

This reward platform is going viral! Cash out via PayPal, Visa, Gift Cards, and in-game currencies - Click here to find out how to generate an extra $10+ per day! 
The developers didn't make any promises. However, if they are not willing to pay everyone, they should not place a cash-out button.
Otherwise, it implies that users will eventually receive the money as long as they keep playing. And that is not guaranteed! 

Pros and Cons
Pros
Some users report receiving the payment.
Cash out via PayPal and several gift cards.
Cons
Gift cards are only available in certain countries.
You can get stuck before reaching $10.
It can take over a year to collect enough coins.
Conclusion 
Even though there are no guarantees, Lucky Chest is one of the most reliable scratch card games available for Android devices. This is another decent option for scratch card lovers!
The odds of matching 3 symbols and winning the big prize are very slim. So, everyone tries to accumulate enough cash or coins to withdraw $10 to PayPal or gift cards.
If you want to try your luck with this app, but be prepared to play it for months and watch many hours of videos.
Verdict: Legit
Earn a Full-Time Income Online
Free money is awesome, but I am sure you don't like to rely on luck to pay the bills!
If you want to work remotely and make money on your own terms, I suggest you become an online entrepreneur.
One of the best options is to create a website and provide helpful content as I do!
Following disconnected and misleading information online can cost you a lot of time and money.
That's why I recommend a structured training program that will help you stick to a clear proven course of action.
This step-by-step training helped me build an affiliate site from scratch, attract lots of visitors, and earn life-changing commissions.
Final Words
Thanks for your the time to read my Lucky Chest app review. I hope it was informative enough.
So, did you get paid? Kindly share your experience in the comment box below.
Peace!