Chances are you found 2048 Balls Winner after watching one of those tempting adverts.
They promote this merging game as if players could withdraw thousands of dollars via PayPal.
I have reviewed countless apps giving users unrealistic expectations of making money.
Unfortunately, most of them have no intention to pay you.
So, they will either prevent you from reaching the minimum cashout amount or simply ignore your payment request.
In this review, I will give you all the information you should know before installing the 2048 Balls Winner app. Is it fake? Does it pay or not?
Top recommendation: This step-by-step program helped me build a high traffic website and generate $1,600+ per month. Join now and start your first 10 lessons!
2048 Balls Winner App Review
Name: 2048 Balls Winner
Developer: Sticker Maker Lab
Availability: Worldwide
Minimum payout: $100
Overall Rating: 1/5
How Does 2048 Balls Winner Work?
Installation
2048 Balls Winner is available for free on Android devices.
After installing and launching the game, the company will ask permission to make and manage phone calls.
You should click "Deny" because they don't even explain the reason they want this.
How to Play?
2048 Balls Winner is a game in which you must try to hit balls with the same number and color.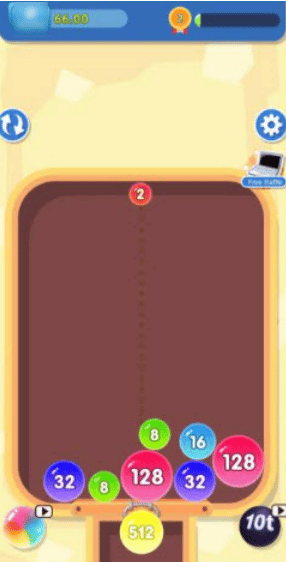 It's almost identical to the popular Balls Merge app and many others!
Simply slide your finger and decide the place where they should fall.
When two balls collide, they will be replaced by one with a higher number in the following sequence:
2, 4, 8 16, 32, 64, 128, 256, 512, 1028, and 2048.
For instance, the ball 16 forms after merging two balls number 8. The goal is to complete levels by unlocking specific numbers.
Use props such as the colorful ball to merge any number or the 10t to shake them up.
If you combine several balls at once, you will receive a pop-up window with virtual cash.

However, you can only collect the money only after tapping "Get" and watching a video.
Cash Rewards
Once you combine several balls at once, you will get a pop-up window with a certain amount of virtual cash.
You should tap "Get" and watch a clip to add the money to your account.
If you open your cash balance, you will see a PayPal symbol with the saying:
You are almost there! You need to have 100 USD to cash out.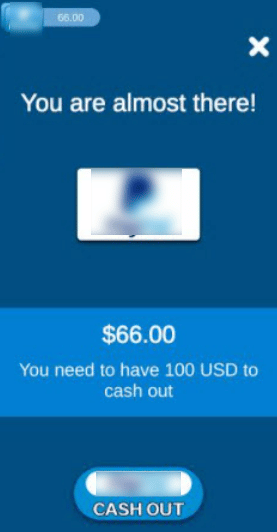 Free Raffle Draw
Note there is a laptop icon on the right side with the saying "Free Raffle".
According to the app, you can participate in the sweepstakes for a chance to win a MacBook Pro.
The raffle is held twice a day, and they will announce the winning numbers at 9:00 (UTC-10) and 21:00 (UTC-10).
You can get a free raffle code by clicking on the green button and watching a video. Keep in mind that you can get a maximum of 6 codes per round.
>> Here is my #1 recommendation for making money online!

Is 2048 Balls Winner Legit? Does it Pay?
Before I answer these questions, I must draw your attention to the fact that 2048 Balls Winner doesn't provide the "Terms of Service".
Without a binding agreement regarding rewards, they are not obligated to pay anyone.
However, even if they bothered to show you a document, they would make no promises.
But here is concrete proof 2048 Balls Winner doesn't pay.
When I was watching one of their adverts, I noticed they included a small print that said the following:
"For Illustration. No rewards are provided."

This reward platform is going viral! Cash out via PayPal, Visa, Gift Cards, and in-game currencies - Click here to find out how to generate an extra $10+ per day!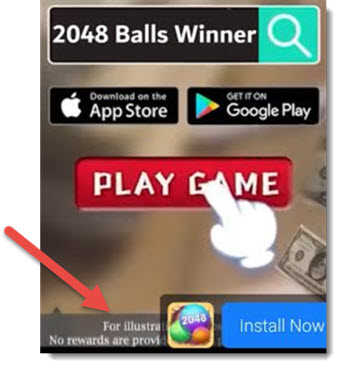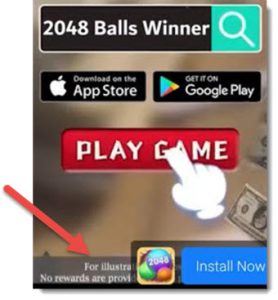 So, there you go! The virtual cash will never be transferred to your PayPal account.

There is an incredible number of users who got stuck somewhere between $99.80 and $99.98.
In the beginning, your winnings are high and frequent. But when you get closer to $100, you will just earn pennies at a time.
Eventually, your $0.01 won't be added anymore, making it impossible to cash out.
I don't know if I could call 2048 Balls Winner a scam, but in my opinion, the company should not simulate earnings. It's very misleading!
If they are not rewarding users, why make them believe it's possible to win?
Well, enticing people to watch an insane number of sponsored clips is the only reason that I can think of!
Is There an Alternative?
No. All 2048 games that exist today are not rewarding anyone!
If you want to get paid for playing mobile games, it's better to join a GPT platform like Prizerebel and complete gaming offers. It's your best choice!
Now, if you are serious about making money online, I suggest that you operate your own internet business.
This step-by-step program helped me build an affiliate website, get high Google rankings, and generate excellent commissions.
Today, it allows me to work remotely, and enjoy time and location freedom. Click here to learn more! 
Conclusion
2048 Balls Winner does not pay anyone, so the withdraw button inside your virtual cash balance is fake.
So, don't play it with the expectation to make money, or you will just waste your time.
The game is addictive and fun, but it has one of the worst mechanics I have ever seen!
When the balls fall, they simply get stuck to the bottom as if there was glue or something. There is no bouncing as in other 2048 games.
Verdict: Not Recommended
Final words
Thanks for reading my 2048 Balls Winner review. I hope it was helpful!
Kindly share your experiences with this application down below. Did you reach $100? 
Peace!