Match to Win is a match-3 puzzle game that claims you can withdraw $7 instantly via PayPal or Amazon Gift card.
You don't have to spend any money to play and participate in the cash giveaway.
Every time you reach the goal and pass the level, you will earn a free scratcher. Then, you will win virtual dollars if you match 3 items.
It's almost impossible to find a genuine sweepstake app that doesn't manipulate earnings.
They make it seem like the games are based on luck when in fact, they have total control of how much you earn
That's why almost everyone struggles to reach the minimum cash out requirement and feel utterly frustrated.
So, can you really make money with Match to Win? Is it legit or another misleading application?
Keep reading o find out!
Top recommendation: This step-by-step program helped me build my own online business and generate $1,600+ per month. Join now for free and start your first 10 lessons!
Match to Win App Review
Name: Match to Win
Company: Rewardify
Type: Sweepstakes
Eligibility: Worldwide
Price: Free
Overall Rating:

2.8

/5
What is Match to Win?
Match to Win is a sweepstakes app operated by an American company, Rewardify Inc.
To participate in the cash giveaways, you must play the Match-3 game, which is somewhat similar to Candy Crush.
You will earn instant-win scratchers by completing levels and finishing Quests. As for tokens, they are used to collect tickets for the Daily and Super Sweepstakes.
There are other ways to win, such as spinning the wheel and beating the challenge.
How does Match to Win Work?
Installation
Match to Win is available for free on Google Play or App Store. After launching the game, you can start immediately with no registration or permissions required.
How to Play Match to Win?
In the dashboard, you will see the map with all the levels represented by grey circles.
The game starts in Hawaii, and as you move up the levels, you will unlock other vacation getaways such as Paris and Rome.
All you have to do is match 3 similar items and reach the target before you run out of moves.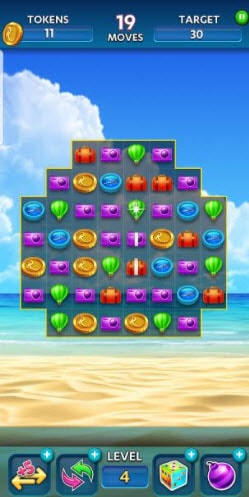 For example, on level 2, you must collect 21 tokens.
Once you pass the level, you can scratch the card for a chance to win up to $250.
According to the rules, the winners are randomly chosen by a computer algorithm. Besides, it says the odds of winning depend on the number of eligible tickets.
Unless you are the lucky ones, you will just match symbols that give you a few cents of tokens.
Users could convert tokens to cash rewards in the past, but that is not possible anymore.
Match to Win Sweepstakes
You can use tokens to buy entries for the daily ($25) or monthly ($1000) sweepstakes.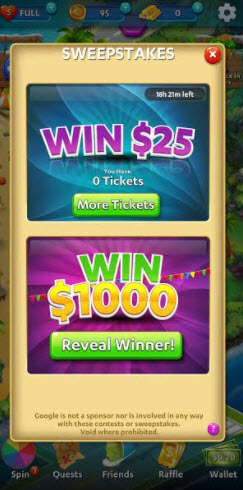 Keep in mind there is only one winner for each prize draw, so the odds are not in your favor. For more details, read the rules & terms inside the app.
How Do You Get Paid?
The virtual cash that you earn in prize draws or scratch offs are added to your wallet. Then, you can withdraw the money via PayPal or Amazon gift card once you get to $7.
It seems more realistic and much easier compared to other games that require $100, $150, and $200 to cash out.
However, it doesn't mean it will be quicker. In fact, Match to Win will make your life hard when you cross the $6 mark.
If you are the winner of the daily or event prizes, they will notify you via email, phone, mail, or app. In that case, they will probably let you withdraw instantly.

Don't count on luck to make money online! Check out my #1 recommendation and build a thriving online business.
Is Match to Win Legit? Does it pay?
In the beginning, you will earn a few cents here and there for scratching off cards and spinning the wheel. It gives the impression you are making progress, albeit slowly.
The problem is, when you get closer to $7, cash rewards become far and few between, and it feels like you are stuck there forever!
There are lots of negative reviews on Google Play from users who have been sitting on $6.60 – $6.80 for months.  They will give you Tokens over 90% of the time!

This reward platform is going viral! Cash out via PayPal, Visa, Gift Cards, and in-game currencies - Click here to find out how to generate an extra $10+ per day! 

If it was all about luck, you would keep on earning at the same rate and reach the minimum cash out requirement within 1 or 2 months.

But no. The algorithm is designed to pay less and less and make it almost impossible to reach $7.
This woman finally reached the payout threshold after playing Match to Win for 1 year!

It's not a surprise that so many people are frustrated with Match to Win and think it's a scam.
Some people receive the money, but it takes a long time. So, you must be very persistent.
And, even if you play for months, there is no guarantee you will eventually reach $7 and receive the money.
Pros and Cons
Pros
You can actually get paid if you play it for months.
Excellent graphics.
It's great to pass the time.
Daily prize draws.
Cons
It takes ages to reach $7.
There is no guarantee you will get the money.
Frequent ads.
Conclusion
Match to Win is probably the only match-3 puzzle game processing payments via PayPal and gift cards. Yes, it's legit! 
However, not everyone has the motivation to play it for so long just to earn 7 bucks!
Therefore, you will see lots of users complaining they got stuck at $6 something.
They would have probably cashed out had they played for long enough, but there are no guarantees.
The company can simply ignore your payment request because your wallet does not have real-world value.
My advice? Play Match to Win for fun, as the cash reward is just secondary.
Don't play it for money because there are more lucrative ways to spend your time on the internet.
>> Here is my #1 recommendation for making money online!
Final Words
Thanks for taking the time to read my Match to Win app review. I hope it was informative enough.
Kindly share your thoughts and experiences about this application down below. Did you win any money? 
Peace!